Posh Foods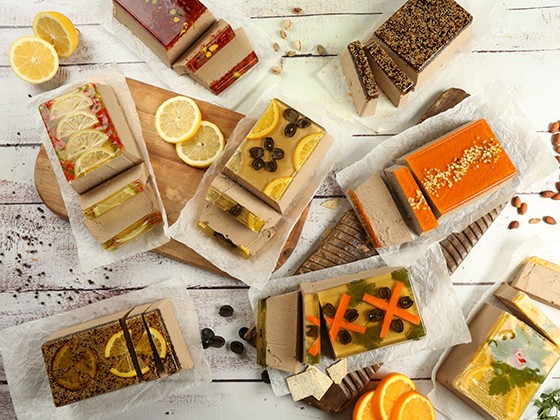 More Images
Posh Foods
The Posh Foods story started 30 years ago with a single pate. They have now grown to produce a whole range of pates and other savoury delicacies. But they still have that same dedication to perfecting their recipes and providing interesting flavour combinations- from classic Grand Orange Liqueur to the unique Duck & Limoncello, there's definitely something for everyone. Made fresh daily, there's absolutely no artificial ingredients nor preservatives, so rest assured that your customers will be receiving the best.
With an exquisite decorative glaze, Posh Pate is truly made to impress.
Artisanal Log Pate
With a great range of flavours, all with a unique glaze- they make a great statement on cheeseboards and charcuterie platters. Being high in protein and is a great source of B vitamins: they're an indulgent treat everyone can enjoy.
Grand Orange Liqueur
Black Pepper
Pistachio
Brandy
Duck & Orange
Duck & Cracked Pepper
Duck & Limoncello
Prepacked Pate
The same amazing taste & appearance in convenient 150g pre-packed servings.
Duck & Orange
Duck & Cracked Pepper
Pistachio
Truffle & Almond
Ready Meals
With no added preservatives and with no "filler" ingredients, Posh Foods line of ready meals stand out from the crowd. In microwave-safe and oven-safe recyclable packaging too!
Classic Beef Bolognaise
Pumpkin, Spinach, Pesto & Ricotta
Cajun Chicken, Rocket & Sun Dried Tomato
Zucchini Bacon Bake
Other Savoury Specials
With food being made fresh daily and not being frozen, Posh Foods are a convenient solution for their customers. Family favourites include
Zuchinni & Bacon Slice
Potato Bacon Bake
Yaya-style Spanakopita Spinach Pie
Family 8"quiches (Classic Lorraine, Spinach & Ricotta, Mixed Veggie)
8" Bureks (Bacon & Cheese, Sausage Mince, Spinach & Feta, Tasty Feta)
Foodservice
No need to spend hours creating fine pates in-hours, when fresh artisanal pates are able to be conveniently delivered to you. Ideal for caterers, buffets, cocktail parties, fine dining and bed and breakfasts.
Fresh, Tasty, Handmade
Posh Foods is dedicated to providing their customers with the very best and thus uses the highest quality ingredients to make fresh food that aren't frozen before they reach you. Your customers will be able to taste the difference.
No matter the size or type of store, they can be counted on to brighten up your display with tempting savoury options. Delivering throughout Sydney and across Australia, Posh Foods is your reliable supplier of fresh, tasty and handmade food.
---
More information about Posh Foods
Posh Foods - 2020 Catalogue
Fresh, Tasty and Handmade. Appealing to the eyes and taste buds, everything is fresh and handmade. Posh Foods never freeze products before they reach you, and you can taste the difference. Click here
Interview - Zez Ni - Posh Foods
For more than thirty years, Posh Foods have been supplying delicious home style foods to cafes, delis and food halls. We spoke with Managing Director, Zez Ni about the company's history, its philosophy of 'food must look good as well as taste good' and what's coming up in new lines. Click here