The Australian Superfood Co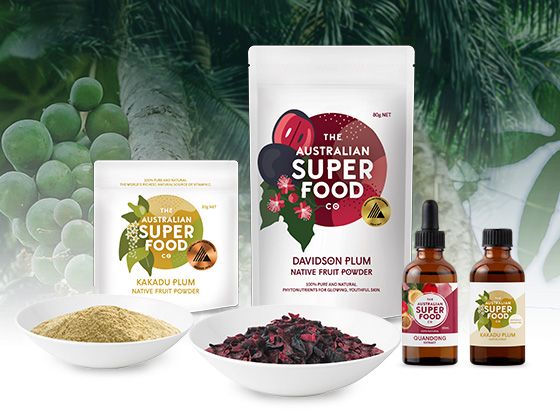 More Images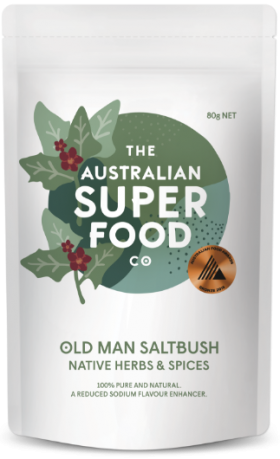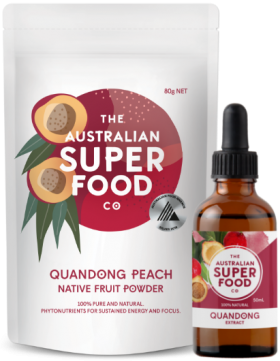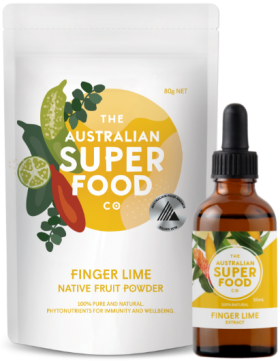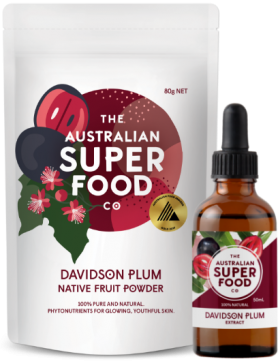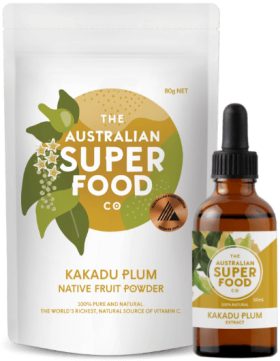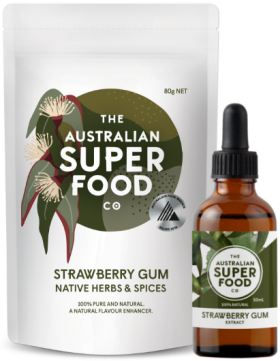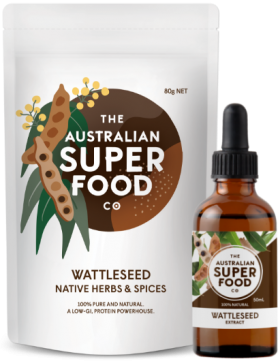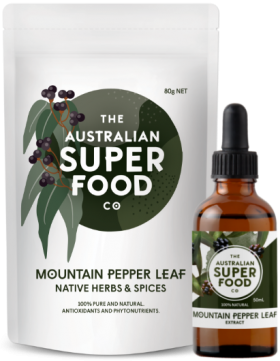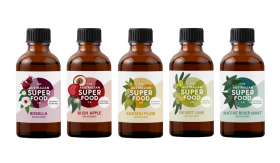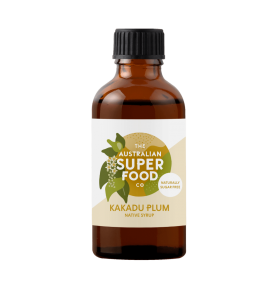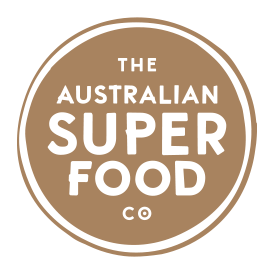 The Australian Superfood Co
Australian Native Superfood Powders, Extracts & Syrups
Respect for our bodies, our minds and Indigenous culture
Wholesale Australian Bush Tucker Flavour Enhancers - As seen on MasterChef
The Australian Superfood Co has created a range of unique food products from Australian native bush foods. This powerful, diverse superfood group boasts nutritional gifts that have not been given their due recognition until comparatively recently.
The company works with Indigenous growers and suppliers to harvest and cultivate native fruits, nuts, herbs and seeds that translate beautifully to modern cuisine. By supporting local communities and growers, they have been able to transform a tiny cottage industry into a booming market.
You can incorporate the native fruit powders, fruit extracts, syrups, herbs, spices and herb and spice extracts into your restaurant menu or your home cooking with ease. A small amount of each ingredient packs a flavourful punch so they go a very long way.
With every spoonful, you don't just add tremendous flavour, you add vitamins, antioxidants, protein and healthy oils, depending on the product you're using.
100% natural
100% Australian
No artificial colours, flavours or preservatives
No added sugar
100% pure, no fillers
Social conscience
The company itself is proud of its social responsibility and sustainable methods of food production and says "yes" to supporting the empowerment of women and children. By increasing the awareness, accessibility and affordability of Australian Superfoods, they aim to increase these precious foods' demand and encourage their cultivation. The company hopes to enhance the respect for Indigenous culture, promote the growth of Indigenous communities and foster the local food movement.
Powerful, 100% natural flavour enhancers
Add fresh, exciting flavours with ease. A mere spoonful will enhance your recipes and boost the nutritional value, all without nasty fillers or synthetic compounds. The Australian Superfood Co's Native Superfood Powders and Extracts are the real deal!
The range
Nutrient Booster
Vitamin C Booster with Kakadu Plum – A Vitamin C supplement that is expertly blended with prebiotics and probiotics for a daily dose of scientifically proven goodness. Add this pleasantly flavoured power to salad dressings, water, juice or smoothies. 150g and 500g.
Native Fruit Powders
These pure, freeze-dried fruit powders are powerhouses of flavour that you can add to an endless array of recipes. Dried at low temperatures, all the nutritional goodness is retained. Try them in baking such as muffins and cakes, add a pinch to your favourite smoothie, blend into salad dressings or sprinkle over your morning muesli bowl.
Freeze Dried Kakadu Plum – Also known as the Bush Plum, the Kakadu Plum is jam-packed with antioxidants and nutrients and has the highest Vitamin C levels of any fruit in the world. 30g, 80g, 250g, 500g, 1kg.
Freeze Dried Davidson Plum – A rich source of calcium, Vitamin E and zinc and a flavour that's reminiscent of stewed rhubarb. 30g, 80g, 250g, 500g, 1kg.
Freeze Dried Desert Lime – Three times the amount of Vitamin C than oranges and a similar zesty flavour. Nutrient-rich with loads of calcium, folate, Vitamin E and lutein. 30g, 80g, 250g, 500g, 1kg.
Freeze Dried Finger Lime – Add a ton of zesty vibrancy to any dish or even your favourite cocktails. 30g, 80g, 250g, 500g, 1kg.
Freeze Dried Riberry – Enjoy the slightly tart, spicy flavour of these native berries that also have a slight hint of sweet honey. 20g, 80g, 250g, 500g, 1kg.
Freeze Dried Quandong – Packed with protein, iron, zinc and complex oils and with a lovely sweet taste. 25g, 80g, 250g, 500g, 1kg.
Native Herbs and Spices
Add some truly local flavour to any dish with The Australian Superfood Co's native herbs and spices. Each one has its own unique flavour profile and can be used in myriad ways to create exciting new dimensions for sweet and savoury foods, drinks and teas. Each one is 100% natural and has no added sugars. Use sparingly because a little goes a long way.
Flaked Aniseed Myrtle – Think black licorice with its strong aniseed flavours. 20g, 80g, 250g, 500g, 1kg.
Flaked Cinnamon Myrtle – It's Australia's own native cinnamon, familiar in its warmth but more exotic in personality. 20g, 80g, 250g, 500g, 1kg.
Ground Mountain Pepper Leaf – Can be used like regular pepper but you'll experience the intriguing flavour difference. 20g, 80g, 250g, 500g, 1kg.
Ground Roasted Wattleseed – Spicy, chocolatey and very interesting, wattleseed can be added to sauces, scones, egg and baking recipes. 30g, 80g, 250g, 500g, 1kg.
Lemon Myrtle – Give savoury dishes a new flavour slant, particularly meats like kangaroo, chicken and lamb. 20g, 80g, 250g, 500g, 1kg.
Old Man Saltbush – Experience the soft, earthy saltiness. Use as a seasoning or a condiment. 20g, 80g, 250g, 500g, 1kg.
Strawberry Gum – With the scent of lollies and bubble gum, the fruity undertones of this native spice make it a lovely addition to desserts, fruit salads and herbal teas. 20g, 80g, 250g, 500g, 1kg.
Whole Mountain Pepperberry – Similar to normal pepper but with an exotic difference. 20g, 80g, 250g, 500g, 1kg.
Whole Roasted Sandalwood Nuts – With a unique and delicate flavour, this powder can be used in crumb coatings, bread mixes and as a protein booster for smoothies. 80g, 250g, 500g, 1kg.
Native Fruit Extracts
Every little bottle of precious native fruit extract contains nutritional riches. Highly concentrated, they represent intense flavour in liquid form and can easily be incorporated in a vast array of recipes. Add a few drops or a teaspoon to homemade jams and sauces, smoothies, chutneys, meat glazes and more.
Davidson Plum Extract – Its aroma evokes rosella jam and stewed rhubarb and its flavour is a delicate balance of tart and sweet, with intense fruity overtones. 50ml, 500ml, 1L.
Finger Lime Extract – Zest in a bottle! Try it in cocktails, mocktails, dressings, jams and sauces. 50ml, 500ml, 1L.
Kakadu Plum Extract – Good source of Vitamin C. Add a tart burst with the aroma of stewed apples and pears to your cooking. 50ml, 500ml, 1L.
Quandong Extract – Sweet at first, with a slightly sour and salty aftertaste. An intriguing addition for fruit salads and cakes. 500ml, 1L.
Riberry Extract – Complex flavours that resemble sweet, spiced tea with hints of musk and bush honey. 50ml, 500ml, 1L.
Rosella Extract – Unique, tart flavour, reminiscent of rhubarb. 500ml, 1L.
Native Herb Extracts
Use these exciting native herb extracts to add intense flavour to all kinds of recipes. Highly concentrated, all it takes is a teaspoon to infuse your dishes with native Australian tones.
Aniseed Myrtle Extract – Add licorice and aniseed flavours to dressings, marinades, savoury dishes and cocktails. 50ml, 500ml, 1L.
Lemon Myrtle Extract – With its refreshing lemon menthol aroma, Lemon Myrtle brings a brightness and sweetness to any dish. 50ml, 500ml, 1L.
Mountain Pepper Leaf Extract – Go on a journey from fruity to spicy to tangy with just a teaspoon. 50ml, 500ml, 1L.
Roasted Wattleseed Extract – Infuse your coffee, sauces, casseroles and desserts with a mild, nutty chocolate flavour and aroma. 50ml, 500ml, 1L.
Strawberry Gum Extract – Add a burst of fruitiness to chutneys, cocktails and desserts. 50ml, 500ml, 1L.
NEW!! Native Syrups
These concentrated, naturally sugar-free syrups are made with exquisite native ingredients in a glycerol (coconut) base. The range showcases the versatility and unique flavours of native Australian plants. Thanks to the Australian Superfood Co, an array of carefully selected fruits, plants and flowers are now available in liquid form and are loaded with vitamin C, folate, calcium and antioxidants. Each 1ml of extract contains the equivalent of 500mg of the fresh plant. Use them to add intense flavour with minimal liquid. Ethanol-free and allergen-free, vegan-friendly, 100% natural and gluten free. Food manufacturers can add intense flavour to recipes using just a few drops.
Use the syrups in desserts such as ice creams and sorbets, in jams and chutneys, fruit crumbles, cordials, pastries and even in cocktails!
Bush Apple Native Syrup – High in antioxidants and with a gentle sweetness, Bush Apple has a rose-like flavour.
Rosella Native Syrup – A unique, tart flavour, reminiscent of rhubarb.
Native River Mint Syrup – A relative of peppermint and spearmint, native river mint has a delicate spearmint flavour.
Desert Lime Native Syrup – Intense, zesty flavour.
Kakadu Plum Native Syrup – Provides a tart burst with the aroma of stewed apples and pears.
Retailers
Bring some true Aussie flavour to your shelves and introduce your customers to the delights of bush tucker ingredients. Ideal for supermarkets, health food stores, made in Australia retailers, tourism operators, gift stores, delicatessens and fine food halls.
Foodservice
Let your menu be inspired by the intriguing tastes of the Australian bush. Add a spoonful here, a sprinkle there and your dishes will come alive with bush tucker flavours. Experiment with flavour pairings, explore new seasonings and create new menu items built around these ancient foods. Bulk quantities are available for foodservice and food manufacturing applications.
For more information or to place your first order, contact The Australian Superfood Co today.
---
More information about The Australian Superfood Co
Australian Superfood Co - Limited Edition Range
Introducing the Limited Edition range, a unique, nutritious and delicious range of Australian native ingredients, that are a little harder to come by. Click here