The Pastry Lounge
More Images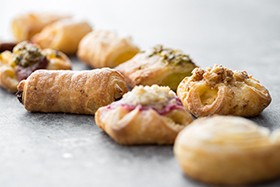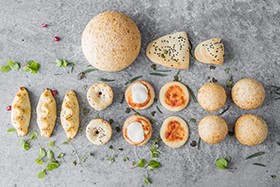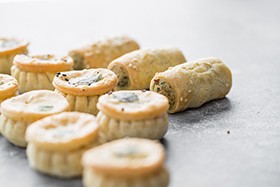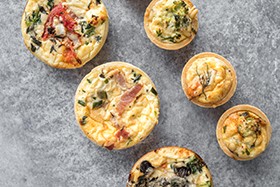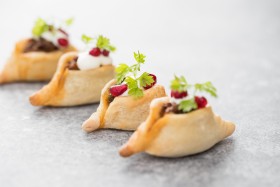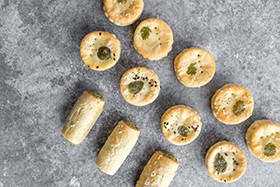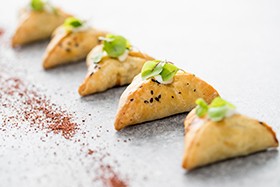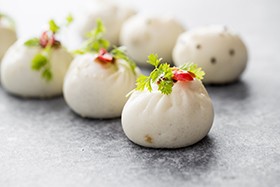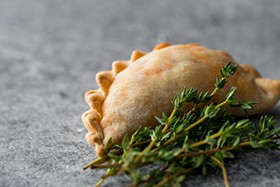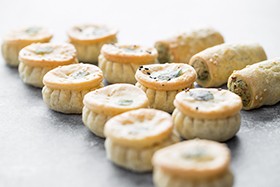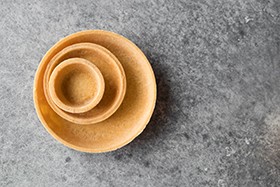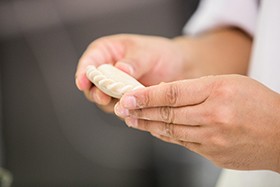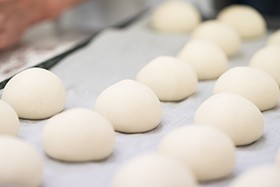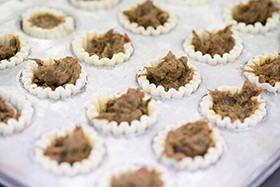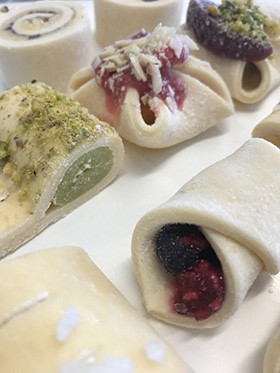 The Pastry Lounge
Finger Food
The Pastry Lounge specialises in premium quality pastries made from fresh, real ingredients. Every item is an elegant finger food offering that will appeal to customers and guests of all tastes. Everything is made by hand in small batches for total control. High quality butter, eggs and fresh produce make the difference in taste. At The Pastry Lounge, everything is done from scratch onsite, from roasting and braising meats and cooking deeply-flavoured stocks to prepping all vegetables and making the pastry. The HACCP certified commercial pastry kitchen boasts state-of-the-art equipment to ensure every item produced there is made to the same high standards.
The extensive range includes quite an array of gluten free pastries and also vegan pastries.
We are proud to have selected gluten free Pastry Lounge products endorsed by Coeliac Australia which is recognition of our commitment to providing gluten free products that comply with the Australian Food Standards Code.
Caterers first
The Pastry Lounge was established by ex-boardroom chef Fiona Richardson who was running a small catering business. It's this experience that makes the company experts in finger foods. They know what works and what guests really appreciate. Since 2001, they've earned a reputation for quality, consistency and reliability among the chefs, caterers and major event organisers of Melbourne and deliver on time, every time.
The range
Mini Pies & Pastries
Always popular at all kinds of events, mini pies and pastries are easy to eat and packed with flavour. Made with premium ingredients and presented beautifully, they will help to make your event memorable for all the right reasons.
Beef Burgundy & Mushroom Pie
Chicken, Leek and White Wine Pie
Braised Osso Bucco & Gremolata Pie
Beef & Guinness Pie
Sticky Braised Lamb Shank & Rosemary Pie
Spanish Braised Osso Bucco Pie
Lebanese Lamb Shank, Pomegranate & Yoghurt Pie
Truffled Mixed Wild Mushroom Pie
Turkey & Cranberry Pie
Braised Oxtail and Bacon with Roasted Root Vegetables
Roasted Pumpkin, Parmesan and shredded Basil Leaves with a Garlic Scented Cream
Quail Roasted with Thyme, Lemon and Verjuice in a Pastry Dome
Argentinian Beef & Chimichurri Pie
GF Beef Burgundy & Mushroom Pie
GF Lamb Shank & Rosemary Pie
GF Chicken & Leek Pie
GF Roast Turkey & Cranberry Pie
GF Pumpkin & Basil Pie
GF Truffled Mushroom Pie
Pithivier
Pithivier are round individual pies with an elegant fluted appearance. Add these to your selections for varied eye appeal.
Duck Pithivier with flavours of Star Anise and Quince poached in Red Wine
GF Duck & Quince Pithivier
Savoury Pastries
Traditional or exotic, these savoury pastries all have one thing in common; they're all delicious!
Traditional Style Cornish Pastie, Roasted Root Vegetables with Braised Osso Bucco
Traditional Style Cornish Pastie Vegetarian
Sweet Potato Pasties with Moroccan Spices
Spiced Lebanese Lamb Fataya
Cauliflower & Tahini Fataya with Roasted Sesame Seed
Spiced Lamb Samosa
Indian Potato Samosa
GF Moroccan Sweet Potato Pastie
GF Pea & Mint Pastie
Savoury Rolls
Not your average savoury rolls, The Pastry Lounge offers truly gourmet products that showcase fine produce.
Spanish Spiced Wagyu Sausage Roll with Olives
Traditional Sausage Roll of Beef, Lamb & Pork with Fresh Cut Herbs
Spinach & 4 Cheese Roll with Roasted Pine Nuts
Duck, Pork, Veal & Braised Fennel Sausage Roll
Venison, Roast Celeriac, Currant & Thyme Sausage Roll
GF Traditional Sausage Roll
Steamed Bao Buns
Available filled and unfilled, The Pastry Lounge's steamed bao buns boast authentic looks and flavour.
Steamed Bun Long 36g
Steamed Bun 15g/30g/50g Hand Bao Bun
Steamed Bun 15g/30g/50g Ball
Vegetarian Steamed Bun Ball 30g
Steamed Bun, Duck with Lemongrass & Lime Mini/Med
Steamed Bun Filled Pork with Chilli & Ginger Mini/Med
Steamed Bun Filled Gingered Teriyaki Mushroom Mini/Med
Sweet & Savoury Tart Shells
Create your own fillings for mouth-watering sweet and savoury tarts to pass around at catered events. There is no end to the cuisines and ingredients you can use. The Pastry Lounge's sweet and savoury tart shells are ready and waiting for you to fill. Available in a selection of sizes.
Sweet Shortcrust Tart Shell
Savoury Shortcrust Tart Shell
Chocolate Tart Shell
There is also a variety of sweet and savoury filled tarts and mini tarts and plenty of gluten free tart shells and filled tarts.
Mini Danish & Waffles
Choose from assorted micro Danishes and mini waffles, ideal for breakfast, morning or afternoon tea, high tea and dessert. Beautifully presented, they will be irresistible to guests.
Waffle Mini Sweet
Waffle Mini Savoury
Assorted Micro Danish Pastries
Traditional Empanadas
For that little touch of South America, empanadas are golden and scrumptious and also make an excellent addition to trays of assorted savouries. Serve with dipping sauce.
Spiced Corn Empanada Mini
Slow Braised Orange Infused Pork Empanada
GF Spiced Corn Empanada
Vegan selection
Thanks to The Pastry Lounge, you can serve your vegan customers with ease. Their range of vegan products helps you keep everybody happy. Various sizes are available so be sure to ask when you make your enquiry.
Vegan Smashed Pea & Mint Parcel
Vegan Mushroom Duxelle Sausage Roll
Vegan Savoury Tart Shell
Vegan Sweet Tart Shell
Vegan Roasted Tomato Tart
Vegan Mushroom & Thyme Tart
Vegan Roasted Vegetable Tart
Vegan Green Tea Hand Bun
Vegan Steamed Bao Bun
Vegan Pizza Base with Sugo
Vegan GF Turkish Bread
Foodservice
Serve your customers and guests quality finger foods from The Pastry Lounge. With such an extensive range and impressive quality, you can have confidence that every product will meet its mark. Now you can satisfy vegans, gluten intolerant and gourmet lovers alike. Get creative about how you serve and present the foods; there are plenty of ideas on The Pastry Lounge's Instagram account or you can have a chat with them for further inspiration.
To place an order or to discuss your requirements, contact The Pastry Lounge today.