The Unexpected Guest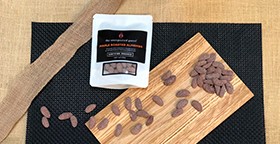 More Images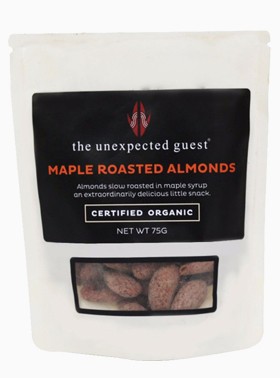 The Unexpected Guest
Organic Maple Roasted Almonds
Australian roasted organic almonds and Canadian maple syrup combined in a handy 75g pack
The Unexpected Guest is an Australian business owned by Canadian Juniper Wilkinson who has decided to hang her hat here. Her Organic Maple Roasted Almonds combine Aussie nuts with Canadian maple syrup in a handy 75g pack that's ideal for stashing in a handbag, gym bag, desk drawer or glove box.
Organic Maple Roasted Almonds
Made with only the finest quality ingredients, these incredible wholesale nuts are not so much a guilty pleasure but a pleasure that fans love to tell their friends about. The product was awarded a silver medal for packaging in 2013.
Certified organic by ACO
Available nationwide
This product is in The Unexpected Guest's Gluten Free-Style Muesli
Award-winning
Customers of The Unexpected Guest who have enjoyed the company's popular Gluten Free-Style Muesli product can now enjoy the Organic Maple Roasted Almonds it contains on their own. A unique combination of Australian almonds and real Canadian maple syrup, they are soaked, stirred and slowly roasted by hand with a great deal of care and a good measure of love.
Loaded with protein, trace minerals and the perfect amount of healthy sweetness, Organic Maple Roasted Almonds are an extraordinarily delicious snack. They can be enjoyed on their own as a wholesome pick-me-up, added to school or picnic lunches, crushed and sprinkled over muesli or used as an accompaniment to quality cheeses on a fabulous cheese board.
This tasty product contains no additives, preservatives, salt, gluten or wheat. It is proudly handcrafted in Australia.
Retailers
Offer taste tests of Organic Maple Roasted Almonds because after one taste, your customers will be hooked. They're delicious, healthy and packed with protein.
Foodservice
Organic Maple Roasted Almonds make a spectacular breakfast addition when crushed and sprinkled over muesli. Or, serve with cheeses, ice cream, salads or as a side garnish to an impressive sandwich.
Contact The Unexpected Guest today to place your first order.