Turmeric Latte Mix
More Images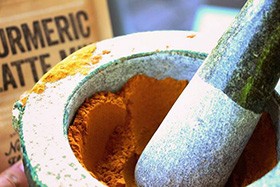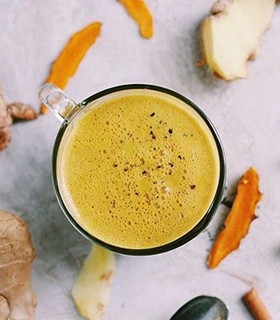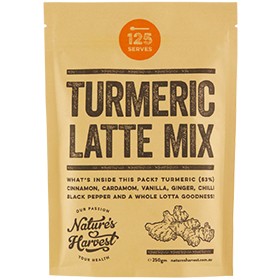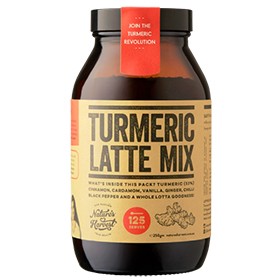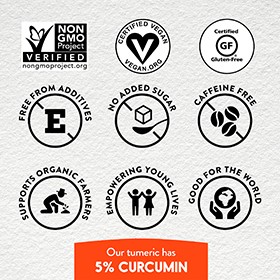 Turmeric Latte Mix
Turmeric lattes are so much more than the latest fad. They are therapeutic and delicious beverages that hark back through 4,000 years of Ayurvedic holistic medicine from India. Nature's Harvest, owned by couple Hament and Sonal, is their way of bringing turmeric milk – a childhood health tonic – to modern Australia. The main ingredient, turmeric, is known as the 'golden spice' or the 'magic sword' against inflammation. In Sanskrit, turmeric has at least 53 different names, including 'jayanti' (one that wins over diseases).
Supporting a virtuous cause
Nature's Harvest's key purpose for the product is to donate $1 for each 70g pack and $3 for every 250g pack to the Magic Moments Youth Leadership Program. This contribution helps youth in every country to which Turmeric Latte Mix is delivered!
Nature's Harvest Turmeric Latte Mix
The powerful ingredients in this special blend each have their own role to play.
Organic Turmeric – A high anti-inflammatory and antioxidant. Lowers risk of heart disease, prevents cancer, supports healthy brain function and treats arthritic conditions.
Organic Ceylon Cinnamon – Another high antioxidant and anti-inflammatory. Also adds a delicious flavour.
Organic Ginger – Traditionally used to treat nausea and morning sickness, its anti-inflammatory properties can help to relieve muscle pain and lower risk of infections.
Organic Cardamom – Similar health properties to ginger, it's also a detoxifier, mild diuretic, antioxidant and anti-inflammatory.
Organic Chilli – Used to decrease pain and inflammation, chilli helps control weight by stimulating metabolism and prevents disease with its antioxidant content.
Vanilla Whole Ground – A true medicinal food used for centuries, vanilla is an everyday 'superfood'. It is especially powerful at enhancing mood and brain health.
Organic Black pepper – Enhances the nutrient absorption and bioavailability of turmeric and improves digestion.
This magnificent blend of carefully selected ingredients also offers the following virtues:
Vegan
Preservative free
Caffeine free
Sugar free
Nut free
Gluten free
The products
Turmeric Latte Mix 70g Pack
The Turmeric Latte Mix 70g Pack is a fantastic way to get started and join the turmeric revolution. $1 from the purchase of this pack is donated globally to Magic Moments Youth Leadership. A free recipe brochure is included with every pack. Each pack contains 35 servings.
Turmeric Latte Mix 250g Refill Pack
The 250g Refill Pack is excellent for replenishing your empty Glass Jar and is available for retail sale too. A free recipe brochure included with every pack. Each pack contains 125 servings.
Turmeric Latte Mix 250g Glass Jar
Nature's Harvest offers a brilliant glass jar which is great for storing the Turmeric Latte Mix at home or in your foodservice outlet. A free recipe brochure is included with every pack. Each jar contains 125 servings.
Retailers
Help your customers make turmeric latte or 'golden milk' at home with ease. Stock Nature's Harvest Turmeric Latte Mix and extol its incredible virtues. Explain that it can be prepared hot or iced and that it is as nourishing as it is delicious to drink. Turmeric Latte can be suggested for a range of health issues including arthritis, high blood pressure, cold and flu, eczema, inflammatory bowel disease, asthma, type 2 diabetes, insulin resistance, high cholesterol, depression and anxiety.
Foodservice
Be your customers' go-to food outlet for nourishing and luscious turmeric lattes. The perfect alternative to coffee in the afternoon or evening, it contains no caffeine and lots of benefits. Serve it hot with frothed milk, just like a coffee latte or iced for a refreshing treat. It can be made on cow's or goat's milk or plant mylks such as almond, soy or rice. Sweeten to taste if desired.
To find out how to make turmeric lattes, what else you can make with this product or to place your first order, contact Nature's Harvest today using the form below.
---
More information about Turmeric Latte Mix
Interview - Hament Chavda - Turmeric Latte Mix
Growing up in India, Hament and Sonal Chavda were given 'golden milk' as a soothing, healing tonic. When someone suggested they create a turmeric latte product, they laughed. Now, they a healing the world via every pack sold. Click here
Interview - Hament and Sonal Chavda - Nature's Harvest
"The new chai" is how 'golden milk' is being described. A gloriously yellow concoction of turmeric and delicious spices, it is fast becoming the beverage of choice in cafes and at home. Hament and Sonal Chavda, owners of Nature's Harvest have created a simple blend called Turmeric Latte Mix which can be enjoyed at home or served in store. Learn more about this fascinating beverage. Click here
How to make a Dirty Tumeric Latte
How to make a Dirty Tumeric Latte from Tumeric Latte Mix by Nature's Harvest.
---