We Feed You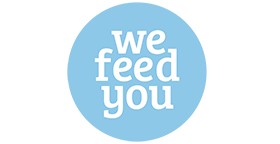 Service Area NSW, VIC and ACT
We Feed You
Ready-Made Meals
Award-Winning and Nutritious
We Feed You has taken meal convenience to a whole new level and is building a reputation as one of Australia's leading suppliers of high quality and nutritious ready-made meals. The meals are created by world-class chefs Dave Roberts and Charlotte Miller. Dave is a highly experienced, professionally trained chef and former Head Chef at the iconic Melbourne restaurant MoVida. Charlotte has been a Private Chef for clients around the world and is a highly experienced Dietitian.
Every meal is created for the perfect balance of nutrition, texture and full flavour, with no added preservatives, flavour enhancer or fillers. As Charlotte puts it: "Nothing is tampered with, we pride ourselves on using real ingredients like you would at home." The freshness and nutrition is locked in through freezing.
We Feed You believes that everyone should enjoy the opportunity to eat well and caters for a wide range of special diets including:
Gluten free
Vegan
Vegetarian
Low FODMAP
Onion and garlic free
Lactose free
Active Lifestyle
The range
Consumers love We Feed You for the quality, nutrition and convenience. Meals are heated from frozen in the microwave for 5-6 mins, or in the oven. The meals can be enjoyed for lunch or dinner, taken to work or sent to loved ones to make life easier such as when a new baby comes home. They're fabulous for people who appreciate quality, who are health-conscious or have food intolerances.
The quality of We Feed You meals is outstanding and their Chinese Spiced Lamb has won Australian Food Awards recognition two years running.
The chefs use mostly local seasonal produce with 25+ meals available at any given time. New meals are introduced frequently to keep the menu interesting. Some examples of their meals include:
Moroccan Chicken with Quinoa, Green Olives, Tomato and Preserved Lemon
Middle Eastern Beef with Goats Cheese, Veggies, Pine Nuts, Sumac and Rice
Satay Lemongrass and Ginger Pork with Green Beans and Brown Rice
Thai Green Coconut Curry with Edamame, Veggies, Peanuts and Brown Rice
Lemon and Ginger Chicken with Kale, Zucchini and Brown Rice
Chinese Spiced Lamb with Green Veggies, Peanuts, Brown Rice – Award winner!
Smokey Chipotle Chicken with Quinoa, Capsicum and Coriander
Tamarind Eggplant Curry with Cherry Tomatoes and Rice
Saffron Chicken & Rice with Fresh Herbs and Almonds
Miso Tofu & Edamame with Carrot and Pickled Cabbage
Serves
Meals are complete and in single portions, so they're perfect for singles, couples and anyone who wants to eat well without having to cook or buy inferior takeaway. There are a few pasta sauces available which serve two and can be enjoyed with your customer's choice of pasta and some meals can be used as a generous side to a piece of fish, red meat or chicken to serve two.
Meals are typically between 350 – 400 grams.
Retailers
The quality of the packaging and presentation on the shelf reflects the quality of the meals. Your customers will also appreciate the variety of meals on offer, the convenience and the professionalism of the team. Stock your freezer and enable your customers to experience a whole new approach to convenience meals! These meals are like nothing else available in the market today and your customers with food intolerances will also enjoy the range of choices. Choose from up to 25 ready-made meals which are packed with seasonal, local produce. Ideal for independent supermarkets, convenience stores, petrol stations, 24-hour outlets, hospitals, chemists, health food and grocery stores, gyms and fitness centres.
Foodservice and Hospitality
We Feed You makes it so easy to feed your customers and guests, without having to have a well-equipped kitchen, skilled staff or loads of ingredients on hand. They are also suitable for kitchens that struggle to cater for the wide range of food intolerances we see today. The We Feed You kitchen is gluten free and with a dietitian as a co-owner and chef in the business, they take food intolerances seriously.
They meals are perfectly suited to hospitals, bed and breakfasts, motels, backpacker hostels, end of trip facilities, tourism outlets, retirement homes, senior citizen centres and more. Simply make a microwave available and customers can serve themselves or serve up with a fresh garnish.
For more information or to place an order, contact We Feed You today.