Australian Cheeses - Brancourts - Wholesale Cheese Suppliers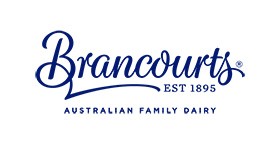 Since 1895, Brancourts has produced high quality cheeses. An Australian owned and operated family business, Brancourts continues its fine tradition of using local ingredients and time-honoured methods to deliver what has become an extensive range of cheeses. Today, they also offer a fine range of outstanding dessert yoghurts.
Brancourts manufactures, markets and distributes a range of fine wholesale cheeses, yoghurts and dairy products both locally and internationally.
They supply supermarket chains, the food service industry and the independent trade and industrial sector.
Established in 1895.
Brancourts have won countless gold, silver and bronze medals for cheese making and for their outstanding yoghurts.
According to Dairy Australia, the first brie produced in Australia was made by Julius Brancourt in the 1890s.
Brancourts takes pride in the high quality of all their products and their exceptional customer service.
Food service quantities and retail packs are available.
The range
Cheddar and semi-hard cheeses
Mild, semi matured, vintage, smoked, tasty, swiss, edam, Colby and lite tasty.
Fresh cheeses
Ricotta, fetta, cottage cheese and Neufchatel.
Mould-ripened cheeses
Brie, camembert and double brie.
Stretched and hard cheeses
Bocconcini, mozzarella, haloumi, pecorino and parmesan.
Premium Dessert Style Yoghurt
Ready to eat fruit yoghurts plus a range of fruit purees to allow you to prepare fresh product daily. Made from nothing but wholesome, natural ingredients.
Retail
Brancourts' retail range covers a wide variety of cheese styles including flavoured cheeses with exotic blends such as Apricot & Almond, Melon & Mango, Sweet Chilli, Naturally Smoked and more. Count on the Brancourts name to build your cheese sales.
Food Service
Food service quantities of wholesale cheeses are available. Brancourts offers the full gamut of cheese products from mild, vintage and smoked to stretched and hard cheeses. Purchase your cheese shredded, sliced or in a variety of other formats.
---
Contact details for Brancourts Cheese
---