FAQs - Charlie's Cookies - Wholesale Biscuits & Cookies Suppliers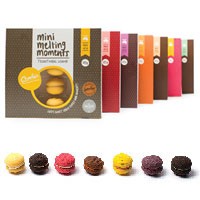 Charlie's Cookies is the name behind a range of gorgeous wholesale Mini Melting Moments available in seven retro and contemporary flavours. Here are some frequently asked questions.
Are Mini Melting Moments made in Australia?
Yes and in fact, Charlie's Cookies is 100% Australian owned. Our cookies are made in Melbourne.
Melting Moments have been around for generations; what makes these ones so special?
We wanted to create something that would rival the excitement that surrounds French macarons and all their colourful glory. Mini Melting Moments are vibrant in colour and are the perfect size for a quick treat. They're handmade with premium ingredients so you could say they taste like homemade, but with our exotic flavour choices, they're arguably better.
How did you come up with the flavours?
We took our cues from the latest food trends to create Choc Salted Caramel and Raspberry White Choc. Consumers also love to enjoy classic flavours such as our Traditional Lemon but to really compete with the exciting flavours out there in the marketplace, we concocted our new favourites including Orange Espresso and Choc 'Noir' Mint.
Do they have a long shelf life?
They certainly do; in fact, much longer than that of macarons so you can purchase in bulk and never run out.
How are Mini Melting Moments positioned?
Our Mini Melting Moments are a premium gourmet treat. They are made with quality ingredients and presented in beautiful packaging which is suitable for gift giving. We've put a lot of thought and passion into our products and we know that your customers will see the value in them.
What do professional chefs like about the product?
We sell loads to professional chefs who enjoy the fact that they are a ready-made product that's easy to handle and can simply be put out as required. They enjoy that they are shelf stable at ambient temperatures and more cost effective than macarons.
If you have any other questions, please contact Charlie's Cookies.
---
Contact details for Charlie's Cookies + Slices
---