Beetroot Lattes - The Bircher Bar - Latte Supplier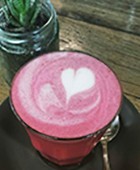 It's pink, it's pretty and it's frothy … kind of like a tutu in a mug! The Bircher Bar's beetroot latte powder is a big deal and definitely attracts attention when a glorious latte is carried through a café or served at the table. And despite its obvious pretty pinkness, it's even popular with men, for its earthy, virtuous flavour and nutritious goodness.
Most people know beetroot from a snack bar steakburger or a wilting Christmas Day salad. But the poor humble beetroot is a star performer in the nutrition stakes. It is an excellent source of B vitamins, magnesium, dietary fibre, potassium, copper and Vitamin C. It has natural sweetness and an incredible colour which, when mixed with milk – or nut mylks – turns a gorgeous shade of light crimson.
Why beetroot lattes?
As Darcy at The Bircher Bar says, when prepared correctly, a beetroot latte has a tantalising flavour profile loaded with bold and earthy beetroot flavours. Their blend features cinnamon, ginger, cardamom and vanilla, all perfectly balanced for a sublime, comforting cup of gentle flavours and tummy-pleasing benefits. Each of these ingredients boasts its own qualities:
Beetroot – Packed with antioxidants, iron, folate, magnesium and nitrates so it's brilliant for blood health.
Cinnamon – Also rich in antioxidants, it's useful in regulating blood sugar levels and keeping the heart healthy.
Ginger – A valuable anti-inflammatory rhizome, also great for digestion and immunity boosting.
Cardamom – Full of essential nutrients, it's also antibacterial and excellent for respiratory health.
Vanilla – Assists with metabolism regulation and nervous system health.
How to make a beetroot latte
It's so easy; simply blend the powder with a little hot water then add steamed milk as for a regular latte. Garnish with cinnamon powder.
Add to smoothies
The Bircher Bar Beetroot Latte blend is versatile and you can enjoy it added to dessert baking, or add a teaspoon to your favourite smoothie or smoothie bowl.
---
Contact details for The Bircher Bar
---