Vote for Blackall Gold Washed Rind - Woombye Cheese - Cheese Supplier
We always knew they were special, but now they're on course to achieve national recognition. Woombye Cheese Company, home of wonderful handcrafted cheeses produced on Queensland's Sunshine Coast are up for a big award.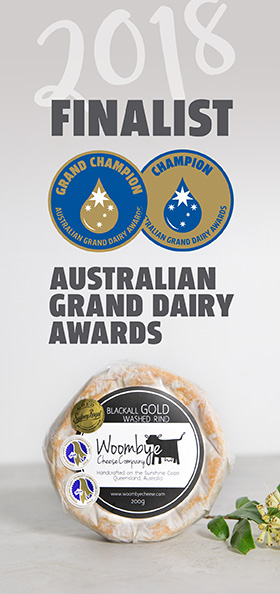 Their Blackall Gold – Washed Rind cheese has been nominated as one of the three finalists in the Washed Rind Category of the 2018 Australian Grand Dairy Awards. Karen Paynter, Woombye Cheese Company's Owner/Founder says that being a Finalist in this category is particularly gratifying, given the labour-intensiveness of this particular cheese.
"It's our cheese that takes the longest time to mature too," she says. "We work very hard to keep the cheese consistent to how it was made when we started and being nominated proves that our persistence has well and truly paid off."
The gorgeous orange hue of the washed rind helps Blackall Gold stand out in dairy cases, like it's been kissed with Queensland sunshine. The cheese has already won awards in its short lifetime, including a Gold Medal at the 2017 Sydney Royal Cheese & Dairy Show.
A unique and delicious cheese, Blackall Gold is surprisingly mild when young but as it ripens, more robust flavours develop.
VOTE FOR BLACKALL GOLD
Woombye Cheese Company would be delighted if you would vote for Blackall Gold Washed Rind in the People's Choice category. What makes it so special is that it's one of the industry's most prestigious and highly-regarded awards, and recognises excellence and quality in the dairy industry of Australia.
We wish them all the best and look forward to learning of the results!
---
Contact details for Woombye Cheese Company
---