JEEERKS Beef Jerky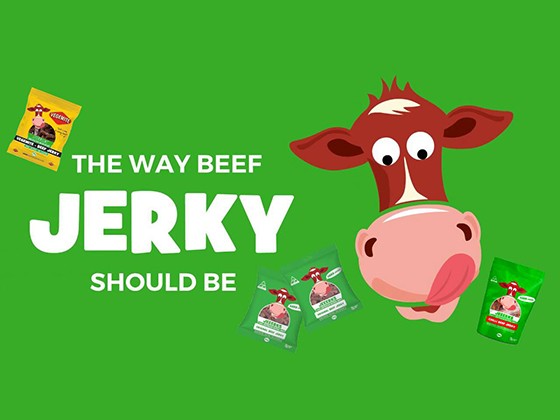 More Images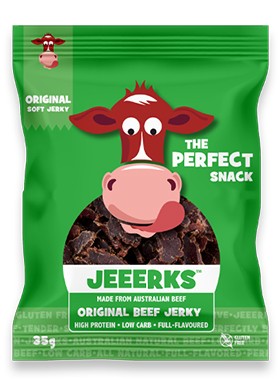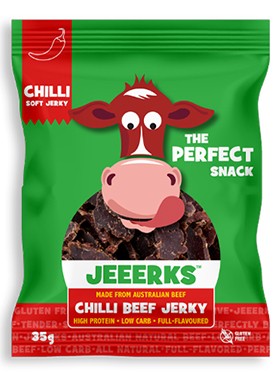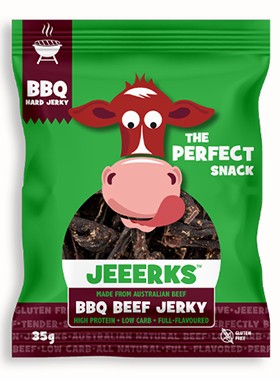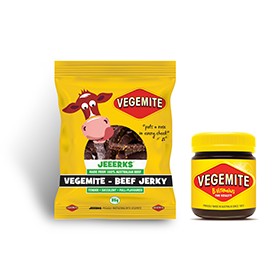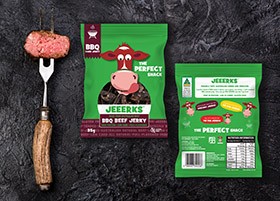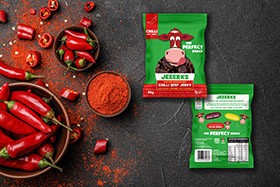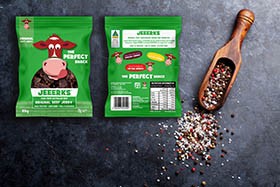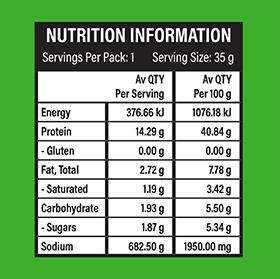 JEEERKS Beef Jerky
JEEERKS Beef Jerky - 100% Australian-Owned, Australian Ingredients
All-natural Australian Beef, gluten free, traditional beef jerky in five fabulous flavours!
JEEERKS is scrumptious beef jerky with loads of personality! It's packed with protein, low in fat, gluten free* and full of flavour, and it's packaged in bright, cheerful pouches that your customers will love!
As a healthy snack, jerky can be enjoyed guilt-free, any time of day. Its high protein, gluten free and low carbohydrate nutritional profile makes it a surprisingly filling munchie that helps to avoid overdoing the snack foods. And its delicious flavour means it's a satisfying, fulfilling mouthful every time. Contrary to the belief that jerky is an unhealthy food, founder Pip Clark is keen to educate consumers and advises that it is a superior food to chips, nuts and lollies.
JEEERKS Beef Jerky is commercially produced in Brisbane in a HACCP-accredited facility.
What makes JEEERKS so cool?
JEEERKS' unique and quirky branding gives it great appeal across a wide range of consumers. Even kids love it, thanks to the bright, happy packaging. And with five tantalising flavours on offer, including Chilli Beef for grown-ups, it works as a snack, a cheeseboard accompaniment, a lunch box addition, bar treats and as a far healthier alternative to chips and crackers. You can even choose from soft or hard!
For those following a low carb, high protein, Paleo or Primal diet, JEEERKS Beef Jerky is the obvious choice.
The flavours
Available in 35g retail packs, in Soft and Hard, JEEERKS Beef Jerky is ideal for hotel mini bars, lunch boxes, vending machines and point of sale purchase.
As the company says: "A bag of JEEERKS a day keeps the munchies at bay!" Made with quality ingredients, your customers will love the flavours and be back for more.
Original Beef Jerky
The classic blend of herbs and spices provides a rich and rounded flavour enjoyed by all ages. It's the perfect snack for any time of day and anywhere you are. Available in Soft and Hard.
Coffee Beef Jerky
JEEERKS' Coffee Beef Jerky is a unique combination of the finest Queensland grown and roasted coffee beans, 100% Australian beef and traditional beef jerky flavours.
BBQ Beef Jerky
A slightly smoky, well rounded barbecue infused jerky, BBQ Beef is non-sugary, non-sticky and will satisfy without leaving cravings for anything unhealthy. Munch on-the-go and keep those hunger pangs at bay. Available in Soft and Hard.
Chilli Beef Jerky
Chilli JEEERKS ignites the tastebuds with its expert blend of spices and the ideal amount of heat to keep 'hot-heads' happy. Available in Soft and Hard.
Vegemite Beef Jerky
JEEERKS' Vegemite Beef Jerky is made with the Original VEGEMITE that has been an Aussie favourite for over 95 years. Perfectly blended, tender, succulent and irresistibly flavoursome.
JEEERKS Vegemite Beef Jerky is taking jerky to the next level! *Please note that this product CONTAINS GLUTEN.
Retailers
Based at Kirra on the Gold Coast, JEEERKS Beef Jerky is proudly Australian made and owned, with a quirky personality. Why not consider stocking it in your store and offering your customers an alternative to high sugar, high fat, high carb options? It is currently supplied to a number of IGAs, service stations, pubs, surf clubs, sports clubs, bowls clubs, fruit markets, butchers, bottle shops, taverns, snack bars, theme parks and convenience stores.
Foodservice
Keep JEEERKS on hand in your café, canteen, juice bar, Paleo outlet or food van to offer your hungry, snack-seeking customers. It can be added to cheeseboards and ploughman's platters and served alongside beer, cider and red wine.
JEEERKS of all kinds love JEEERKS beef jerky! Gym jeeerks, lady jeeerks, low carb jeeerks, munchie-loving jeeerks and even little jeeerks. Keep it on hand to enjoy every day!
To discuss your requirements or to place your first order, contact JEEERKS Beef Jerky today.
---
More information about JEEERKS Beef Jerky
JEEERKS Beef Jerky
JEEERKS is premium beef jerky with a vibrant personality. It's perfect for lady jeeerks, gym jeeerks, children jeeerks and pub jeeerks ... view the video to see why!
---