Jono's Jerky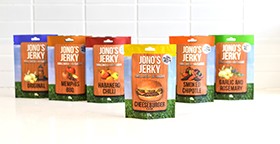 More Images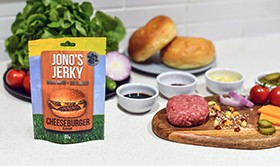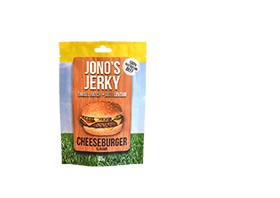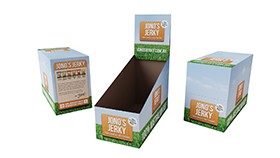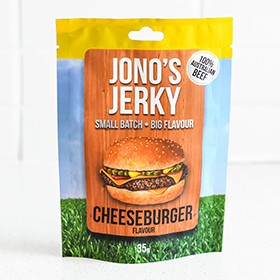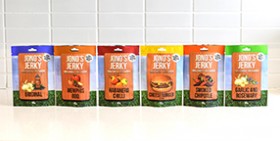 Jono's Jerky
Cheeseburger Flavour
Unique new flavour set to shake up Australian Jerky scene!
All new Cheeseburger flavoured beef jerky now available Australia wide!
The team at Jono's Jerky have a reputation for the most flavoursome and innovative jerky varieties in Australia and the newest addition to Jono's line-up is no different. Crafted with a delicate mix of mustard, tomato sauce, pickles and onion salt this is a flavour that jerky fans simply will have to try!
Opportunities now exist for distributors and retailers seeking to diversify their jerky and snack food offerings. Jono's Jerky is a strong seller in grocery stores, bottleshops, pubs and convenience stores.
The cheeseburger flavour completes the range of full-flavoured gluten-free products offered by Jono's Jerky.
We asked some of our wholesale customers about what separates Jono's Jerky from other brands. Here is what they said:
Bright and colourful packaging
A healthy alternative to snacks containing high salt and sugar such as lollies and chips
A range of flavours to encourage repeat purchases
Unique flavours to spark impulse purchases
Gluten-free and dairy-free snack.
Made in Australia from 100% Australian beef
A great option for gift purchases and hampers.
Simply fill out an enquiry form below to get in touch with our dedicated team to discuss distribution and wholesale opportunities for this exciting new product!
More About Jono's Jerky
Jono's Jerky was born in a pub! Jono was working in a pub in Canberra and one fine trivia night, he offered up a zip-lock bag of his homemade beef jerky to regulars. The response was so passionate, he knew he had to turn his fiancé's recipe into a business. A few months later Jono's first ever market stall sold out in under three hours and his fate was sealed. After years of dedication and persistence, the enterprise has grown to what it is today. Now, Jono's Jerky is a premium product, and one of the fastest-growing jerky brands in Australia
Jono's Jerky Flavours:
Original Jerky – The original variety that started it all, it's flavoured with wholegrain mustard, garlic and Cajun spices.
Memphis BBQ Jerky – A full-flavoured combo of spices and smoky sauces, right out of Memphis. This is Jono's signature flavour and it always outsells the others! It won a Silver Medal at the 2017 Sydney Royal Fine Food Show.
Smoked Chipotle Jerky – Flavoured with oven-roasted, smoked chipotle peppers and spicy paprika. Bronze Medal winner at the 2017 Sydney Royal Fine Food Show.
Garlic & Rosemary Jerky – Inspired by the irresistible Sunday roast, it's a classic flavour pairing you'll love in this jerky.
Habanero Chilli Jerky – Fresh Aussie-grown habanero chillies add heat and flavour and there's also a hint of smoke. Bronze Medal winner at the 2017 Sydney Royal Fine Food Show.
Cheeseburger Jerky – Jono's latest creation is a balance of mustard, tomato sauce, pickles onion and Worcestershire sauce. A delicious combination that tastes just like a big juicy cheeseburger!