Life Grip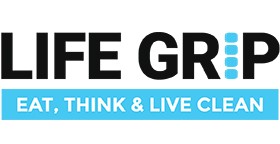 Life Grip
The cleanest supplements money can buy
When Adam Phillips, the Founder of Life Grip felt his health slipping away while working a hectic FIFO lifestyle which involved dismal nutrition, he knew something had to change. He gave up his hard-partying ways and explored nutrition and ultimately, turned his life – and his health – around. Adam learned that by putting healthy foods into his body, he was able to create a new vision for his future and that vision includes the products he offers today.
"I realised there is one thing I can never do and that's bypass clean whole food nutrition," he says. "I researched and spent thousands of dollars on education and consults. This sort of adaptive nutrition was before only applied to high class athletes. So I decided to bring what high class athletes receive, to the everyday person willing to increase their quality of life."
Life Grip's whey protein and greens supplements are made from the highest quality, most nutrient-rich ingredients available so that every serve is a nutritional powerhouse.
Australian Grass-Fed Whey Protein
Don't settle for inferior products. Choose Australian grass-fed whey protein which is brimming with nutrients. Cows allowed to roam and graze on fresh grass naturally produce more nutritious milk. The milk is slowly dehydrated at a low temperature to produce a powder that retains all the goodness but is easy to store, carry and consume. Available in 1kg tubs which provides 37 serves.
100% Australian grass-fed whey protein
GMO free
Hormone free
Gluten free
Low temperature processing
21g protein – 6g BCAAs per serve
Choose from three flavours, all made with 100% natural ingredients.
Natural Whey Protein - Nothing but pure, natural Australian grass-fed WPC.
Vanilla Whey Protein - Always a popular flavour and the beginnings of limitless vanilla recipes, from smoothies to bowls, protein balls to slices. Ingredients: Australian grass-fed WPC, natural vanilla flavour, stevia.
Chocolate Whey Protein - Chocolate is always a winner and makes everything taste even better! Add to brownies, muffins, smoothies, bowls, protein balls, slices, muesli and more. Adam says that mixing Life Grip Chocolate Whey Protein with coconut water tastes like an incredible chocolate milkshake, but a clean one so it's even better! Ingredients: Australian grass-fed WPC, natural cacao flavour, stevia.
5 Greens Powder
Life Grip's 5 Greens Powder contains just 5 ingredients: wheatgrass, barley grass, alfalfa, oat grass and spelt grass. All sprouted, they make for an extremely micronutrient-dense supplement. Take as shots or add to smoothies, bowls, juices and yoghurt (try it frozen). It can also be added to hot dishes such as soups and grain salads. 5 Greens helps to detox the body, reduce stress and boost immunity. A single serve in the morning and one in the afternoon will help to increase energy levels, vitality and mental clarity. Available in a 400g tub, it contains 40 serves.
100% Australian-grown greens
GMO free
Gluten free
10g serve = 100g of green leafy vegetables
Loaded with vitamins, minerals and antioxidants
Guaranteed quality
Adam guarantees that Life Grip's whey protein and greens supplements are the best products in terms of quality and value combined, across the supplement industry in Australia.
Retailers
Give your valued customers access to the very best. Consumer testimonials and consistent results provide proof that Life Grip's products work every time. They help to eliminate cravings, increase uptake of the cleanest supplements available and help consumers to move closer to their fitness, health and wellbeing goals faster than they ever thought possible.
Life Grip is a must-stock product for your health food store, supplements outlet, gym, personal trainer retail offering and bodybuilding studio.
Online retailers
Life Grip offer drop-shipping for online retailers.
Foodservice
Smoothies, bowls and juices are created using clean whole foods. Supplements used should be the cleanest possible products, in their rawest form. It's here that Life Grip products support café and juice bar owners. Life Grip Protein and Greens Powder assists with balancing customers' blood sugar levels, leaving them with a noticeably different feeling from your smoothies, than from the rest of the market. It's no longer enough to whip up a smoothie; there needs to be more, a focus on balancing blood sugar levels. This helps sustain satiety and increase energy and mental clarity. Life Grip provides exact measurements of any food types you wish to you use in your recipes, giving you an incredible recipe that sets your juice bar or café apart in the marketplace, helping you create more and more loyal, returning customers.
Life Grip is a brand with a mission statement, not a brand with a line-up of fashion and fitness models.
"Improve Mental Health & Prevent Disease through Nutrition, Meditation & Active Lifestyles"
For more information or to place your first order, contact Life Grip today.