Mmmore Raw Treats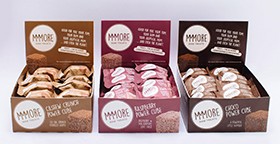 More Images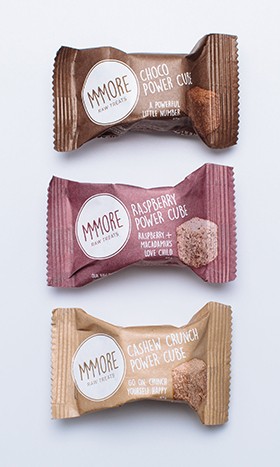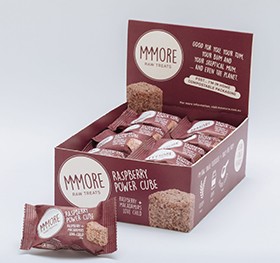 Mmmore Raw Treats
Raw, Vegan Power Cubes - Wholesale Supplier
Power Cubes are the latest, greatest sweet treat for those who need a bit of a sweet fix in their life but don't want it to be overloaded with refined sugar, artificial additives and any other nasties. The brainchild of Sydney woman, Lenka, Power Cubes are perfectly portioned cubes of raw goodness, coated in desiccated coconut. They may look a little like the humble lamington but that's where the resemblance ends. Power Cubes are extraordinary morsels of nutrition that are perfect for an energy boost and a satisfying flavour sensation.
Snackable and stackable, Mmmore's naked Power Cubes are hand-crafted in Australia using only whole-food ingredients. Lenka has thought of everything; they're even presented in home-compostable packaging so they're planet-friendly as well as tummy-friendly!
Raw
Vegan
Gluten free
Dairy free
Refined sugar free
Ready to serve
Paleo-friendly
Raw Power Cubes
Exclusive to Mmmore, Raw Power Cubes are the ultimate quick snack. They're individually wrapped for convenience so your customers can simply grab them and go!
Choco Power Cubes – 'Power Up Choc' is packed with satisfying protein. The raw nuts, seeds and cacao make them munchy, crunchy and more-ish.
Raspberry Power Cubes – 'Pink Macadamia' is a tangy, nutty, tangy, unabashedly pink cube which may just inspire spontaneous romantic gestures.
Cashew Crunch Power Cubes – 'Cashed-Up Crunch' is an explosion of cacao nibs and cashews with the added wickedness of fudgy date and cacao butter.
Retailers
Keep Mmmore Raw Treats' Power Cubes at point of sale in your health food store, pharmacy, newsagent, petrol station or supermarket. They're the ultimate grab-and-go protein snack!
Foodservice
Mmmore Raw Treats' Power Cubes are ideal snacks that can be offered to your customers and guests in cafes, restaurants, hotels, day spas, food trucks, on airlines or anywhere where health-conscious people are looking for something nutritious and cool.
For more information or to place an order, contact Mmmore today.
---
More information about Mmmore Raw Treats
Interview - Lenka Porubska - Mmmore Raw Treats
Raw foods are soaring in popularity and for good reason. They're healthy, tasty and very good lookin'! Founder and Director of Mmmore Raw Treats, Lenka Porubska even created her own unique product, Power Cubes. We talked with Lenka about why her range is different. Click here