Molives – Australian Table Olives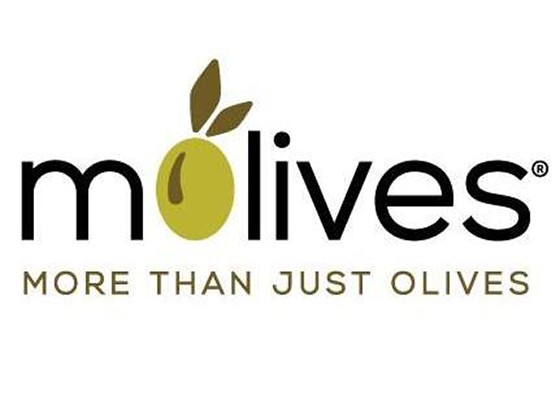 More Images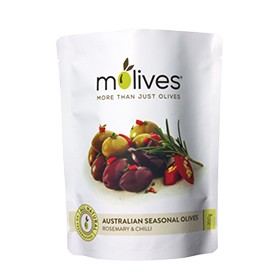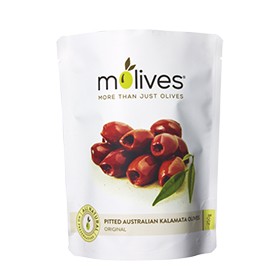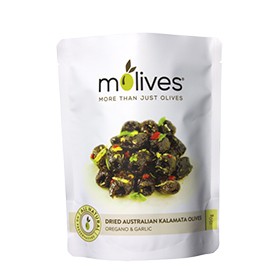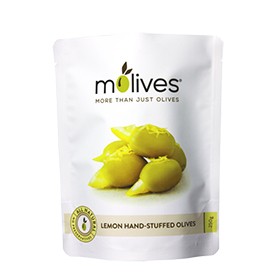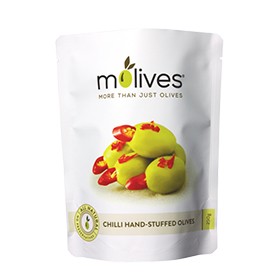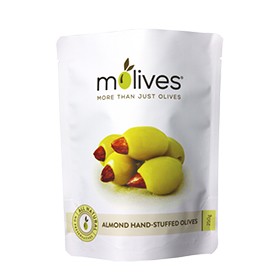 Molives – Australian Table Olives
Gourmet Australian olives that come in convenient, smart packaging!
Molives®: The New Generation of Olives
Molives® are sealed in easy-to-open 250g pouches:
No refrigeration required
No fuss; no liquid; no mess
Always fresh and delicious
You will enjoy just how easy Molives® are to store and serve. Your customers will enjoy just how divinely delectable they taste.
Molives® is a Sydney based company. Our mission is to produce quality, artisan gourmet olives for all our discerning customers. Our passion for olives allows us to find the finest, most nutritious olives and constantly push the boundaries to create new gourmet olive products.
We support Australian farmers directly, working closely with the source and selecting the best, freshest quality olives.
Molives® For Cafes:
Consistent quality and taste; tear and serve with minimal effort.
A healthy and locally grown offering your customers will appreciate.
Easy to add to dishes: either slice the stuffed olives, or make your own marinade with the pitted Kalamata olives.
Can be served as part of a dish and offered as a product for your customers to purchase afterwards.
No cool room space is required.
Portions are 250g only; no need to worry about refrigeration, simply open what is needed for the day.
Molives® For Wine Bars:
Tasty, healthy and less fattening than nuts; an offering that will surely impress your customers.
No cool room space required.
Lemon olives are perfect for martinis; they come with minimal oil coating.
A high margin product that you can serve on its own.
Portions are 250g only; no need to worry about refrigeration, just open what is needed for the day.
Molives® For Bottle Shops:
The perfect upsell product.
A great complement for chips and nuts.
6-month shelf life.
Stand-alone point of sales solutions offered.
High priced item, no need to sell volumes.
Not a mainstream product; repeat purchases are highly likely.
Molives® Product Range:
Seasonal Mix Table Olives
100% Australian olives sourced from A-grade growers. Salt reduced and marinated and packed by the Molives® team, they offer excellent presentation as well as outstanding flavour, thanks to the addition of rosemary and chilli. All natural, with no artificial colours, chemicals or additives. Supplied in a 250g pouch.
Pitted Kalamata
Succulent and flavoursome, pitted kalamatas are even loved by children! Stir through pasta with olive oil, chilli and basil or boost the level of flavour in a picnic baguette. Or, simply enjoy with cubes of fetta and slices of crusty bread. Supplied in a 250g pouch.
Dried Kalamata Olives
Flavoured with oregano and garlic, these dried kalamatas are perfect for pizza toppings, to toss through salads or to serve on a cheese board or antipasto platter. Supplied in a 150g pouch.
Hand-Stuffed Lemon Olives
Fresh local lemons are used in these lovely olives, hand-stuffed for extra care. Add to a Moroccan tagine or a lamb stew or serve atop a moussaka, straight out of the oven for a lemony accent. Supplied in a 250g pouch.
Hand-Stuffed Chilli Olives
Ruby red slices of chilli accentuate the appearance of these olives which are perfect for those who like a bit of 'bite' to their food. Hand-stuffed for extra care, they will add effortless good looks to any dish. Supplied in a 250g pouch.
Hand-Stuffed Almond Olives
Hand-stuffed almond olives go hand in hand with Middle Eastern cuisine. Create a bed of couscous for roast meats on an attractive platter then decorate with the olives. They also make an ideal snack to enjoy with beer or chilled white wine. Supplied in a 250g pouch.
About Molives®
Shelf life: 6 months
Ambient storage
Delivery: Nationwide
Retailers
Stock the olives your customers deserve. Produced locally to extremely high standards, the quality is exceptional and the flavour makes Molives® a food they'll enjoy consuming themselves and be proud to serve to guests.
Foodservice
Molives® makes it so easy to serve beautiful olives that have an obvious freshness. Don't settle for less than the best. Presentation, flavour and texture are all top of the line with Molives®.
To enquire further, place an order or to discuss your specific requirements, contact Molives® today.
---
More information about Molives – Australian Table Olives
Molives® - more than just olives
Gourmet Australian olives that come in convenient, smart packaging! No refrigeration required. No fuss; no liquid; no mess. Always fresh and delicious. Click here
Molives Hand Stuffed Olives
Australian family run business Molives produces gourmet wholesale hand stuffed olives for retail and foodservice. Using award-winning, fresh Australian ingredients, the olives are hand-stuffed and marinated. Fifteen incredible flavours are available with more on the way. Read more about Molives' amazing olives and why they are the olives of choice among discerning restaurants, bars and delis. Click here
Molives® - What we dream to achieve ....
How the Molives journey began and what they dream to achieve for their discerning customers and the Australian olive industry.
---