Snowy Mountains Cookies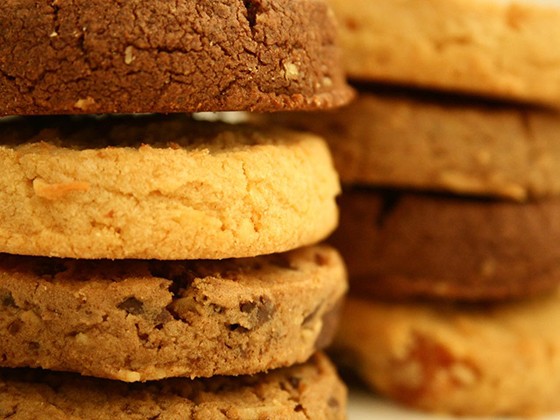 More Images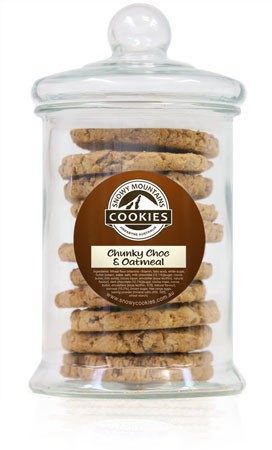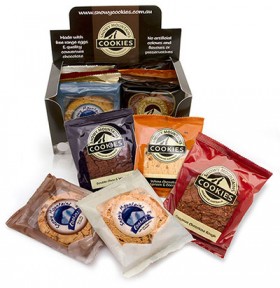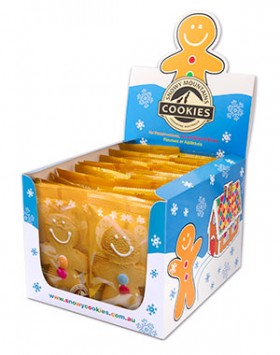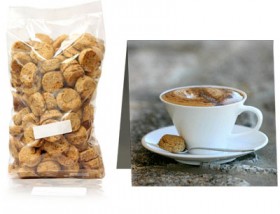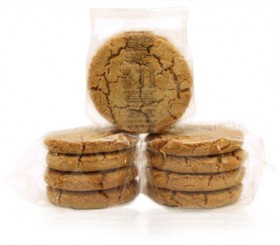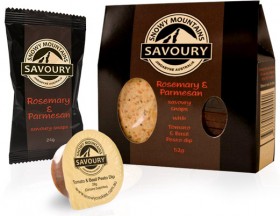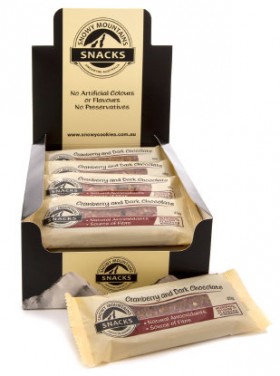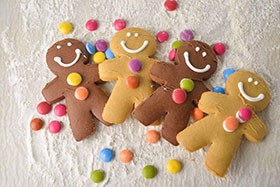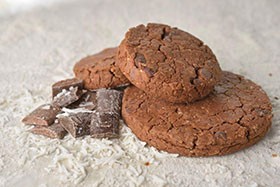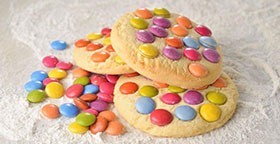 Snowy Mountains Cookies
Cookies, Savouries and Snacks
A family-owned and operated business, Snowy Mountains Cookies boasts arguably Australia's highest bakehouse at 1020 metres above sea level. Owners, Nolen and Daisy Oayda, were both heavily involved in the snow industry for many years with Nolen skiing competitively for Australia, before making a living as a photo journalist. The idea of starting Snowy Mountains Cookies was brought about from travelling and skiing adventures throughout Canada and North America and tasting chunky, homestyle cookies on their travels. Snowy Mountains Cookies takes great pride in customer service and being a reliable and trusted baking company. Clients include multiple airlines, including Qantas who have been a long time customer for over 9 years, right through to independent cafes.
Fresh, real ingredients
Snowy Mountains Cookies takes pride in making scrumptious, wholesome cookies, savouries and snacks using only the highest quality ingredients, including:
Free range eggs
Real butter – not margarine
Couverture chocolate – not compound
Chunky nuts and fruits with no preservatives
Sweet Cookies
Customers love variety and choice so ingredients and textures vary to cover all tastes. With Snowy Mountains Cookies on offer you have a great choice of flavours, products and sizes that appeal to a broad range of customers. Gluten free cookies are also available, as are gluten, dairy and nut free. Cookies are available in multiple packaging formats including single wrapped 20g, 25g, 50g and 80g; 50g and 80g display boxes; twin packs of 2 x 20g cookies; single wrapped 50g gingerbread men; 35g single wrapped ice cream cones; bulk packed 20g and 80g cookies suitable for cookie jars, also available to purchase for display purposes.
Almond, Cranberry & White Chocolate – Combines almond slivers with cranberries and creamy white chocolate. Firmer in texture.
ANZAC – Thicker than a regular ANZAC but with the same traditional flavours of golden syrup, coconut and oats. Firm texture.
Apricot, Cranberry, Almond & Coconut – (Also available in gluten free.) Tart, tangy cranberries come together with sweet dried apricots, shredded coconut and almond slivers. Softer texture.
CocoChoc – Moist, chewy coconut combines with dark chocolate pieces to create a crunchy cookie.
Chunky Choc & Oatmeal – A beautifully balanced flavour of dark and milk chocolate, complemented by wholesome oatmeal. Firm and crunchy in texture.
Date, Dark Chocolate & Coconut – Dates, fruit and dark chocolate work together in this rich cookie. Softer texture.
Double Choc & Walnut – Dark in colour, this cookie features milk and dark chocolate flavours and is complemented by crunchy walnuts. Crunchier in texture.
Ice Cream Cone Cookie – Shaped like an ice cream cone, it's an original butter cookie festooned with hundreds and thousands on icing. Crunchier texture.
Gingerbread Men – Choose from two yummy flavours: classic gingerbread or chocolate gingerbread. Each is decorated with a huge smile and colourful buttons. Firm texture. Gingerbread Men, Christmas Trees and Reindeer all packaged in a festive Christmas film are also available between October and December.
Hazelnut Choc – This scrumptious wholemeal cookie pairs smooth milk chocolate pieces with tantalising hazelnuts.
Lemon, Lime & Coconut – Gluten, dairy and nut free. This delicious cookie has a sweet lemon taste with flavours of coconut and lime. Crunchy outside with a chewy inside texture.
Love Chocolate – (Also available in gluten free.) Loaded with more than 43% of white, dark and milk couverture chocolate, this is an incredibly indulgent and irresistible chocolate cookie. Soft to firm in texture.
Muesli Munch – Seeds, fruits, nuts and grains combine in this scrumptious cookie that features a softer texture and crunchy rice puffs. Softer texture.
Pecan, Sultana & Oat – Healthy, simple ingredients blend to deliver a naturally sweet biscuit with oaty flavours. Softer texture.
Spiced Caramel & White Chocolate – A favourite during cold months, this is a soft, chewy cookie with warming cinnamon and oat flavours, studded with smooth chunks of white chocolate.
Spotty – Colourful chocolate buttons make this original butter cookie vibrant and irresistible. Crunchier texture.
White Chocolate, Apricot & Coconut – (Also available in gluten free.) Sweet dried apricots and shredded coconut are mixed with into a classic white chocolate cookie. Softer in texture.
Petite Bites
Petite Bites are a small cookie that fits perfectly on a teaspoon, designed as a complimentary treat served with coffee or tea.
Almond Ginger – Firm with a slightly crunchy texture.

ANZAC Biscuit – Firmer texture.
Shortbread – Softer in texture with a sweet buttery flavour.
Savoury
Small, savoury biscuits generously filled with natural, tasty ingredients. These make a wonderful accompaniment for dips, cheese, charcuterie and beverages. Snaps can be packaged with a Dip and Chickpea Splits in a carton of 105, or individually in packs of three in a box of 60, with either option making an ideal addition to a picnic basket or lunch box. Made without artificial colours, flavours or additives and no preservatives, they are of the same premium quality as they rest of the Snowy Mountains Cookies range. To enquire about current flavours, please contact Snowy Mountains Cookies, as new flavours are introduced every 6-9 months.
Snack Bars
Snowy Mountains Snacks have been designed as an alternative, healthier option to regular cookies. Based on flourless recipes, Snack Bars boast the same quality ingredients and delicious flavours including fruits, nuts, seeds and grains. Available in a 45g single-wrapped bar in display boxes of 20 or cartons of 200.
Cranberry & Dark Chocolate – A moreish concoction of rolled oats, golden syrup, coconut and almonds, studded with dark chocolate chunks and ruby cranberries.
Nature's Nuts, Fruits & Seeds – Virtuous yet incredibly tasty, it features rolled oats, sultanas, dried dates, walnuts, sunflower seeds, desiccated coconut and brown sugar.
Apple, Cinnamon & Oat Daily De-lite Bar – A delicious apple and cinnamon taste treat with a unique texture somewhere between a muffin and muesli bar. Great as an any time of day snack.
Retailers
Snowy Mountains Cookies makes it easy to offer great-tasting cookies to your retail customers. Individually wrapped for freshness and convenience, they look great on displays, at point of sale and as suggestions alongside coffee, tea and other products. Ideal for supermarkets, convenience stores, delicatessens, general grocers, gift stores, chemists, newsagents and petrol stations.
Foodservice
Offer your customers delicious cookies made with love and bursting with fresh, natural ingredients. They can be served as is to café customers or used as welcome gifts or morning or afternoon tea treats in bed and breakfasts. Add them to your hotel mini bar or leave out a tray of these individually wrapped cookies in your corporate offices or boardroom. Excellent catering cookies, they appeal to a wide range of tastes.
To discuss your requirements or to place an order, contact Snowy Mountains Cookies today using the form below.
---
More information about Snowy Mountains Cookies
Interview - Snowy Mountains Cookies
Travelling around North America eating cookies was the ultimate inspiration for Jindabyne couple, Daisy and Nolen. When they decided to establish a business making cookies, they looked back on their travels and came up with a range that is not only delicious but also made with keen attention to keeping things simple, clean and natural. Click here