Careme Pastry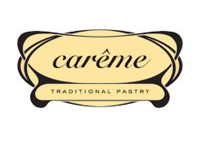 Carême Pastry is a family run business that specialises in high quality, ready-to-use wholesale pastry dough for use by domestic and professional cooks. Learn more about Carême Pastry and the high praise that has come from esteemed chefs.
Established in 2005 to provide a range of the finest handcrafted pastry products.
Made using traditional methods from natural ingredients.
No additives, preservatives, colourings, stabilisers, relaxants or any other additives commonly used in mass production.
All products are genuinely hand made to the highest quality.
Owners William and Claire Wood come from a restaurant background and were disappointed with the quality of commercially available ready-made pastry.
Carême Pastry spares cooks and chefs the time-consuming task of creating pastry from scratch, and guarantees consistent, high quality results.
Retail packaging features attractive pastel colours and high end design for maximum eye appeal.
Instructions are found on the inside of every pack.
Foodservice sizes are convenient and practical for use in busy commercial kitchens.
The frozen pastry range
Whether for use at home or in a restaurant or catering kitchen, Carême Pastry has the ideal solution for time-poor cooks who desire a top quality handmade pastry that performs and tastes as well or better than homemade.
All Butter Puff Pastry
Full, French style butter puff pastry. Available in 5kg ready rolled rolls and 2.5kg ready rolled sheets for foodservice, and 375g for retail. Use for sweet and savoury pies, freeform tarts, pie tops and sausage rolls.
Sour Cream Shortcrust Pastry
Enhanced with sour cream and butter to create a flaky, melt in the mouth result. Available in 5kg ready rolled rolls and 2.35kg ready rolled sheets for foodservice and 445g for retail.
Use for pies, quiches, encroute, sausage rolls, sweet tarts and fruit pies.
Vanilla Bean Sweet Shortcrust Pastry
Real vanilla bean and egg yolks give this pastry a beautiful richness. Available in 2.3kg ready rolled sheets for foodservice and 435g for retail.
Excellent for sweet tarts and biscuits.
Dark Chocolate Shortcrust Pastry
Made with couverture chocolate for added decadence. Available in 2.5kg ready rolled sheets for foodservice and 300g for retail.
Ideal for sweet tarts and biscuits.
Retailers
Position Carême Pastry with pride. Your customers will only need to try it once to discover the high quality and delicious results. Consider making available recipe cards, holding cooking demos and taste tests.
Foodservice
Count on consistently top quality with Carême Pastry's range of wholesale ready-made pastry products. Endorsed by the likes of Stephanie Alexander, Maggie Beer and prestigious magazine Food Editors, Carême Pastry is sure to be the pastry solution you've been looking for.
---
Contact details for Carême Pastry
---