Interview - Clayton Pine - Pine Tea & Coffee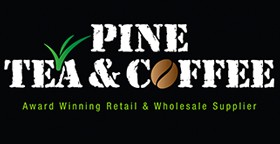 Pine Tea & Coffee are true specialists in the beverages market. Their family history through Bushells stood the brother and sister team in good stead and today, they own their own vibrant tea and coffee business that continues to innovate in order to delight the customer.
FFW: Who established Pine Tea & Coffee?
PINE TEA & COFFEE: We are a brother and sister team, Clayton and Lesley Pine and we've been operating Pine Tea & Coffee since 1996.
FFW: What products does your company specialise in?
PINE TEA & COFFEE: Apart from a large range of specialty leaf teas and gourmet roasted coffee beans we supply coffee syrups, pyramid tea bags, chai latte powder, matcha latte powder, turmeric latte powder, tea accessories including tea pots, tea sets, cold brew kits, cups, infusers, strainers, tea measures, tea tins and soft tea packaging materials. We also offer espresso coffee pots, coffee filters, plungers, domestic and commercial espresso machines, all of your barista needs and more.
FFW: Do you blend the teas in-house?
PINE TEA & COFFEE: All black, green, white and oolong teas are seasonally sourced direct from origin and then blended and packed in our Castle Hill factory. All black, green and white flavoured teas, fruit melanges, herb, spice and rooibos blends are sourced in bulk through our Hamburg supply partners.
FFW: What kind of experience do you have?
PINE TEA & COFFEE: I'm formally trained in the industry alongside tea and coffee professionals both here and overseas and have worked in the roles of tea and coffee taster, buyer, blender and manager since joining the family company, Bushells Tea & Coffee, in 1974. Over nearly 45 years I've held positions within several world leading tea and coffee organisations, and was for two years Chairman of the Australian Tea & Coffee Traders Association. I commenced my own tea and coffee trading company in 1993 which later led to the establishment of Pine Tea & Coffee Pty Ltd with Lesley.
FFW: Have you won any awards for your products?
PINE TEA & COFFEE: We have won almost 200 awards for best tea and coffee at the Royal Agricultural Shows NSW, Tasmania and Victoria, and The Golden Bean Awards. The awards include gold in Espresso in Melbourne, gold in Cappuccino in Hobart, and many gold, silver and bronze for various tea and coffee blends, plus for tea, one Champion of Show and two Reserve Champion of Show at what is now the Royal Hobart Fine Food Awards for Tea.
FFW: Where do the different teas come from?
PINE TEA & COFFEE: Our most popular teas are sourced from various regions of Sri Lanka, Assam, Darjeeling and Nilgiris in India, and China provinces including Fujian, Hunan, Yunnan, Anhui, Sichuan and others. We buy Japanese teas from Shizuoka and Kyoto, and to a lesser extent we source teas from Kenya, Taiwan, PNG, Indonesia and Australian estates. All fruit, herbal and exotics are sourced through our European partners who have access to many farms across the world.
FFW: How do you manage to keep up with such a large variety?
PINE TEA & COFFEE: We taste teas every day and we are constantly in contact with each origin assessing crops and weather, production, quality and availability. We constantly travel and visit tea estates, traders and trade fairs to keep abreast of industry and consumer trends.
FFW: What kind of event could your retailers create to show off your tea brand?
PINE TEA & COFFEE: Our retailers could hold tea and coffee tastings, and pairing events to promote the wide range of teas and coffees along with food and other beverages.
FFW: Can all your teas be consumed iced as well as hot?
PINE TEA & COFFEE: Most teas and coffees make excellent iced products. Flavoured green, Rooibos, herbals and fruit make refreshing cold brew teas.
FFW: What makes your teas different/special?
PINE TEA & COFFEE: We bring to the table qualified experience in finding, tasting and selecting the various teas. A network of professionals in our supply chain ensure our teas are the best available at any time.
FFW: Do you have a favourite blend? How do you take yours?
PINE TEA & COFFEE: Premium English Breakfast is a blend of select premium black teas with a distinct Darjeeling brightness, flavour and fragrance. It's the favourite for all occasions at home. I prefer a five-minute infusion in the teapot with just a touch of milk in the cup.
FFW: Tell us about your latte blends, syrups and sauces.
PINE TEA & COFFEE: Some time ago we were roasting coffee samples as traders, but locals waiting for their children at a Dural swim centre wandered in asking about the wonderful aroma, and eventually asked "could we produce a sweet flavoury coffee for them". So we worked on it and produced our multi-award winning Clayton's House Blend, and with steamed milk, it's a fine latte creation, with creamy, nutty body and high notes of sweet lemon and peaches. So was born not only a new coffee, but the start of a whole new business.
Syrups add the taste of fresh hazelnuts, bourbon vanilla, creamy caramel or maybe you prefer Irish Cream, butterscotch or other flavours to complement your coffee. It's all a matter of which taste is preferred but the flavours are a tasty diversion, and the sauces add a thick flavour to the top of a latte or bring out the creative side of your barista.
FFW: How can your clients get more value out of them?
PINE TEA & COFFEE: The syrups make refreshing milkshakes, and can be used as bar mixers for mocktails and cocktails, and the sauces are great with desserts. If you're like me, a chocoholic, try a little ice cream on your chocolate sauce, or dip the marshmallows and get hooked.
FFW: If you could land a huge new client, who would you wish for and why?
PINE TEA & COFFEE: Those cafes inside Woolworths. Whether before or after shopping I feel like relaxing with something special and it is just not there. I would love to lift that experience.
FFW: What's next for Pine Tea & Coffee?
PINE TEA & COFFEE: We are working on a new showroom experience for locals who have a passion for coffee and tea. Expect to see something new in our overall presentation.
Well it seems like exciting times are ahead for the company and with their enormous experience, coupled with their deep passion, it's not surprising that they're as dynamic as they are. If you'd like to enquire about doing business with Pine Tea & Coffee, drop them a line today.
---
Contact details for Pine Tea & Coffee
---