Interview - Tiny Tea Kids - Tegan Carakitsos
Tiny Tea Kids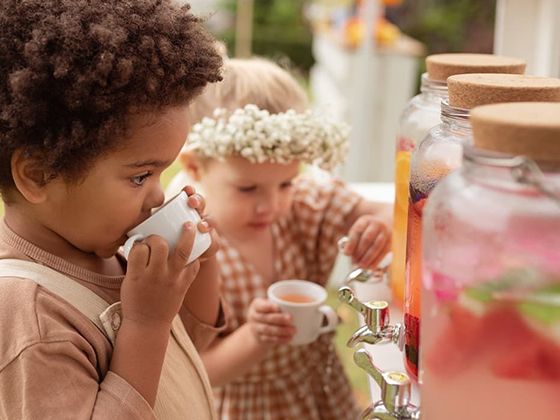 More Images
Imagine a drink your kids would LOVE – at home, at cafes and at parties – that doesn't contain loads of sugar but is still fun and flavoursome. We spoke with Tegan Carakitsos about her cool brand, Tiny Tea Kids and discovered that tea bags for little ones are 'the new juice'.
FFW: How did the Tiny Tea Kids range come about?
TINY TEA KIDS: Through my children's interest in my own tea drinking ritual and the struggle of finding good, nutritious, clean kids' drinks on the market.
FFW: What is Tiny Tea Kids about, other than simply tea?
TINY TEA KIDS: The products are a caffeine-free, low-sugar alternative to sugary drinks, offering mindfulness and wellbeing and helping the next generation of kids live a happier and healthier lifestyle.
FFW: What can you tell us about olive leaf?
TINY TEA KIDS: We chose this ingredient for its antioxidant properties which may help reduce free radicals formed in the body. Is also fantastic for immune support and general wellbeing.
FFW: Would you say Tiny Tea Kids is a wellness brand for kids?
TINY TEA KIDS: Yes, I do think so, I hope this brand helps create a message to prioritise mindfulness and wellbeing from a young age. All our products are recyclable or biodegradable, and our tea bags are made with corn starch fibres so carry no microplastics like lots can.
FFW: Did you enlist any help in creating the range?
TINY TEA KIDS: I came up with the idea myself and starting with creating my own brews at home, trying all different options. Once I had a bit of an idea of what I was after, I enlisted the help of Tea Vision for their services, alongside a children's nutritionist.
FFW: How did you come up with the different flavours?
TINY TEA KIDS: This was all my kids, really. I'm sure you can tell by the names – fairy floss and bubblegum – as this is what they asked for, so I embarked on finding a healthy taste for these flavours. I also wanted the children to relate to the flavours, choosing flavours that may normally be out of reach due to sugar content. We wanted to bring a little excitement to the kids' cups but in a healthy form.
FFW: From where do you source your ingredients?
TINY TEA KIDS: We ethically source our ingredients from all over the world including Canada, Egypt, Australia and Albania to ensure the best seasonality of the product.
FFW: Do the teas taste sweet to kids' palates?
TINY TEA KIDS: It depends on the child and what they are used to, many say it's sweet. We chose to create them with sweetness as children generally do prefer this. Also keeping in mind that we want to cater for kids that are given no sugars. I think it's the perfect balance. If not sweet enough for kids that are used to drinking soft drinks or juice, they could always add a touch of honey. It's still going to be 100 times better than cordial or any of those nasty drinks.
FFW: What would you say is Tiny Tea Kids' brand personality?
TINY TEA KIDS: Tiny Tea finds joy in the little things; the unexpected moments that make us smile and stop and appreciate the world and those around us. It's feelgood, educational, wholesome, playful and friendly.
FFW: What makes Tiny Tea Kids a great gifting product?
TINY TEA KIDS: It's the perfect gift because it's unique and different. It creates interactive play and is also good for them. The kids get really excited at the idea of making their own tea as it's new and exciting to many kids.
FFW: And what sort of feedback do you receive from your retailers and foodservice businesses?
TINY TEA KIDS: All positive, they think it's such a fabulous product. Branding is a big selling point.
FFW: What is the best temperature for Tiny Tea products to be enjoyed?
TINY TEA KIDS: 50 degrees is great for a warm tea and good drinking temperature. It can also be consumed in icy cold water or infused in sparkling water which is fun!
FFW: How do you help clients to promote your products in store?
TINY TEA KIDS: Yes, we have all promotional materials for our retailers including flyers, posters, takeaway cups if needed and all marketing material can be customised for each store if necessary.
We also have great stands available for benchtop for point of sale or free-standing options.
FFW: How would you suggest retailers promote Tiny Tea Kids?
TINY TEA KIDS: Taste tests work fantastically as kids love the marketing and taste - end of aisle is great. Front of store stands are excellent too as marketing is interactive and kids love the little monsters, (parents do too).
FFW: What kinds of businesses should offer Tiny Tea Kids to their customers/clients?
TINY TEA KIDS: Everywhere really, we believe this should be a household name. Also childcare centres, play centres, naturopaths and school tuckshops.
FFW: How can cafes and other foodservice businesses incorporate Tiny Tea Kids in their menus?
TINY TEA KIDS: Offer them next to the baby chino or on the kids' menu. Try offering iced tea with a slice of fruit in it. Also, with a cute kids' mug for serving warm, having teabag removed and just string a tag hanging from a cup as it's a quick brew when served warm, or branded Tiny Tea takeaway cups.
FFW: Do you happen to be a fan of another food or beverage brand that you'd like to mention here?
TINY TEA KIDS: Health Lab Kids! I love what they are about and the products are so tasty and healthy.
FFW: And finally, what would be a coveted achievement for Tiny Tea Kids?
TINY TEA KIDS: International recognition would be great; we are already taking USA as we speak. Also being able to sponsor a big event or help a charity that involves children would be wonderful. I know the Royal Children's Hospital currently recommends certain herbal teas for kids, I'd love for them to use ours.
FFW: Get on board with this health-minded brand of teas for kids and show your customers you care about their little ones' nutrition. Reach out to Tiny Tea Kids today.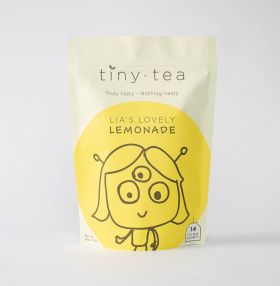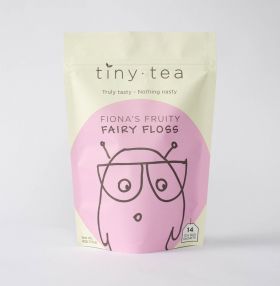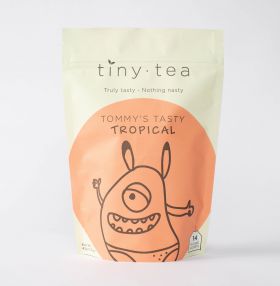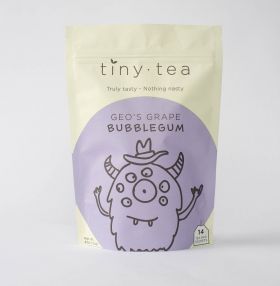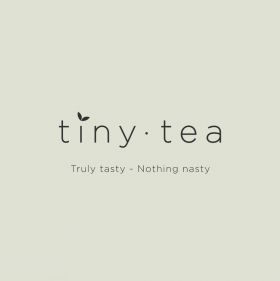 ---
Contact details for Tiny Tea Kids
Service Area Australia Wide
---