Interview - We Bar None - Ellen Burns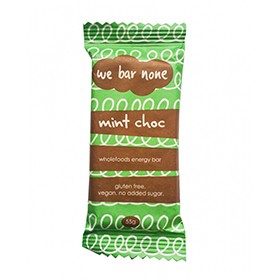 When you eat a We Bar None product, not only will you enjoy the delicious flavour and goodness of an honest, healthy food but you'll also be supporting a sustainable business. All products are packaged in compostable wrappers! We spoke with Ellen Burns about why she goes extra steps to do the right thing.
FFW: Who is behind the We Bar None brand?
WE BAR NONE: Me! I am a sole trader and have spent the last three years building the business up by myself. I started out doing literally everything, from marketing to packaging, manufacturing, R+D, design, deliveries…you name it! I still do the majority of things myself but have been smart enough to reach out for help where I need it. Saying that, I couldn't do what I do without the support of my family and friends. My fiancé and Mum have both helped me out at markets and expos and are expert taste testers.
FFW: What are the products you offer?
WE BAR NONE: My range includes 6 flavours of energy bars and 4 flavours of crackers. I also make some special seasonal products, like mini Christmas puddings and Hot Cross Buns. I love experimenting with recipes and being able to offer something different.
FFW: Are your products 100% natural?
WE BAR NONE: All of my snacks are totally natural. They are all Paleo and wholefoods friendly. It's important to me to offer products that are minimally processed and only use ingredients that you can find growing in the ground.
FFW: Are they gluten free? Paleo-friendly?
WE BAR NONE: All of my snacks are gluten free, vegan and Paleo. More and more people are finding that they have food intolerances and it's really not difficult to create products that are suited to these dietary requirements. I only use quality plant-based ingredients, and don't believe in padding my products out with grains or sugar. My crackers are also low carb and low FODMAP, which is really exciting for people who have been previously unable to enjoy crackers. When I started my own business, I really wanted to fill a need for consumers and I love providing options for people who are often overlooked.
FFW: Why are your bars retailed individually instead of in multipack boxes?
WE BAR NONE: I retail my bars individually so that people can mix and match the flavours. While there are some customers who have a favourite and eat the same flavour every day, most consumers like to have a choice and mix things up. I also find that when a couple or family buy my bars, each person usually has a different favourite, and I want to keep everybody happy!
FFW: What protein do you use in the bars?
WE BAR NONE: My bars contain around 7g of protein each, but I do not use any added protein. All of the protein content comes purely from the natural ingredients. I have found that a lot of people do not digest protein powders very well and can sometimes have adverse reactions to even plant-based protein powder. I don't believe that there should be a need for added protein if we are eating a healthy, balanced diet.
FFW: What gives the bars their sweetness?
WE BAR NONE: Sweeteners are a huge point of contention and everybody has their own opinion on what people should and shouldn't be using. I use dates to sweeten my bars, for several reasons. Firstly, they are a natural and unprocessed ingredient. Secondly, they are low GI and diabetic friendly. They don't spike your blood sugar and contain natural fibre to balance the absorption of the sugar. Thirdly, they help stick my bars together! I use a lot less dates than many other wholefoods brands that I've seen; just enough to give enough sweetness and a beautiful texture. Sweeteners like agave syrup have an awful amount of fructose, and, on the other end of the spectrum, rice malt syrup has no fructose but is a highly processed grain-based ingredient that is extremely high GI and not safe for diabetics.
FFW: How can the seed crackers be enjoyed?
WE BAR NONE: My seed crackers are really diverse. They are tasty enough to eat by themselves straight from the packet but mild enough to pair with any topping. Stockists and customers often use them on cheese or tasting platters. The Paprika + Chilli are amazing with avocado or guac to balance out the spice of the chilli. Because they are made from seeds, they are incredibly filling and can definitely be used as a substantial snack or meal base. There is less than 20g of carbs in a whole packet, so they can even fit into keto and low carb meal plans.
My bars can also be enjoyed in a variety of ways. You might think that an energy bar is just an energy bar but I've used them as the base for a lot of different desserts like cheesecakes and slices. They're also delicious if you throw them in the microwave for a few seconds and enjoy them warm and fudgy.
FFW: What can you tell us about your compostable packaging?
WE BAR NONE: I recently became the first Victorian business to have 100% certified home compostable packaging. I'm only the third business in the whole of Australia and I'm so excited! It's really incredible; they're made from sustainable plant cellulose from things like Eucalyptus, sugar cane and corn starch. When a customer has finished one of my snacks, they can throw the wrapper in their compost bin or bury it in the ground and it will safely degrade back into plant matter. The response from customers has been incredible. People are really starting to think about the waste that they're creating. The zero-waste and plastic-free movements are exploding and it's so exciting to be able to offer a packaged product that fits within those lifestyles.
FFW: In what other ways does We Bar None follow sustainability principles?
WE BAR NONE: I have always tried to be as sustainable as possible in my business practices. Even before sourcing my new packaging, I have always recycled packing materials and tried to eliminate waste in all ways possible. I use biodegradable plant-based packing tape and recycle any and all packaging that I receive in orders from other businesses. I stick to local farmer's markets to cut down on my fuel consumption and be in touch with my local community, even though I could probably make more money selling in bigger cities. My recent business launch was an almost completely waste-free event. I used foraged and local flowers and fairy lights for decoration instead of balloons or one-use items. There were no plastic plates or cups. It's not that hard to be eco-friendly; it really just requires some thought. It would be impossible to be a totally plastic-free business, because you would always have someone sending you something sealed with tape, or wrapped in plastic, but I really try as hard as I can with anything that I can control. It's just about doing your best and encouraging others to follow suit.
FFW: What sorts of retailers are selling your products?
WE BAR NONE: My products are stocked in a really great range of different places. I supply health food stores, grocers, shops with a focus on Australian made and local products, cafes, pilates and yoga studios, hairdressers, a chiropractic centre, a meal delivery service, a University; they are also stocked in a few online stores. I've also had orders from conferences and events putting together gift bags.
FFW: And what kinds of foodservice businesses would you like to see offering We Bar None to their customers?
WE BAR NONE: I'd love to see my snacks in more cafes around the country, as well as hospitals, Universities, hotels, airlines, gyms and retreats. My products are really suitable for everyone, especially people who are interested in supporting Australian small business, choosing a sustainable option, and looking after their health and wellness.
FFW: Are your products suitable for school tuckshops?
WE BAR NONE: All of my bars contain cashews, so they are unsuitable for any schools with a strict no-nut policy. Unless there is a student with severe anaphylaxis, however, there is no reason for schools to enforce a nut ban. It has been proven that exposure to nuts at a young age can actually prevent the development of allergies. At schools that allow nuts, my bars are perfect to keep students full and focused, as they are low GI and don't cause a spike in blood sugar.
FFW: What is We Bar None's brand personality?
WE BAR NONE: We Bar None's brand personality is my personality, and I would say that first and foremost, that means authenticity and enthusiasm. I am really passionate about my product, and my ability to provide food options that are delicious, nutritious, ethical, convenient and accessible. I'm proud of my product and I think that my enthusiasm shines through in my dealings with stockists and customers. Healthy eating shouldn't be boring, or gross or difficult. I want to make it easier for people to make choices that they are proud of, and can be happy and enthusiastic about. My authenticity is about making the best product possible, but it's also about how I promote my product and the way I deal with stockists and consumers. I live my life with honesty and openness. I don't plagiarise marketing content, or schedule social media posts months in advance. I have an open dialogue with all of my customers and welcome all forms of feedback. For me, it's about forming relationships and learning how to serve others better.
FFW: What quality and customer service virtues does We Bar None promote as part of the company's high standards?
WE BAR NONE: I have really high standards for myself and the business. I am here to improve the lives of others. This means fitting into a wide range of dietary requirements and choices, using only the best ingredients, operating in a sustainable way and being as flexible as possible. I'm able to supply large volumes of the energy bars at a consistent level of quality. I also believe in strong partnerships, with a passion for cross-promotion and partnering with equally incredible brands.
FFW: What is the shelf life of the bars and crackers?
WE BAR NONE: My energy bars now have an amazing 12-month shelf life. I have managed to achieve this without the addition of any preservatives. My energy bars are heat treated, brought up to 70 degrees for a couple of minutes, to preserve the nutritional content of a raw product but kill any lurking bacteria. The home compostable packaging also protects them with an amazing triple-layer barrier. My crackers have a 6-month shelf life and will stay crispy, even after opening, if kept in an air-tight container.
FFW: As a small producer of quality foods, do you happen to admire any other producers of food and beverage products?
WE BAR NONE: I do farmer's markets in my hometown of Ballarat, so I am surrounded by amazing local producers! Caravan Eggs have the best eggs I've ever eaten, laid by hens that live in caravans! Ballarat Mushroom Farm, Goldfields Cheese and of course Meredith Dairy, Hoftra's Hives for incredible raw honey. Country Style Smallgoods are just incredible. Also, Mitchell Harris Wines and Kilderkin Distillery. I featured almost all of these suppliers at my business launch; I'm so proud of where I come from. Ballarat and surrounds is really exploding with amazing produce at the moment.
FFW: If you are as impressed with Ellen's authenticity and passion as we are, you'll make a point of contacting We Bar None today to discuss how the bars and crackers can fit with your business.
---
Contact details for We Bar None
Service Area Australia Wide
---