Forbidden Foods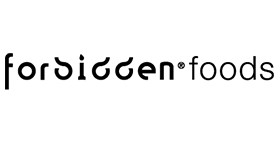 More Images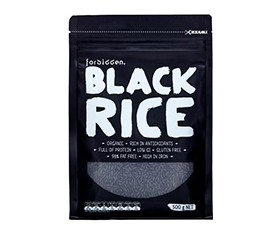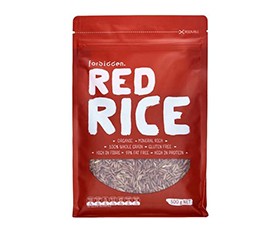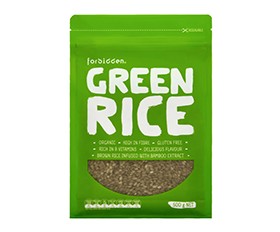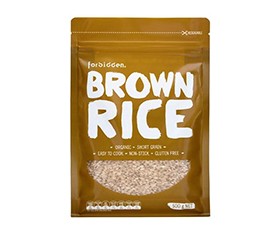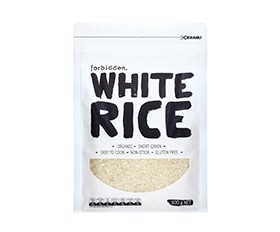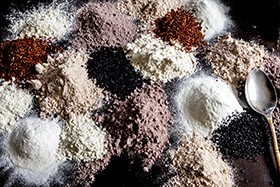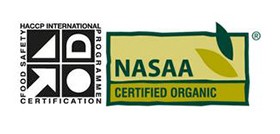 Service Area Australia Wide
Forbidden Foods
Organic white, brown, black, red and green rice
Forbidden Foods brings you five exciting rice products that will inspire you to create new menu dishes. Add new pizzazz to your rice recipes with five different colours of rice, each with its own individual flavour profile.
Forbidden Foods is HACCP Certified and NASAA Certified Organic.
Forbidden Organic White Rice 500g
Forbidden Organic White Rice is a pantry essential! Smooth like a pearl, it's an easy to cook, pure rice that is very easy to digest and works well in everyday rice recipes. It has been par-boiled which reduces the cooking time and retains its rounded shape and smooth texture, making if perfect for recipes that call for a less sticky rice. We think it's the world's best organic white rice, but don't take our word for it, try it for yourself. Ideal to accompany Lemon Chicken and seafood dishes. 10kg bags also available on request.
Forbidden Organic Brown Rice 500g
Forbidden Organic Brown Rice is a pantry essential! It is a short grain that is elegant, golden and best of all, easy to cook because it has been par-boiled. This also makes it less sticky when cooked and you will instantly notice the beautiful round texture, its fluffiness and ease of handling. Brown rice is a great pairing with chicken and also in a pilaf. It is the ideal rice to use in Special Fried Rice or a Kale, Roasted Beetroot, Walnut & Brown Rice Salad. 10kg bags also available on request.
Forbidden Organic Black Rice 500g
Forbidden Black Rice has a delicious nutty taste, magical aromas and superior health benefits that make it a new alternative to white and brown rice. Black rice is a highly-treasured rice variety originating from Asia. It has been said that in ancient China, Black Rice was amongst several foods that were set aside only for the Emperor and the royal family due to their quality or health benefits. Use this product to create Black Rice Pudding, Black Rice Chirashi Sushi and Black Rice Salad.
Forbidden Organic Red Rice 500g
Forbidden Red Rice has complex floral aromas, delicious earthy taste, soft texture and shows a beautiful rustic red in colour. It is a high protein, healthy, basmati-style rice variety you can count on! Complex floral aromas, delicious earthy taste, soft texture and a beautiful rustic red in colour that makes it a striking presence in any dish and easily applied to a broad range of recipes. Use this product in Prawn San Choy Bow, Red Rice Vegan Patties or a Red Rice, Coconut & Strawberry Smoothie.
Forbidden Organic Green Rice 500g
Forbidden Green Rice is a short-grain organic brown rice infused with bamboo extract. Completely unique and innovative, it boasts a subtle green herbal-tea flavour and aroma with a mild nutty texture and a beautiful leafy green colour when cooked. Use this product in Green Rice Risotto, Pandan Steamed Green Rice with Baby Vegetables and Green Rice Meethe Chawal (Sweet Indian Rice).
Rice Flour Range
The company can also mill any of its wholegrain rice into a coarse or fine rice flour in Australia to meet your commercial recipe specifications. Perfect for gluten free bakeries, soup and baby food manufacturers. With the ability to portion size the rice flour into from 5kg up to 1000kg bulka bags, Forbidden Foods can help speed up your supply chain. Ask for a sample today!
Retailers
Make a feature of Forbidden Foods' exciting range of rice products. Create enticing displays showing off the different coloured rices and offer recipes and serving suggestions. Ideal for supermarkets, greengrocers, ingredients retailers, delicatessens, health food stores and food halls.
Foodservice and food manufacturers
The Forbidden Foods bulk rice range is a must-have rice supply for any professional kitchen.
See the company's website for loads of recipes and other serving suggestions.
To make further enquiries or to place your first order, contact Forbidden Foods today using the contact form.