Salumi Australia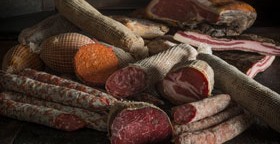 Salumi Australia
Award-Winning Smallgoods
Fine quality Italian smallgoods are on offer at Salumi Australia, founded by Sardinian born Massimiliano Scalas. Though Australian owned and operated, the skills and time honoured methods and recipes from well-known Italian regions are behind the continental authenticity of each product.
The Salumi range is entirely artisanal with every product handmade and with no flavourings or other unnecessary additives. The quality of the meats used provides the best foundation there is. Premium quality, locally-sourced ingredients are favoured to deliver freshness, top standards and genuine pride in the product. 100% local Australian pork originating from growers such as Bangalow Sweet Pork Co and Byron Bay Pork Co is used.
All meat is hormone and antibiotic free. The maturation process uses age old techniques to arrive at the unique texture and flavour found in European smallgoods. Quality spices, natural casings, the use of a larger animal with a higher fat content and traditional manufacturing methods are all behind Salumi Australia's supremely flavoursome products.
White mould
The white mould that features on the outside of Salumi Australia's salami is 100% natural and grows organically on the surface of its protective casing. The mould actually produces a molecule that inhibits the growth of other undesirable moulds, yeasts and bacteria. It protects against oxygen and light while also enhancing the individual flavour and characteristic of the products.
The Salumi Australia range
Salumi Australia's range of wholesale Italian smallgoods will appeal to Europeans looking for a taste of home, as well as discerning Australian lovers of quality pork and beef products.
Fresh Products: Salsiccia Fresca and Chorizo.
Salame: Cacciatorini; Salsiccia Sarda; Salame Classico; Salame Inferno; Salame Casareccio; Sopressa Milano; Salame Finocchiona; N'Duja; Sobrasada.
Cured Pork Jowl: Guanciale.
Cured Pork Belly: Pancetta Stesa Pepata; Pancetta Affumicata.
Cured Pork Loin: Lonza.
Cured Pork Leg: Speck.
Bottarga Di Muggine (Dried, Pressed & Salted Mullet Roe)
Quality virtues
Salumi Australia utilises environmentally friendly, state of the art technology and premium quality locally sourced ingredients. The company aims to build long term relationships with suppliers and customers alike and provide real value and quality at all times. Cutting corners is simply not allowed.
Only the minimal amount of preservative is used as required by regulatory bodies. As such all products are gluten and dairy free. Allowing the products to mature under the right conditions is the key to producing what Salumi calls "The New Old Flavour".
Enjoy offering your customers a genuine Australian owned and produced range of wholesale smallgoods, knowing that quality, flavour and service are the three cornerstones of Salumi Australia's culture.
Coeliac-friendly
After countless microbiological tests and a very lengthy wait, Salumi Australia has been accepted for endorsement by Coeliac Australia.
Award-winning
For the fourth consecutive year, Salumi has been involved with the Delicious Produce Awards and for the third year running has been selected as a medallist. Their products that took out the silverware this year were:
'Nduja (soft, spicy spreadable Salami) – Originating from the South East of Calabria, is a great addition to warm bread or can be cooked through a sauce or marinade.
Bottarga Di Muggine (dried, pressed and salted mullet roe) - Sourced from our local waters, this product is best known in Sardinia. Often it is served with olive oil or lemon juice as an appetiser and balanced with Australian fruity ales.
Additionally, Salumi was proud to represent the Northern Rivers of NSW in 2014's Sydney Royal Fine Foods Awards and won an impressive haul of nine medals!
Salame Classico (Gold); Salame Finocchiona (Gold); Sopressa Milano (Silver); Salami Classico Piccante (Silver); Salame Inferno (Silver); Bresaola (Silver); Lonza (Silver); 'Nduja' (Bronze); Sobrasada (Bronze).
Retailers
Stock your cabinets to the brim with Salumi Australia's celebrated range of award-winning smallgoods. Your customers will quickly identify the quality and superb flavour and will return again and again to purchase.
Foodservice
Top quality Australian produced smallgoods will always be a winner for your business, and particularly if they are award winners themselves! Enjoy Salumi Australia's diverse range of salamis and other fine meat products and serve them with pride.
To discuss your business's requirements for wholesale smallgoods and meats, contact Salumi Australia today.
---
More information about Salumi Australia
Interview - Massimiliano Scalas - Salumi Australia
When it comes to pork, Australian consumers covet three virtues: one, that it be locally sourced; two, that it be of top quality and three, that it taste exceptional. Happily, Salumi Australia checks all three boxes and their range of Australian-made wholesale smallgoods is delighting customers everywhere. We recently spoke with Massimiliano Scalas, the Sardinian-born founder of Salumi Australia who wanted to enjoy the taste of his original homeland right here. Click here
Salumi Australia Nets Swag of Medals at Sydney Royal Fine Foods
Proud representatives of the Northern Rivers region of New South Wales, Salumi Australia put forth some incredible entries in the Sydney Royal Fine Foods Awards. The region itself is no stranger to prizes for the amazing artisanal foods produced there so it was no huge surprise that Salumi Australia netted a haul of nine medals! Click here
Salumi Australia
For your quality wholesale Italian smallgoods, Salumi Australia's range delivers time-honoured methods and recipes from the old country. Read a little more about what makes Salumi a purveyor of coveted pork smallgoods in Australia. Click here