Sticky Balsamic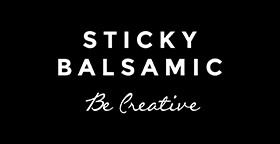 More Images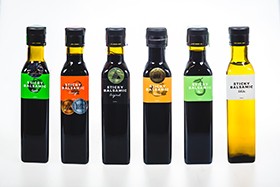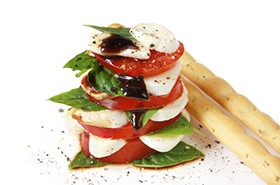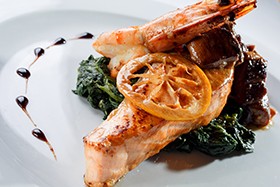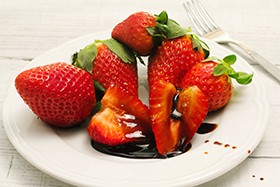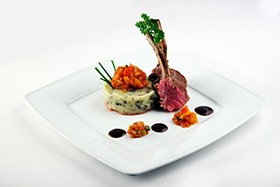 Sticky Balsamic
Medal-Winning Balsamic Vinegar
Multiple award-winning Sticky Balsamic gives you the opportunity to make your favourite dishes even tastier, with ease and finesse. Their delicious range of balsamic sauces can be used across all manner of dishes, from entrees and canapes through to main dishes and even desserts! There's Original, which is a rich, thick, balsamic taste sensation and then there are the expertly infused varieties which feature premium ingredients that take flavour in a new and exciting direction.
Sticky Balsamic enables you to transform dishes into incredible, mouth-watering star attractions. Each product is:
Made with all-natural, premium ingredients
Gluten free
Dairy free
No added preservatives
The range
There is a Sticky Balsamic variety to suit all manner of dishes from breakfast through to lunch, dinner and dessert and even to enhance canapes and serve with bread.
Sticky Balsamic Original – Wonderful with salads and meats. It retains its sublime balsamic flavour and also has a thicker, richer consistency. Multi-Gold medal winner.
Sticky Balsamic White – A handcrafted sticky white vinegar that can be enjoyed with salads, meats and desserts. Silver medal winner.
Sticky Balsamic Apple – Enhance salads with this one as even on its own it has loads of flavour. Or serve with pork and turkey or as a dip for fruit chunks. Silver medal winner.
Sticky Balsamic Lemon – Absolutely divine over seafood and terrific with terrine, summer fruits and vegetables. Dip freshly peeled prawns into Sticky Balsamic Lemon! Gold and Silver medal winner.
Sticky Balsamic Orange – This one pairs incredibly well with game meats, particularly duck, quail and chicken. Use it as a marinade or drizzle over the hot meat before serving. Try it drizzled over cakes or add to a salad dressing. Silver and Bronze medal winner.
Sticky Balsamic Pear – Ideal with cheeses, it can be used to flavour a cream cheese dip or can be drizzled over the cheese board. Dress salads or add a little something extra to hot meats. Silver medal winner.
Sticky Balsamic Premium Fig – The perfect fruit-infused balsamic vinegar to keep on hand in your pantry. It's gorgeous with cheeses, makes a fantastic glaze for red meats and works wonderfully as a salad dressing. Gold and silver medal winner.
Sticky Balsamic Premium Reserve – Vin-cotto style Premium Reserve is the ultimate pairing with meats, salads, cheeses and desserts. Bronze medal winner. Gold and Bronze medal winner.
Sticky Balsamic Premium Quince – A uniquely flavoured balsamic courtesy of the addition of quince. Try it as a dip with warm crusty bread or infuse a marinade to use for chicken or lamb. Multi-Gold medal winner.
Sticky Balsamic Premium Truffle – The exquisite truffle makes this a balsamic that will elevate any dish to greatness. Gold and Silver medal winner.
Retailers
Sticky Balsamic will quickly become a favourite in your retail outlet, among customers looking for something to add special touches and depth of flavour to their dishes. Home gourmets and even inexperienced home cooks will find they are not only easy to use, but help to create new slants on old favourites. Ideal for barbeques, roasts, salads, cheeses, desserts, dips and more, Sticky Balsamic is suited to supermarkets, delicatessens, ingredients retailers, food halls, greengrocers, butcher shops, specialty cheese stores and good, independent grocers.
Foodservice
Use a proud Australian balsamic in your restaurant, café or hotel. Sticky Balsamic offers plenty of scope among its varieties to add something new to every dish. Create new recipes around the innovative flavours of the balsamic and introduce your customers to the intriguing pairing of balsamic vinegar with a multitude of food including meats, fruit, and of course, to create beautiful desserts.
For more information or to place an order, contact Sticky Balsamic today.