Sue's Gourmet Flavoured Flax Seed Oils
More Images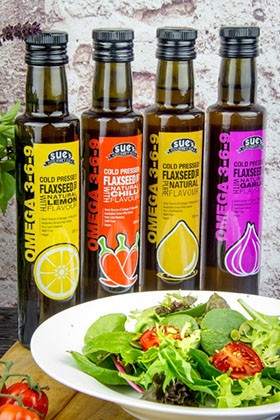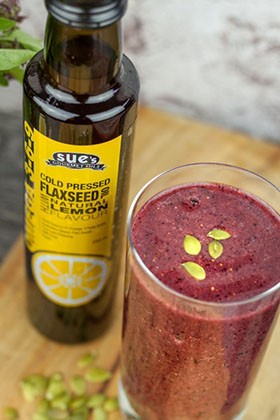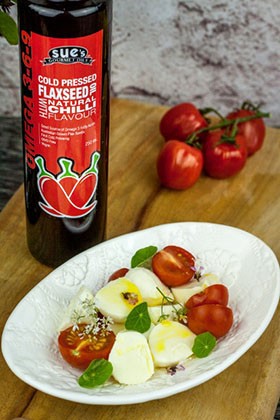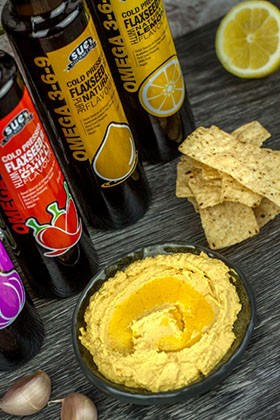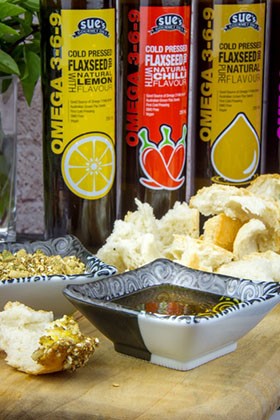 Sue's Gourmet Flavoured Flax Seed Oils
Sue's Gourmet Flavoured Flax Seed Oils
Chef Sue Benbow has been making her fine wholesale condiments on the Sunshine Coast for more than twenty years. And now, she introduces her exciting new range of gourmet flavoured Flax Seed Oils, an Australian first! The oils offer delicious pungent flavours and can be used in multiple ways to add a new element to your favourite dishes.
Why Flax Seed Oil?
Flax seed oil is bursting with Omega 3 and Alpha-linolenic acid (ALA), which is not available from fish. Omega fatty acids (3, 6 and 9) are essential for overall health. This oil performs optimally when used raw. In fact, it should never be used heated or for cooking because heating can change its chemical structure, and diminish its nutritional content.
Flavoured Flax Seed Oils
Sue's Gourmet Flax Seed Oils are full of flavour but the benefits go beyond that. The flax seeds Sue uses are:
Australian grown
First cold pressing
GMO free
Vegan friendly
Excellent source of Omega 3 fatty acids
How to use
Sue's Gourmet Flax Seed Oils are very easy to use. Drizzle over your salads and steamed vegies. Use to add wonderful flavour to risotto, pasta dishes, mashed potato or over the top of a pizza straight from the oven. Dress avocado and tomatoes or serve with crusty bread and dukkha as a dipping oil. Add to your green or berry breakfast smoothie. Refrigerate after opening.
The flavours
Each of Sue's Gourmet Oils is infused with natural ingredients to enliven the flavour. Each is available in a colourfully labelled 250ml glass bottle. Choose from:
Retailers
Stock Sue's Gourmet Oils in your health food store, supermarket, delicatessen, gift outlet, greengrocer or ingredients specialty grocer. They can also be sold through natural health practitioners such as nutritionists and diet consultants. Try offering taste tests with chunks of crusty bread and be ready with information about flax seeds' brilliant health and wellness benefits.
Foodservice
Give your dishes a nutritious point of difference. Serve Sue's Gourmet Oils over your salads, steamed vegie sides, pizzas, pastas and risottos and as a dipping oil with bread and dukkha. Juice bars can offer a 'shot' of flax seed oil in their fruit or vegie juices and smoothies, for additional nutrition.
To discuss your requirements or to place an order, contact Sue's Gourmet Oils using the form below.