OLÉ Mexican Foods (Australasia)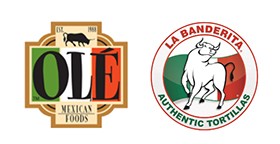 OLÉ Mexican Foods (Australasia)
Authentic Mexican Tortillas – Direct from the USA!
OLÉ Mexican Foods is all about bringing authentic Mexican flavours to the table. Since 1988 when the Moreno family began OLÉ Mexican Foods, our La Banderita tortillas have grown to become recognised worldwide as the freshest, softest and best-tasting tortillas! Our Corn & Flour tortillas are deliciously authentic Mexican with product ranges in Retail and the Foodservice sectors. Now the 2nd largest producer of tortillas in USA, our tortillas are sold coast to coast across North America; many countries in Central and South America; and now coast to coast in Australia.
We are proud to be at the centre of Australian tables and at the heart of an authentic experience with family and friends!
Whether your business is in Retail or Foodservice your customers will be able to Taste the Tradition, and enjoy La Banderita's Authentic Mexican Flavour.
Contact us today to for more information, inspiration or to find your nearest La Banderita foodservice distributor!
La Banderita Corn products
GLUTEN FREE VEGAN NIXTAMAL CORN
Our La Banderita authentic Mexican corn tortillas are the perfect way to add new dimensions to your menu. Our corn tortillas are of the highest quality using Nixtamal corn and traditions passed down generations so you can taste the authenticity and freshness.
La Banderita Mini Taquito White 4.5"
La Banderita Enchilada Blanco (White) 6"
La Banderita Enchilada Amarilla (Yello) 6"
La Banderita Yellow Corn Chips – 4 Cut Unfried
La Banderita Yellow White Chips – 4 Cut Unfried
La Banderita flour products
KOSHER MORE PLIABLE VEGAN
Made using only the best ingredients, our La Banderita flour tortillas feature unique attributes that make them softer and pliable, eliminating breakage. They have toast points on one side only which gives them an authentic look but conserves their pliability. La Banderita flour tortillas add great versatility to your menus at breakfast, lunch, dinner and even dessert. Chefs and cooks alike comment on the texture and flavour of our La Banderita flour tortillas, loving how easy our tortillas are to work with.
La Banderita 6" Flour Tortilla
La Banderita 8" Flour Tortilla
La Banderita 10" Flour Tortilla
La Banderita 12" Flour Tortilla
Video - The Olé Story
Olé Mexican Foods has been driven by a passion for great food for generations.
---