Toscano Belgian Waffles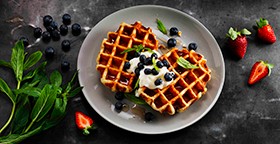 Toscano Belgian Waffles
Waffles - a European touch for every occasion
Toscano brings the taste of Europe to Australian homes and cafes with their authentic Liege waffles made by Belgian bakers since 1936. Available in Traditional and Chocolate Chip, the waffles are perfect to serve at breakfast or for dessert.
Traditional Waffles
Authentic Liege waffles made by traditional Belgian bakers. No one can resist these for breakfast or for dessert. They are a treat that can be served at special occasions, for a decadent weekend breakfast or on Mother's Day, Valentine's Day and other celebrations. For dessert, get creative; cut in half or crush and present the waffles as the star attraction in a glorious, multi-textured platter.
Chocolate Chip Waffles
Made in the style of authentic Liege waffles that have been produced by traditional bakers in Belgium since 1936. Each pack consists of four individually wrapped 90g waffles. For breakfast, serve with fruit, fruit compote, Nutella, jam or cream. For an even more decadent dessert, smother in ice cream, cream, custard or crème patissiere and add silky, warm chocolate fudge sauce and a scattering of crushed nuts. Or, serve with colourful fruits, whipped cream and a fruit coulis.
Retailers
Stock Toscano's Traditional and Chocolate Chip Waffles in your supermarket, convenience store, delicatessen, bakery or fine food hall. Position them near companion products such as ice cream, preserves and frozen fruit.
Foodservice
Toscano's waffle products make breakfast and dessert easy and beautiful. Invent new ways of serving them in your café, restaurant, bed and breakfast or hotel. They can be crushed over puddings, smothered in melted chocolate, cut into chunks for chocolate fondue or served whole with any number of decadent toppings.
To discuss your requirements or to place an order, contact Toscano today.