Otway Pasta Company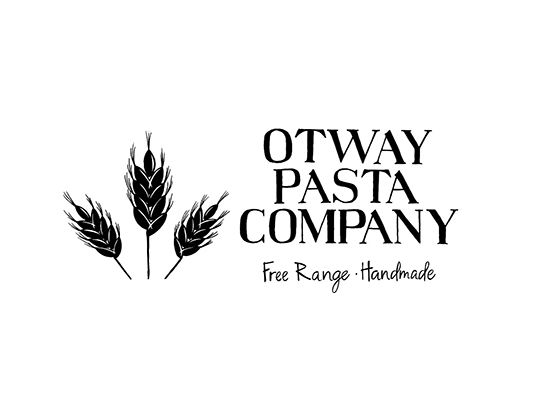 More Images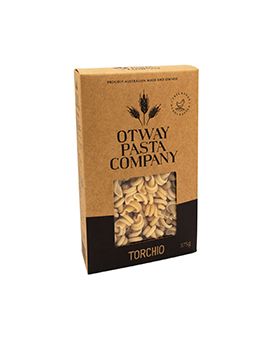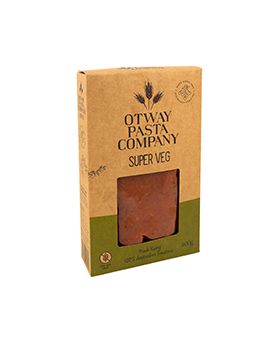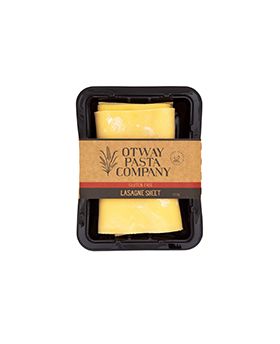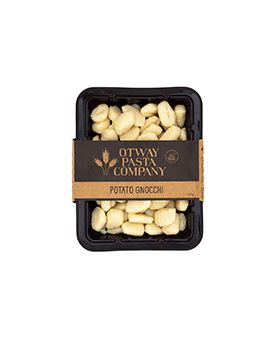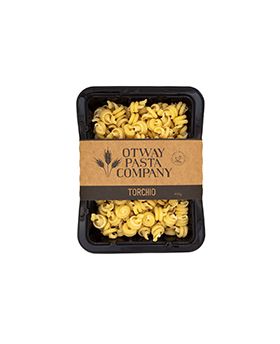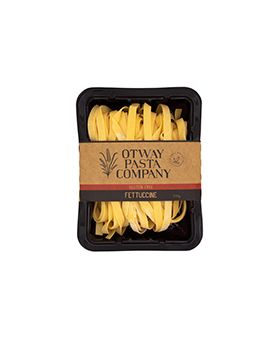 Otway Pasta Company
Wholesale Fresh, Dried and Gluten Free Pasta
Otway Pasta Company is a family-owned business in Colac, Victoria. Ask them and they'll insist: "We make the best pasta you'll ever taste!"
Using only the finest local ingredients, Otway manufacture their pasta products using an authentic Italian process on a machine that was imported from Italy more than 30 years ago. The eggs are true, local free range eggs from two neighbouring family farms and the flours include Durum Wheat Semolina and 00 White Flour. Organic Victorian olive oil is also used.
Nutritious and delicious
Premium, local ingredients
Made to authentic recipes using an authentic Italian process
Gluten free available
*Fresh pasta available in Victoria only
All pasta products mentioned below are available in retail packs (pack sizes shown) and bulk/foodservice packs.
Dried Pasta
Keep a range of styles and shapes in the pantry to suit whatever sauces or toppings you choose to add.
10mm Fettuccine 375g
Spaghetti 375g
Torchio 375g
Penne 375g
Casarecce 375g
Conchiglie 375g
Dried Pasta Gluten Free
The obvious choice when catering to Coeliacs and those with gluten intolerance.
Torchio 375g
Fusilli 375g
Fresh Regular Pasta
Otway Pasta's wholesale fresh pasta is only available in Victoria. Made with quality ingredients, it gives authentic, home-style results in a foodservice or home environment.
Fresh 10mm Fettuccine 400g retail pack
Fresh Spaghetti 400g retail pack
Fresh Lasagne Sheet 400g retail pack
Fresh Rigatoni 400g retail pack
Fresh Torchio 400g retail pack
Gluten Free Fresh Pasta
The ideal choice for when catering to Coeliacs or those with gluten intolerance. Available in Victoria only.
Gluten Free Fresh 10mm Fettuccine 350g retail pack
Gluten Free Fresh Lasagne Sheet 350g retail pack
Gluten Free Fresh Torchio 350g retail pack
Gluten Free Fresh Spaghetti 350g retail pack
Gnocchi
Potato-based gnocchi offers something a little different to pasta, when the mood arises.
Fresh Potato Gnocchi 500g
Fresh Purple Potato Gnocchi 500g (available May 2022)
Otway Pasta also offers a range of pasta sauces.
Retailers
Stock Otway Pasta in your supermarket, greengrocers, delicatessen or fine food outlet to thoroughly delight customers looking for high quality and authentic pasta products. With gluten free options in the range, you can cater to a wider customer base.
Foodservice
By using Otway Pasta in your restaurant, pub, hotel or pizzeria, you can count on premium results every time. Fill out your menu with a range of pasta shapes to go with your own signature sauces or sauces available from the company. Otway's gluten free products help you please more customers at every sitting.
For more information or to place an order, get in touch with Otway Pasta today.
---
More information about Otway Pasta Company
Interview - Steve Robinson - Otway Pasta
There's nothing like homemade pasta, and when you can get all the flavour, quality and artisanal delights from it without having to make it yourself, even better! We spoke with Steve Robinson, owner and chief pasta maker of Otway Pasta Co. and discussed why his product is so well loved by those who try it. Click here