Byron Bay Confectionery
More Images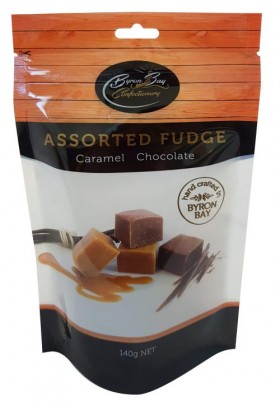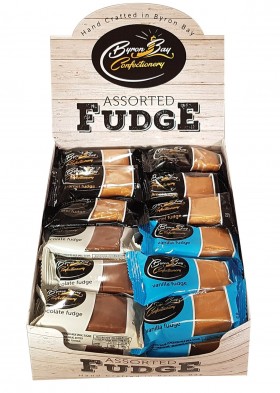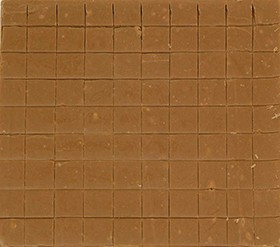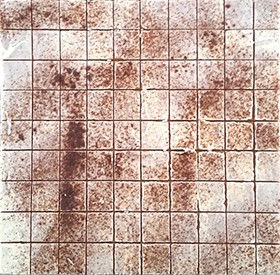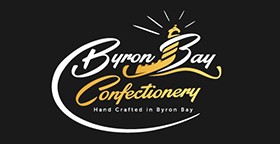 Byron Bay Confectionery
Handcrafted Wholesale Fudge from Byron Bay
Fudge is a tempting sweet treat that a lot of people simply can't walk past! That's why keeping a display box of Byron Bay Confectionery fudge on your counter is an easy way of making those valuable impulse sales.
Byron Bay Confectionery are masters at fudge-making! Their large array of flavours are all handcrafted from quality ingredients. People love the Byron Bay brand so the range is an easy sell. It's popular with tourists who purchase to take home to family and friends in their home countries.
Choose Byron Bay Confectionery fudge for gift hampers, goodie bag inclusions, vending machines, mini bars, catering and foodservice.
Wholesale fudge
For retailers, Byron Bay Confectionery offer 40g packs to display at point of sale. Each carries 36 packs of assorted flavours. Or, choose 140g hangcells containing Caramel and Chocolate fudge. Foodservice clients can purchase the fudge in 2.2kg bulk slabs and catering packs.
Flavours:
Butterscotch
Cappuccino
Caramel
Caramel Macadamia
Chocolate
Chocolate Hazelnut
Chocolate Jaffa
Chocolate Macadamia
Chocolate Mint
Chocolate Peanut
Chocolate Walnut
Chocolate Wild Strawberry
Cocoa Nib
Cookies & Cream
Coconut Ice
English Toffee
Ginger
Hundreds & Thousands
Irish Cream
Kahlua
Lemon Myrtle Macadamia
Rocky Road
Rum & Raisin
Salted Caramel
Vanilla Almond Delight
Vanilla
Retailers
Stock Byron Bay Confectionery fudge in your supermarket, lolly shop, deli, convenience store, pharmacy, petrol station or kiosk. The mouth-watering fudge can be seen through the wrappers in the 40g packs and in gorgeous pictures on the 140g hangcell packs.
Foodservice
No need to whip up your own fudge; simply purchase from Byron Bay Confectionery and you'll always be assured of quality, consistency and a wide variety of flavours. Use it in your desserts, serve with tea or coffee, add to buffet offerings or include in mini bars.
For more information or to place an order, contact Byron Bay Confectionery today.
---
More information about Byron Bay Confectionery
Byron Bay Confectionery Bulk Fudge
Bulk Fudge handcrafted in Byron Bay. Click here