Chocolate Gems
More Images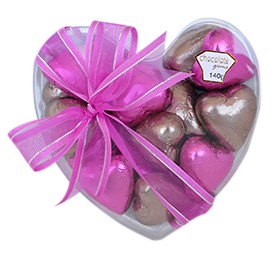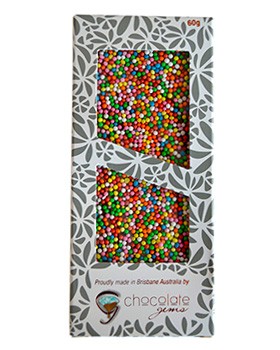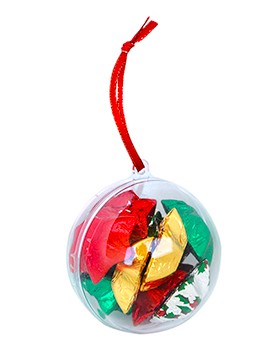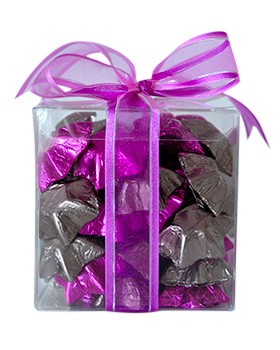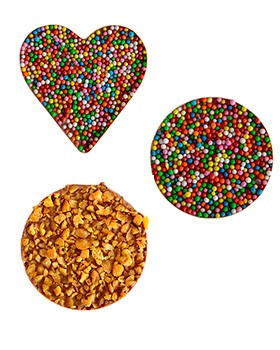 Chocolate Gems
Chocolate Hearts, Freckles & Novelty Chocolates
Chocolate Gems is a family owned and operated chocolate manufacturing business that, for 18 years has made beautiful couverture chocolate treats. They created the famous signature product, the KC Heart, as well as Stars, Medallions, Bells, Freckles, Happy Hearts and the beautifully moulded Opera House and 'Kama Sutra' chocolates. Seasonal lines are incredibly popular at Christmas, Easter, Father's Day, Mother's Day and Valentine's Day. The company has always been about delicious creamy real chocolate and quality has always been a priority. Their facility has achieved Food Safety System Certification - FSSC 2200:2010. Their products are available throughout Australia.
The Chocolate Gems range
A selection of the range is outlined here. Some products are available in multiple formats and pack sizes, for retail and/or foodservice. There are transparent barrels for retail display of individual chocolates and retail hang bags. For full details, view the Chocolate Gems website.
Chocolate Edible Rocks – An intriguing chocolate format; looks like little rocks, tastes of quality chocolate.
Bells Milk Chocolate – Gorgeous little bells, individually wrapped in foil of various colours.
Diamonds Milk Chocolate – Adorable, foil-wrapped chocolate diamonds that are versatile enough to use on all occasions, in goodie bags, at place settings and for pillow turn-down.
KC Hearts Milk Chocolate – Colourful, individually foil-wrapped milk chocolate hearts. A must-have for chocoholics who truly love their chocolate.
Kisses Milk Chocolate – Pucker up for these lip-shaped milk chocolates, foil-wrapped in pretty colours.
Medallions Milk Chocolate – Not just gold medals but green, pink, silver, purple and more.
Romeo Hearts Milk Chocolate – Love-hearts wrapped in colourful foil and ready to delight.
Romeo Hearts Dark Chocolate – For the dark chocolate lover.
Romeo Hearts White Chocolate – Decadent white chocolates, heart-shaped and foil-wrapped in multiple colours.
Stars Milk Chocolate – Reach for the stars … or a chocolate-shaped star for the sweet tooth.
Stardrops Dark Chocolate – Colourful, glamorous and the perfect treat for dark chocolate fans.
Gift Boxes – Check the Chocolate Gems website for the various chocolate gift boxes, stuffed with beautiful foil-wrapped chocolates.
Freckles
Instant smiles are made easy with Chocolate Gems' range of hundreds-and-thousands-decorated chocolates.
Freckled Mini Gems
Freckles Milk Chocolates
Happy Hearts Milk or White Chocolate
Sugar Coated Confectionery & Almonds
Special occasion confectionery and almonds is just what you need for weddings, christenings, anniversaries and colour-themed events.
Sugar Coated Almonds - Blue, pink or white plus silver-dipped.
Heart Confetti – Choose from blue, white or pink or pretty silver.
Pearl Cachous – Decorate cakes, add to desserts or use as garnishes. Available in blue, gold, green, pink and silver in various sizes.
Novelty Chocolates
Opera House Chocolate Gift Boxes – Choose from white, milk or dark. Ideal for tourism outlets.
Kama Sutra Adult Gift Box – A little bit naughty and very popular. Available in dark and milk.
Chocolate as ingredients
The company also makes a large range of bakery inclusions, batons, and flake for cake decorating and topping for muesli bars for companies that manufacture foods containing or decorated with chocolate. Choose from:
Batons (dark)
Flake (dark)
Flake (milk)
Flake (white)
Stock up on our irresistible products and consider offering taste tests so your customers can really experience the quality for which Chocolate Gems are famous. Bulk enquiries are always welcome.
Retailers
Stock Chocolate Gems in your department store, confectionery outlet, gift store, supermarket, newsagent, kiosk or petrol station. Wherever customers are on the lookout for quality chocolate for snacking, gifting or entertaining, the large range of products has something to offer for different occasions or purchases.
Foodservice
You can purchase bulk quantities of many of Chocolate Gems' products such as barrels or 1kg bags of Diamonds, 2kg and 5kg cartons of Freckled Mini Gems and more. Simply enquire about the quantities and products you desire. Ideal for hotels, restaurants, cafes, bed and breakfasts and more.
To discuss your requirements or to place an order, contact Chocolate Gems today.
---
More information about Chocolate Gems
Foil Covered Chocolate Hearts
Chocolate Gems offer foil covered chocolate hearts and other wholesale chocolate products to gift stores, department stores, promotional companies, corporate clients and of course, to the wedding and party industry. Click here