Fresh Prince of Baklava
More Images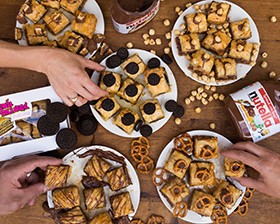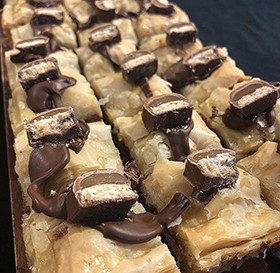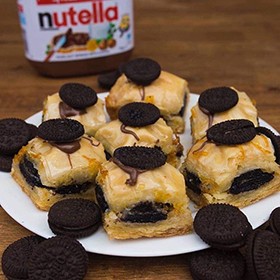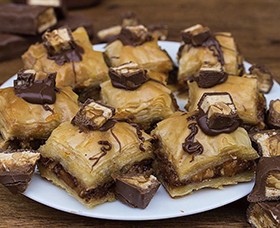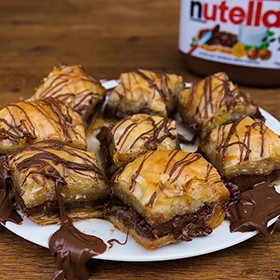 Fresh Prince of Baklava
Crispy business – baklava with a fresh twist
Just when you thought baklava couldn't get any better, with its irresistibly crisp layers of pastry and delectable sweet filling, along comes Fresh Prince of Baklava and transforms it to a whole new dimension! You may have tried baklava before but never like this.
The Fresh Prince of Baklava stuffs those layers of pastry with exciting and funky fillings that are all homemade with love. The sweet pastry treat combines Middle Eastern and Western indulgence together, and no one can eat just one.
Choose from Nutella, Snickers, Roasted Almond and even Tim Tams! Even baklava purists will come back for seconds and thirds.
Flavours
The range is fabulous, with delectable fillings that will blow your mind.
Nutella
Roasted Almond
Oreo cookie
Snickers
Twix
Peanutbutter
Retailers in Melbourne
Have Fresh Prince of Baklava treats on display in your store and watch them go! They make outstanding sweets to take along to dinner parties or to serve to guests, can be served at themed dinners, taken on picnics and purchased as a self-indulgence. Ideal for bakeries, cake shops, supermarkets, convenience stores and gourmet delicatessens.
Melbourne Foodservice
Serve Fresh Prince of Baklava for dessert, morning tea, afternoon tea or High Tea. Add whipped cream or simply plate up and garnish as desired. Ideal for cafes, restaurants, hotels, bed and breakfasts, cafeterias, office catering, wedding catering and more.
To discuss your requirements or to place an order for delivery throughout Melbourne, contact Fresh Prince of Baklava today using the the enquiry form.