Lovely Candy Co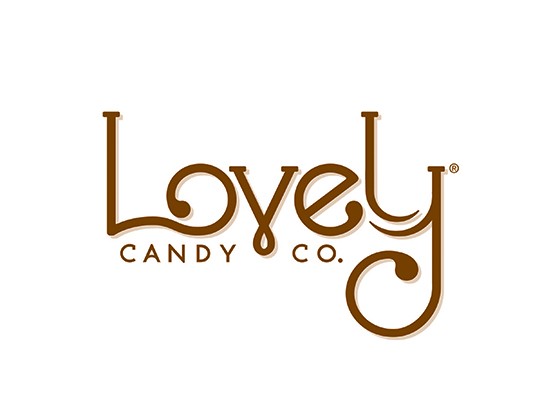 More Images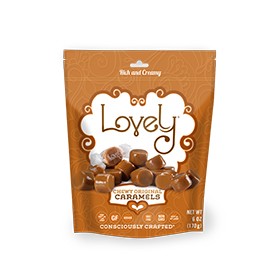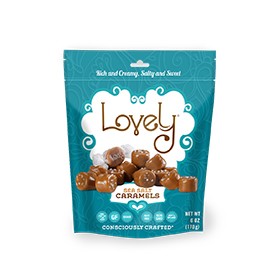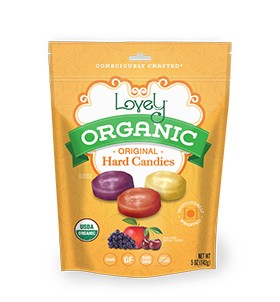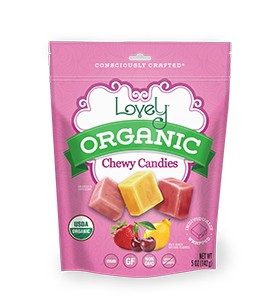 Lovely Candy Co
Wholesale Gluten Free, Kosher, Allergy-Friendly Caramels and Candies
Lovely Candy Co make small-batch sweets that take you back to the lollies of your childhood, while also catering to modern humans. They're all natural, allergy-friendly and, some say, they could be too good to be true!
Gluten and GMO free
Kosher
Many items are vegan
Pure, simple ingredients (real butter, honey and natural fruit and herb extracts)
No artificial colours, flavours or refined sugars
The whole range is display-friendly, packed in stand-up pouches that can be perched on counters, placed on a clipstrip at checkout or hung in your confectionery aisle. Though these are premium candies, Lovely Candy Co have priced them without the premium price tag so they can be available to candy-loving consumers as an everyday treat.
The range
Wholesale Caramels
Indulge your senses with these sweet, chewy, all-natural caramels. They contain no artificial colours or flavours, are non-GMO and gluten free.
Original Caramels – Decadent, rich, chewy Original Caramels.
Sea Salt Caramels – Decadent, rich Original Caramels with a touch of sea salt.
Wholesale Hard Candies
It's hard to believe but if you're going to have hard candies, these are the ones to choose! They contain nothing artificial, no high fructose corn syrup and no gluten; just mouth-watering fruit flavours.
Organic Original Hard Candies – Not just organic, but vegan! Individually wrapped and in Grape, Cherry and Apple.
Organic Lollipops – Individually wrapped lollipops that are organic and vegan! Three luscious flavours: Grape, Pomegranate and Mango.
Wholesale Chewy Candies
Enjoy the satisfying texture of these delectable chewy candies, all made with 100% natural ingredients and individually wrapped.
Lemon Ginger Chews – The perfect, chewy, sweet and spicy treat.
Organic Chewy Candies – Organic and vegan, individually wrapped and in flavours of Strawberry, Cherry and Lemon.
Organic Sour Chewy Candies – Delightfully sour fruit chews in Raspberry, Apple and Cherry.
Retailers
Your health-conscious customers and those with dietary restrictions are going to love seeing Lovely Candy Co's candies, caramels and gummy bears on your shelves! Made with 100% natural ingredients and with incredible attention to detail, every product stays true to good health and respects people with food allergies.
To find out more or to place an initial order, get in touch with distributors Cartel & Co today.