Mondo Nougat
More Images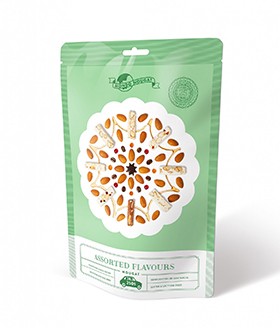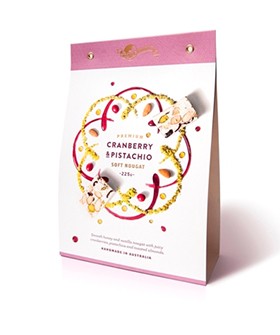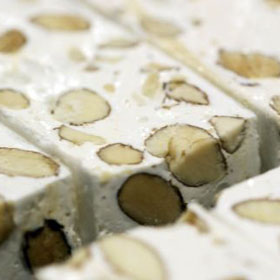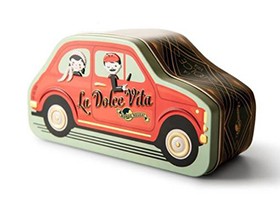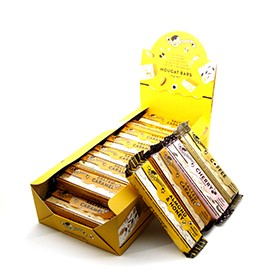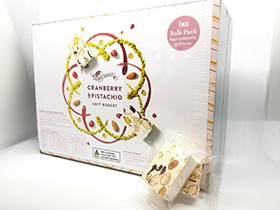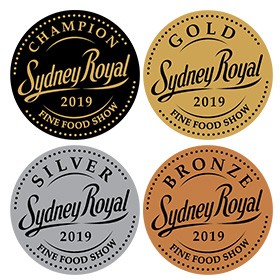 Mondo Nougat
Gluten Free, Lactose Free, Cholesterol Free and Guilt Free Nougat
Award-winning Mondo Nougat produce both Soft and Crunchy styles of nougat and whilst they share the same special ingredients, they are distinctly different in their texture. Mondo Crunchy Nougat is slow cooked for up to seven hours in a process designed to crystallise the honey and create the 'crunch' that traditional nougat lovers just can't resist. Mondo Soft Nougat is cooked using traditional methods in order to accentuate the unique flavours of the natural honey and scrumptious nuts and fruits within.
This family-run business's history dates back to 1989 when Alfonso Romeo migrated to Australia from Italy and began producing cakes and desserts reminiscent of those back home. Nougat was a seasonal treat, produced to celebrate the Christmas festive season. In 1997, the family decided to go into year-round production due to the enormous demand for their traditional honey-based nougat.
Award-winning nougat
Mondo Nougat are the 2019 Sydney Royal Fine Food Champion Confectioners! It's an honour they take to heart and are very proud of the acknowledgement of the quality and flavours of their products. Their new 45g Nougat Bars were multi-award winners at the same show so they are definitely a must-try for any nougat fan.
Ideal for gifting, Mondo Nougat is beautifully packaged and travels well.
Everything handcrafted in Australia
Coeliac-friendly/gluten free
Lactose free
Mondo Nougat would like to thank the Coeliac Society for their help in keeping Mondo Nougat gluten and wheat free.
Mondo Nougat Original range
See the Mondo Nougat website for a full run-down on pack sizes and styles.
Vanilla Crunchy Bag – A die hard crunchy nougat connoisseur cannot surpass Mondo's truly Crunchy Nougat. The whole experience is crunchy and crispy.
Vanilla Soft Nougat Bag – Delectable soft nougat with double roasted almonds for crunch. This one is the original and most famous!
Lemon Soft Nougat Bag – Released in conjunction with L'Occitane Australia, this limited-edition flavour is proving to be a hit. Its flavour is reminiscent of summer in Sicily! It's where the gentle lemon oils used transport you. The delicate flavour and aroma take you on a short holiday every time you close your eyes and chew.
Mondo Nougat Lovers Special – A 4kg jumbo bag of individually wrapped pieces of irresistible honey nougat. Assorted flavours include: Vanilla Crunchy, Vanilla Soft, Lemon Soft, Orange Soft, Apricot Soft, Cherry Soft, Chocolate Soft, Cappuccino Soft.
Assorted Bag 500g – All the variety of flavours and types in one delightful bag.
Mondo Nougat Premium Selection
Mondo Nougat steps it up a notch with their incredible Premium Selection, guaranteed to satisfy any nougat lover's cravings. See the website for the full range of formats including Café Bites, Bars and bulk packs.
Macadamia & Honey Soft Nougat – Locally grown macadamia nuts and lush local honey make this variety a particularly Aussie favourite.
Cranberry & Pistachio Soft Nougat – Scrumptious soft nougat studded with juicy cranberries and crunchy pistachios.
Pistachio & Almond Soft Nougat – Nut lovers adore this delicacy with its fresh, crunchy pistachios and almonds.
Macadamia & Cherry Soft Nougat – Whipped honey is embedded with buttery macadamias and sweet cherries.
Cranberry & Almond Bar – An individually wrapped bar you can stash away for indulgence when you can no longer resist.
Mondo Nougat Gift Range
Mondo Nougat proudly presents some of its varieties in packaging that's perfect for gifting or including in gift hampers. The attractive bags make an ideal take-along to dinner parties or barbecues or can be used as corporate gifts. Available flavours include: Macadamia & Honey Soft Nougat, Cranberry & Pistachio Soft Nougat, Pistachio & Almond Soft Nougat, Macadamia & Cherry Soft Nougat, Salted Caramel Soft Nougat, Coffee Soft Nougat and Almond & Honey Soft Nougat. You'll also find a lovely Sampler Bag, a Mondo Nougat Cooler Bag and a delightful car-shaped Bambino Gift Tin containing eight flavours of assorted nougat.
Mondo Nougat Bars
Nougat lovers adore Mondo's handy Nougat Bars which are loaded with delicious flavour and satisfying textures. Add them to table settings at special occasions, use them as teachers' gifts, pop them in goodie bags for conferences or hang them along with your Christmas decorations. Choose from 60g or 165g bars in a range of flavours including Vanilla Soft, Vanilla Crunchy, Pistachio & Almond Soft, Cranberry & Almond, Macadamia & Honey Soft and Cherry Soft. Retail packs containing 24 bars are available to promote point of sale purchases.
Mondo Nougat Bulk Packs
1kg bulk packs of various flavours are available for large groups, catering, gift hamper inclusions, pick-n-mix and retail point of sale.
Retailers and gift businesses
Mondo Nougat is made in the traditional Italian way, which is what makes it so popular with lovers of this European delicacy. It is ideal for delicatessens, food halls, specialty confectionery outlets, gift stores, gift hamper businesses, supermarkets, pharmacies, petrol stations and anywhere that sweet-toothed customers are looking for a quality treat.
Foodservice
Serve Mondo Nougat as part of a lolly buffet, as a component of a dessert, with coffee or tea, at catered events and special occasions. Handcrafted with care using quality ingredients, it's a brand you can feel proud to serve to your customers. Ideal for cafes, restaurants, dessert bars, hotels, functions venues, reception rooms and ice cream businesses.
For more information or to place your first order, get in touch with Mondo Nougat today.