Arabian Bites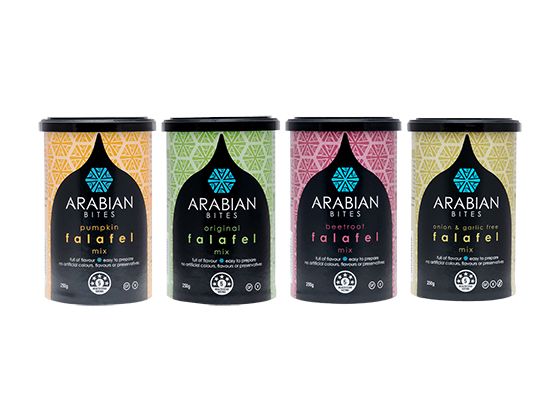 More Images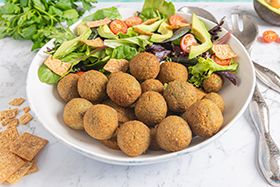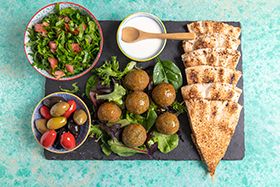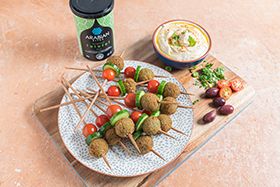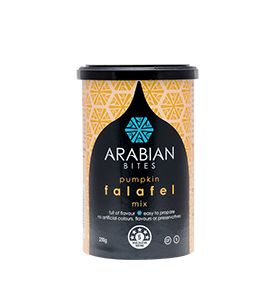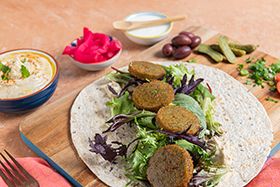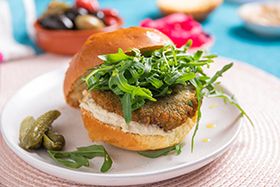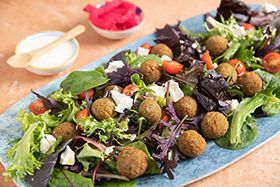 Arabian Bites
Wholesale Vegan and Gluten Free Falafel Mixes
Authentic, delicious falafel made in your own home in minutes
Falafels are golden fritters of kibbled fava beans (broad beans) that have been popular in Middle Eastern cuisines for centuries. They can be eaten on their own, enjoyed with dips or sauces, used in sandwiches and pita bread or served as finger food for catered events.
Arabian Bites' wholesale Falafel Mixes make it incredibly easy to have hot, fresh falafels at home in just minutes. The mixes are handmade in Melbourne to old family recipes using 100% natural ingredients and no preservatives.
How to make falafels
Simply take the falafel mix, combine with 1 cup of hot water in a bowl, mix well and leave to set for 15 minutes. Then, form into patties, balls, burgers or fingers and either fry, deep fry or bake. All instructions are provided with packs.
100% natural ingredients
Low in fat
Good source of fibre and protein
Vegan-friendly
Gluten free
93% Australian ingredients
No nasties
From package to table in 20 minutes
Each pack makes 10 falafels
Vegan and vegetarian
Very versatile
Wholesale Falafel Mixes
Made with kibbled fava beans and an authentic blend of flavourings, Arabian Bites' Falafel Mixes are an easy way to get more fibre into your diet. Try each variety and you'll find yourself keeping them on regular rotation.
Original Falafel Mix – Kibbled fava beans delicately flavoured with spices, onion, parsley, coriander and garlic.
Beetroot Falafel Mix – Load up on antioxidants and fibre! Kibbled fava beans with beetroot, spices, onion, parsley, coriander and garlic.
Pumpkin Falafel Mix – Extra goodness and fibre with the addition of pumpkin. Kibbled fava beans flavoured with spices, onion, parsley, coriander and garlic.
Onion & Garlic Free Falafel Mix – Kibbled fava beans flavoured with spices, parsley and coriander.
Serving ideas
Falafels are incredibly versatile and because Arabian Bites' products are vegan and gluten free, it means they're suitable for a wider range of people.
Whip up small falafels to add to salads in place of croutons and for extra texture, fibre and protein. Add these small balls to grazing platters, crudite plates, mezze dishes and canapes. Larger falafels can be cooked on skewers with chunks of vegetables and then de-skewered onto wraps with hummus or tzatziki.
Make sandwiches even better – and without meat proteins – with Arabian Bites' Falafel Mix. Slice balls or make falafels as patties. The patties can also be served at barbecues, in wraps, on burgers and as vegie stacks with eggplants, capsicum and sweet potato.
Retailers
Arabian Bites' wholesale Falafel Mixes are shelf-stable and attractively packaged. They are ideally suited to health food stores, vegan/vegetarian retailers, delicatessens and ethnic foods outlets. Also suitable for convenience stores, supermarkets and greengrocers.
Foodservice
Arabian Bites can supply bulk quantities for foodservice for your burger joint, vegetarian café, sandwich shop, food truck, restaurant, café, canteen or catering business.
For more information or to place an order, contact Arabian Bites today.
---
More information about Arabian Bites
Interview - Mona Lumani - Arabian Bites
Good nutrition, ease of preparation and excellent versatility sounds like a dream trinity for home cooking goals. All of these are features in Arabian Bites' Dry Falafel Mix. We spoke with founder, Mona Lumani about why her falafels are so popular in Aussie homes. Click here