Artisa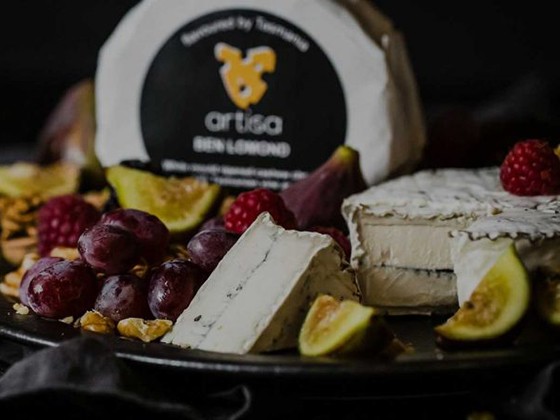 More Images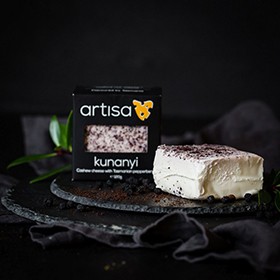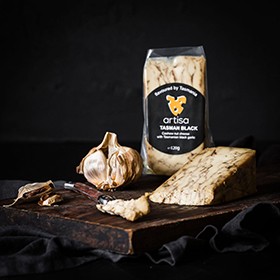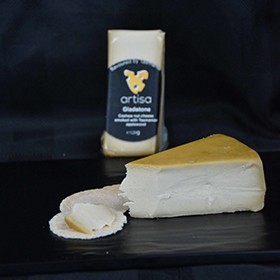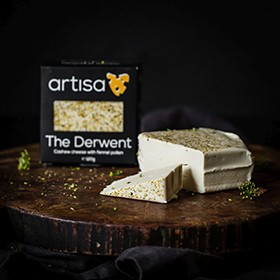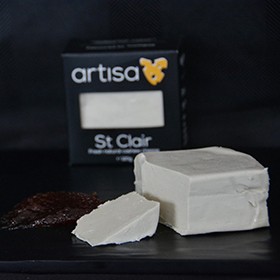 Artisa
Wholesale, Premium, Plant-Based Cheeses using All-Natural Ingredients and flavoured by Tasmania
Multi-award-winning Artisa produces fine plant-based cheeses using clean, 100% natural ingredients including cashews, water, refined coconut oil, Tasmanian sea salt and culture. The company's owners, Julie and Roger have drawn inspiration from traditional cheese making to create their range of exquisite wholesale vegan cheeses.
Artisa cheeses were awarded medals at the Royal Hobart Fine Food Awards in 2017, 2018 and 2019 and the company was nominated for Best Vegan Cheese Award in Nourish Magazine Vegan Awards 2020.
Artisa's fine cheeses are cheeses that get people talking!
"This is the BEST vegan cheese I have ever had! Thank you!!!! Had to force myself stop eating it so that there's still some left for tomorrow." Karen S (Facebook)
Exquisitely vegan
Artisa's range of wholesale plant-based cheeses provide a unique, premium alternative to dairy-based cheeses. While many vegan cheeses have a poor reputation for taste, texture and appearance and frequently contain a plethora of food additives, this is not the case with Artisa cheeses. You can add Artisa cheeses to any cheese platter with confidence.
Made purely from clean, wholesome, plant-based ingredients, with a focus on flavours sourced within Tasmania.
No additives are used to enhance flavour or appearance.
Dairy, soy, gluten and cholesterol free.
Artisa cheeses are real cheeses, made using traditional cheese making methods.
They are authentic in cheese taste and texture.
They use only natural, plant-based ingredients.
You will be proud to share them with your family and friends.
They look great, taste great and are good for you.
They are made by Tasmanian producers who care about community and provenance and who are committed to doing the right thing for animals and the environment.
Premium wholesale plant-based cheeses
Select from seven artisanal vegan cheeses, each with its own personality, appearance and flavour profile. For full tasting descriptions, ingredients list and pack sizes, click through to the Artisa website.
Ben Lomond – A camembert-style cashew cheese with traditional white rind and layered with Tasmanian vine ash.
Kunanyi – A fresh cashew-based cheese with white to pale cream colour and a dusting of native Tasmanian pepperberry for extra aesthetic appeal.
Tasman Black – A cashew-based cheese aged for about a month, marbled with Tasmanian black garlic.
Freycinet – An aged cashew cheese that is rolled in a seasonal blend of native Tasmanian botanicals such as kunzea, pepperberry leaf and saltbush.
Gladstone – Cashew-based, cold-smoked cheese with a golden natural rind, aged and hand cut for packing. Creamy white in appearance, with a firm, sliceable texture.
The Derwent – A fresh, chevre-style cashew cheese dusted in foraged fennel pollen.
St Clair – A fresh, natural, chevre-style cashew cheese with a smooth and creamy texture and a pleasant lactic tang.
Retailers
Artisa cheeses successfully compete at the premium end of any cheese market, including alongside dairy-based cheeses. They are particularly well suited to speciality food stores or specialists sections of stores where the focus is on good health and quality food. The attractive packaging will draw your customers' eyes so keep displays well stocked with a good selection of variants. Offer taste tests and your customers will be delighted with the flavours and textures.
"We tried a lot of different vegan cheeses and yours were hands down the best we sampled!" Emma W (via email)
Foodservice
Add Artisa cheeses to your menu in your restaurant, café or bar. Be ready for customers and guests who are looking for quality plant-based options by creating vegan cheese platters, sandwiches, canapes and toppings for soups and pastas.
To find out more or to place an initial order, contact Artisa today
---
More information about Artisa
Interview - Julie Martyn - Artisa
The words 'vegan' and 'cheese' seem incongruous, unless you've experienced the flavours and textures of those produced by Tasmanian company, Artisa. Founder Julie Martyn introduced us to why the cheeses are so popular. Click here