Bake Mixes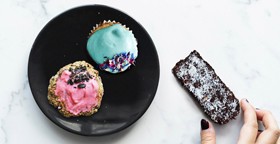 Bake Mixes
Wholesale Vegan Baking Premixes - Wheat Free, Egg Free, Dairy Free, Refined Sugar Free
Bake Mixes has a wonderful claim to fame! It is the business of Renae Smith, former Masterchef Australia contestant who has since travelled the world teaching healthy cooking recipes. Renae identified a need for consumers to access nutritious, simple and quick-to-prepare options for snacks, instead of reaching for poor quality staples.
The bake mixes are perfect for whipping up school lunch box treats, after school snacks, picnic goodies, corporate catering sweets and office afternoon pick-me-ups. The Bake Mixes range is designed to be versatile and convenient and every pack can be customised to suit dietary requirements. Add sweeteners such as honey, maple or agave if you like and choose dairy, soy or nut milk as you wish.
All Bake Mixes products are:
Vegan
Wheat free
Egg free
Dairy free
Refined sugar free
Loaded with whole food ingredients (many organic)
Packed in Australia and distributed using recycled cartons
Easy even for beginner cooks to make
Whole food baking mixes
Every product can be tweaked or embellished to suit your tastes. Spread some cream cheese over your muffins, roll your bliss balls in coconut, drizzle melted dark chocolate over your muesli bars … personalise them however you like.
Cranberry & Coconut Cookie Mix (GF) – A scrumptious blend of coconut and cranberries plus freshly ground almonds. Whip up these cookies for a fruity pick-me-up for morning or afternoon tea.
Banana & Cinnamon Muffin Mix (GF) – In less than 30 minutes, you'll have delicious whole food banana muffins. Made from natural ingredients including freshly ground almonds, ground cinnamon and no nasties, they're gluten free, freeze well and will go down a treat for school lunches or picnics.
Cacao-Chip, Chia & Oat Cookie Mix – Better than your standard old choc-chip cookie, these ones are made from natural, whole food ingredients like freshly ground almonds, raw cacao nibs and no nasties. They're loaded with super foods and contain no refined sugars.
Raw Cacao Bliss Balls Mix (GF) – A mouth full of bliss in every one! No baking required and in under 30 minutes, you'll have approximately 10 super food bliss balls.
Cacao & Acai Muffin Mix (GF) – If you think chocolate and raspberry go well together, you must try these! Cacao and acai are the new super food pairing and these muffins are the ultimate organic, vegan, gluten free, super food and whole food baking mix. Make 12 standard muffins with ease.
Chewy Cacao Chip Muesli Bars Mix – Muesli bars were never this good! These ones are packed with oats, coconut and cacao nibs and will keep you satisfied for hours.
Retailers
Your customers will love the Bake Mixes range for its convenience and versatility while still being a healthy option. Keep the whole range in stock so customers can try something new and discover their favourite. Ideal for health food stores, supermarkets, delicatessens and specialist gluten free or vegan outlets.
Foodservice
Churn out scrumptious, nutritious whole food sweets that will delight your vegan and health-conscious customers. Bake Mixes makes it so easy for you to have quality whole food goodies on hand whenever you need them. Taking an average of 30 minutes to prepare, they are simple to whip up and they store well. Keep in an airtight container or freeze if storing for longer. Ideal for school tuckshops, cafes, restaurants, juice bars, food trucks, vegan cafes and caterers.
For more information or to place an order, contact Bake Mixes today.