Golden Falafel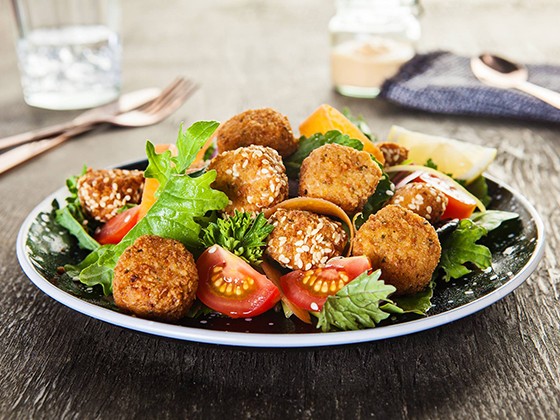 More Images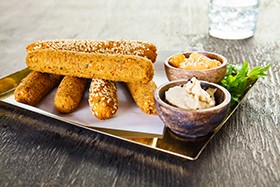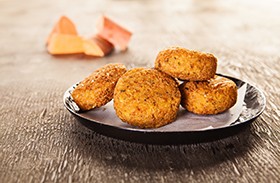 Golden Falafel
Wholesale Falafel Supplier
Golden Falafel creates delicious-tasting falafels brimming with fresh, natural, wholesome ingredients. They are the ultimate vegetarian food to satisfy tastebuds and tummies and are versatile enough to serve for any meal, as a snack or for catering purposes.
97% fat free
Vegan
Gluten free
Dairy free
Organic
No trans fats
Wheat free
Yeast free
Egg free
No artificial flavours or colours
No preservatives
High protein
High in dietary fibre
Golden Falafel's retail range
Golden Falafels are made on a chick pea and broad bean base and flavoured with quality ingredients. They are scrumptious in wraps and sandwiches or use as a starter, side dish, a snack with a dip or as a main meal with salads, breads and dips. They're so quick and easy to prepare too; either pan fry in a little oil or microwave each falafel for 20 seconds. Available in transparent, resealable pouches with colourful labels, they will draw your customers' eyes for a closer look.
Original Falafel - Chickpeas, Broad Beans, Carrot, Parsley, Garlic, Seasonal Vegetables and spices make for a satisfying and hearty falafel.
Veggie Burger – Featuring Green Lentil, Sweet potato, Chickpeas, Zucchini, Pea, Carrot, Parsley, Coriander, Garlic and Onion plus some tasty spices, Veggie Burgers are loaded with flavour.
Lentil Falafel - Cheakpeas, Broad Beans, Lentils, Carrot, Parsley, Garlic, Onion, Seasonal vegetables and delicious spices go into these lentil falafels.
Walnut Falafel – Wholesome walnut pieces provide even more protein and flavour.
Sesame Falafel – The nutty taste of sesame seeds gives these falafels an entirely different personality.
Falafel Crumbs – Use in stuffing mixes, 'meat' loaf or toss through a salad for extra protein.
Golden Falafel's foodservice range
In addition to the above products, Golden Falafel also supplies wholesale falafels in other formats.
Dome Falafel
Falafel Sticks
Falafel Chips
Sweet Potato Falafel
Dome Sesame Falafel
Zucchini Veggie Patty Burger
Retailers
Stock Golden Falafels for your health-conscious customers looking to enjoy meat-free meals from time to time and for your vegan and vegetarian customers. They are ideal for gluten free retail outlets, delicatessens, greengrocers, supermarkets and convenience stores. Position with companion purchases such as wraps, vegetables, dips and sauces to inspire customers for their next meal ideas.
Foodservice
Take advantage of the convenience and quality of Golden Falafels in your café, restaurant, kebab shop, pub or canteen. Falafels are easy to prepare, full of flavour and lend themselves to so many different dishes. Caterers, use them as finger foods or create vegan-friendly, gluten free lunches.
For more information or to place an order, contact Golden Falafel today.