Golden Grind Turmeric Latte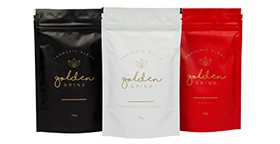 Service Area Australia Wide
Golden Grind Turmeric Latte
Voted Australia's best beverage products 2017
Golden Grind is a ready-to-use turmeric-based blend of super-healthy spices. It is used to create 'golden milk', also known as a 'turmeric latte' or 'golden latte', a silky, tasty beverage that packs an anti-inflammatory punch. Created by Tahli and Renwick Watts and Sage Greenwood, it came about through the trio's desires to stay healthy and to care for and nourish their bodies.
Golden Grind is the perfectly proportioned blend of 100% natural unmodified turmeric, cinnamon, ginger and black pepper. The combination of the spices works together to encourage the release of their powerful properties. Each, in its own right, is a superhero. It tastes absolutely delicious and you will be left wanting more! With a range of blends to choose from, each blend is available in 15g, 100g and 500g.
Turmeric Latte Blend
Golden Grind's original turmeric latte formulation contains everything you need to add more turmeric to your life. it boasts all the benefits of turmeric plus the delicious flavours of cinnamon and ginger plus, of course, the bio-availability benefits of black pepper. 100% natural.
Turmeric Hot Chocolate
The sweet-tooth's favourite, this easy-to-prepare formulation combines the wellbeing benefits of turmeric plus the added flavour sensation of organic cacao. It's sweetened with organic coconut sugar powder and can be made on dairy milk or dairy-free alternative. This deep, dark drink is just the trick to warm you up in winter but can also be made as a cold beverage.
Turmeric Tea Bags Now Available
20 x biodegradable tea bags - ingredients; turmeric, ginger, mint and black pepper.
Turmeric Tea with Mint
A light, earthy infusion of organic ingredients presented in an easy-to-use teabag for convenient enjoyment. It's a masterful blend of turmeric, ginger, peppermint and black pepper that works equally well as a pick-me-up and relaxation indulgence.
Turmeric Smoothie Blend
This complete formulation contains all you need to create a spectacular daily smoothie, and then some! Enjoy the anti-inflammatory and antioxidant properties of the turmeric, combined with the vegan and omega 3, 6 and 9 goodness of hemp protein as well as the fibre brought by the addition of linseed. Turmeric Smoothie Blend contains lots of your daily vitamins and minerals via the super ingredients, cinnamon, ginger, nutmeg and tulsi. Simply add 1 cup of juice, milk or water to a blender along with a cup of fruit, some ice and 1 tablespoon of Golden Grind Turmeric Super Smoothie Blend and whizz! Each pack contains 10 serves.
Every ingredient has its own job to do
Turmeric (aka Curcuma Longa) is a powerful anti-inflammatory, antioxidant, antiseptic, anti-fungal and antibacterial agent and forms the base of Golden Grind. Its lovely perfume translates to a luscious beverage and makes it rich and golden in colour.
Black pepper is needed so that the benefits of turmeric will be bio-available. Without it, the turmeric is not as readily absorbed. Pepper enhances the absorption by 2000%!
Cinnamon provides completely innocent sweetness but it's also loaded with antioxidants, helps regulate blood sugar levels and helps to reduce the risk of heart disease.
Ginger is a serious star. Well-known as a combatant to colds, flues, indigestion and nausea, it adds another level of anti-inflammatory goodness.
Golden Grind offers a number of additional virtues:
Organic
Vegan
Sugar free
Nut free
Gluten free
Dairy free
Preservative free
Caffeine free
It is authentically handcrafted in Melbourne with love, using local and imported spices.
How to make Golden Grind
The 'dose' is 1 flat teaspoon of Golden Grind in a cup of your favourite milk or 'mylk'. Simply make a paste with about 3 teaspoons of hot water then add your warmed – and frothed, if you like – milk or mylk (coconut, almond, soy, etc.). Stir and enjoy.
Using a coffee machine
Golden Grind can be made with ease in a café or restaurant environment. Simply make the paste as described above and add steamed milk or mylk as if you were making a café latte. Serve in a mug or better yet, a glass to show off the golden beauty. Dust with cinnamon and hand over with a smile.
Retailers
The beautiful minimalist black packaging of Golden Grind instantly draws the eye. Position it where it will intrigue customers and be ready with answers to questions. A full set of FAQs is available on the company's website. Golden Grind makes a gorgeous inclusion in gift hampers as well.
Foodservice
Show off your new golden lattes on your beverages menu. You can serve it hot or iced and you can even use it in pancakes, curries, bliss balls, marinades, ice cream and cakes. Experiment with different recipes and consider offering taste tests to sell customers on this exciting and delicious alternative to coffee, particularly for those who prefer to avoid caffeine later in the day.
If you have further questions or would like to place an order, contact Golden Grind today.
---
More information about Golden Grind Turmeric Latte
Interview - Tahli Watts - Golden Grind
Coffee may seem the be-all-and-end-all to many consumers but the fact is, you have to offer alternatives to keep people interested, even intrigued. We spoke with Tahli Watts, Co-Founder of Golden Grind about their wonderful turmeric latte blend which is delighting customers all over Australia. Click here
How to make a Golden Grind Tumeric Latte
The good folks from Golden Grind show you how to make a Tumeric Latte with their Golden Grind products - voted Australia's best beverage products 2017.
---