Kitz Living Foods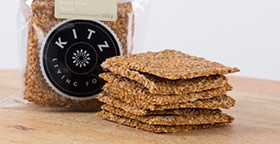 More Images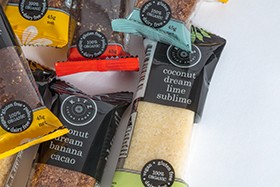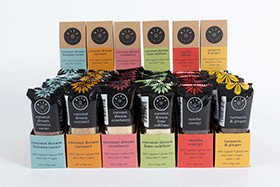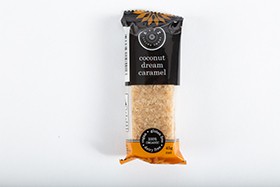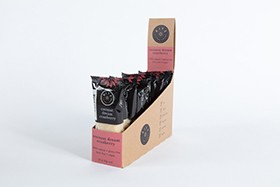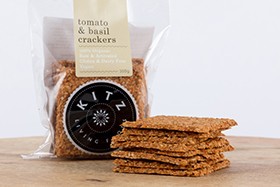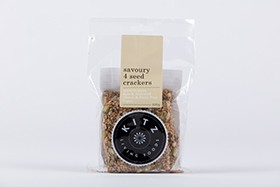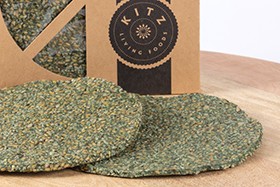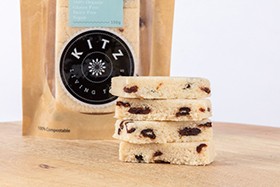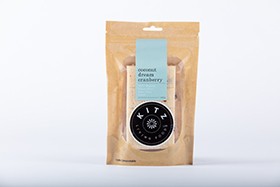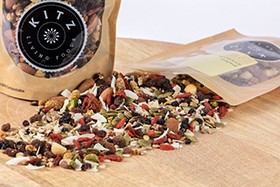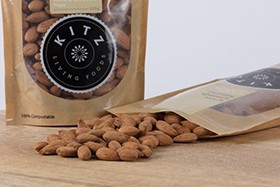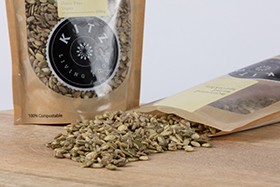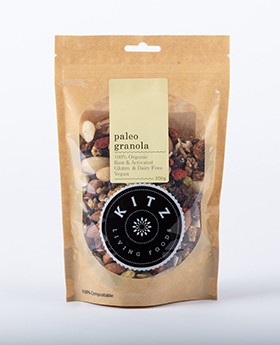 Kitz Living Foods
Plant-based | Organic |Gluten-free | Raw | Activated
Experts in developing and crafting delicious, nutritious snack foods for the thoughtful eater, there is a Kitz Living Foods product to suit all tastes and dietary needs. The Kitz team remains zealous about the creation of healthy alternatives and take their food very seriously. A family-owned and operated business, Kitz began in the corner of the family kitchen in 2006 has now grown into a large commercial enterprise with a team of 18 passionate staff.
Their strong environmental ethos has led to the use of compostable packaging for almost their entire range and their factory is powered by 100% renewable energy.
All nuts and seeds used to craft their products are activated by soaking them overnight in cool, filtered water, followed by a thorough rinse and a long stay in their low-temperature dehydrators. This process washes off enzyme inhibitors like phytic acid, making the end-product easier to digest and the nutrients more bio-available.
Kitz Living Foods products are:
Organic | Gluten-free | Plant-based | Raw | Vegan | Activated | Wheat-free | Dairy-free
Yeast-free | Egg-free | Soy-free | Peanut-free | Sesame-free | Fish-free | Shellfish-free | Cane sugar-free

The Kitz Living Foods Range
Please visit our website for further information including nutritionals and full ingredient lists. With over 45 products in our range, there's something for everyone.
Single Serve Bars
Our newest addition to the Kitz range, our single-serve bars are great for snacking on-the-go. Adored by children and adults alike, take them with you in your lunchbox, on the trail or in the car.
Turmeric & Ginger
Mocha Energy
Coconut Dream Caramel
Coconut Dream Cranberry
Coconut Dream Lime Sublime
Coconut Dream Banana Cacao
Crackers
Our best-selling range of all time and perfect for those following a ketogenic or low-carb diet. Use them in place of bread for an open-faced snack or crumble them on top of soups and salads to add a delicious crunch.
Italian Herb & Garlic
Fresh Herb Dulse & Spirulina
Chilli Salsa
Fresh Herb
Rosemary & Black Pepper
Mini Pizza
Gourmet 4 Seed
Savoury 4 Seed
Southern BBQ
Tomato & Basil
Mexican Buckwheat
Curry Buckwheat
Raw Pizza Bases
Like our very popular crackers but shaped into rounds. Top them with your favourite spread, fresh veggies and greens for a delicious and impressive meal. No need to heat – just top and serve!
Classic
Dulse & Spirulina
Tomato & Basil
Coconut Dreams
Sweet, chewy coconut bliss! A perfect nut-free alternative for the lunchbox or for afternoon tea. Available in a range of delectable flavours to make your tastebuds sing.
Classic
Cranberry
Banana Cacao
Lime Sublime
Lemon Fig
Caramel
Orange Cream
Cherry Inca Berry
Chocolate Mint
Chunks
Bite-sized nuggets of delicious, raw treats. Great for the lunchbox, office or car. Some are made with nuts, and others without, in a range of different flavours and textures. Why not discover your favourite?
Chewy Choc Fudge
Chewy Choc Mint
Banana Date & Walnut
Fig & Macadamia
Choc Chip & Goji
Gingerspice Chews
Naughty But Nice
Pineapple, Pepita & Almond
Walnuts, Apple, Cinnamon & Agave
Activated Nuts & Seeds
We activate our nuts and seeds to enhance their digestibility and improve the bio-availability of vitamins and minerals. The low, slow dehydration process locks in optimal flavour and nutrition, resulting in an even better nut! Crunchy and moreish...what's not to love?
Natural Almonds
Salt & Vinegar Almonds
Cajun Almonds
Curry Almonds
Natural Walnuts
Activated Buckwheat
Activated Salad Sprinkles
Other Kitz Living Foods Products
Paleo Granola
Choci-Jo Granola
Retailers
The Kitz Living Foods range of products is ideal for health food retailers, vegan/vegetarian outlets, gluten-free suppliers and organic specialists as well as mainstream supermarkets, convenience stores and green grocers. Bulk retailers can choose one of the many different products offered in bulk size for their self-serve bins.
Foodservice
With so many healthy and unique products to choose from, Kitz Living Foods is the ideal supplier for your café, restaurant, juice bar, kiosk or other health-conscious food outlet. Our products are perfect for schools, university and hospital canteens, health and wellness retreats, day spas and more.
As a supplier of wholesale gluten-free, organic and plant-based health foods, we have plenty of choice to keep your customers' tastebuds happy.
To discuss your requirements or to place your first order, contact Kitz Living Foods today.
---
More information about Kitz Living Foods