Pickld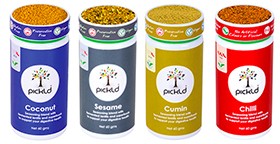 Pickld
Pickld Seasoning Blends
Pickld have created the first ready-to-use seasoning product that uses fermented lentils as its base. Not only does it enhance the flavour of healthy, plant-based meals but it is also a brilliant nutrition booster and provides a nice, crunchy texture. The best part is, you don't even have to cook with it. It can be simply added to cooked food.
Seasoning specifically designed to enhance the flavours of vegetables and other plant foods
Made with fermented lentils and superfoods
Supports your digestive health
Contains wholesome ingredients
Contains no nasties
Gluten free
FODMAP-friendly
No added sugar or salt
100% vegan
Customers can download free recipe e-book from Pickld website
Pickld's plant-based savoury seasonings
Pickld ready-to-use plant-based seasonings are made from fermented lentils and superfoods including moringa, turmeric and chia seeds. Each has its own flavour profile that matches with different vegetables, dishes and cuisines. For full ingredients lists, see the Pickld website.
Coconut Blend – Use on brussels sprouts, broccoli, cauliflower and corn and sprinkle over salads, rice, couscous and noodles. With its smooth coconut flavour and added texture, it can be used as dukkah too.
Cumin Blend – A flavoursome blend for soups, stews and sauces, it goes beautifully with pumpkin, carrot, lentils, beans and tomatoes. No need for stock, just use this.
Chilli Blend – Versatile and warming, Chilli Blend adds heat to smashed avocado and can be used on any vegetables. make your own chilli paste by mixing with oil.
Sesame Blend – Tons of flavour but without the heat of Chilli Blend. Mix a couple of teaspoons into a teaspoon of sesame oil and stir through rice or sprinkle over sweet potato, pumpkin, potatoes, carrots, couscous and noodles.
Mint Blend – Excellent over the top of avocado, potato, sweet potato, corn and carrot or stirred through quinoa, buckwheat and other grains. Gives a fresh, minty flavour to any dish.
Coriander Blend – The great all-rounder, Coriander Blend pairs well with any vegetable you choose. Try it with roast vegetables; its nutty flavour is terrific on eggplant, zucchini, cauliflower and pumpkin.
Spicy Coriander Blend – Spicier and with more depth of flavour than regular Coriander Blend, this one is a unique combination of exotic spices including fenugreek. Add to stews and soups or pair with radish, capsicum, cauliflower, mushrooms, sweet potato, eggplant or pumpkin.
Fenugreek Blend – The perfect accompaniment to green beans, potato, turnip, snow peas, leeks and shallots. Add a spoonful to soups and stews or sprinkle over boiled sweet potato.
Curry Leaf Blend – A refreshing citrus flavour bursts from every spoonful thanks to the dried curry leaves. It adds a hint of curry flavour without being overpowering. Mix through quinoa, couscous or cooked rice as an easy side dish or use with beans, vegetables and lentils.
Coconut & Coriander Blend – Enjoy the smooth coconut flavour combined with the heat of black peppers. Ideal for corn, onion, capsicums, cauliflower, carrots and beans or you can mix it with oil for a lively salad dressing.
Retailers
The colourful, eye-catching jars of the Pickld range will draw attention from your flavour-seeking customers. Line them all up next to each other for maximum impact. Vegans, vegetarians and omnivores will all love to keep these in their pantry where they will inspire new meals and enliven the usual repertoire of dishes. Ideal for health food stores, vegan outlets, supermarkets and delicatessens. Nutritionists will also love Pickld for their clients for the FODMAP-friendly and gluten free attributes and the absence of numbers, preservatives, sugar and salt.
Foodservice
Pickld's products can be added to cooked food, saving hours in the kitchen. In fact, they can be added before, during and after cooking, for excellent results. Chefs have commented that they love to use Pickld to create incredibly flavoursome vegetable sauces. Bulk quantities of 1kg and 3kg tubs are available for foodservice businesses. Use Pickld in your café, restaurant, pub, club, canteen or hotel. Discover new ways of flavouring dishes without having to add lots of additional ingredients.
To find out more or to place an order, contact Pickld today.
---
More information about Pickld
Interview - Suda Nathan - Pickld
For something a little different – and extremely innovative – adding flavour has never been so easy. Pickld is a range of seasonings made from fermented lentils, that's entirely vegan and designed to enhance plant-based dishes. As Founder, Suda Nathan tells us, it's a brand that was nine generations in the making! Click here