RAWBS Protein Balls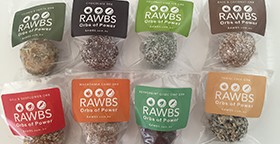 RAWBS Protein Balls
Orbs of Power
RAWBS are Orbs of Power, catering to a desire for a satisfying alternative to the usual offerings.
They are the perfect sized orb to deliver you a power boost, on the run, between meals, when you are short on time and energy or just need a quick and satisfying pick-me-up.
RAWBS supplies wholesale to cafes and other foodservice businesses and of course, to retailers looking to satisfy their customers' demands for instant, healthy snacks and treats.
With no refined sugar and no unnecessary additives whatsoever, RAWBS represent the finest of whole food goodness and are loved by adults and kids for their flavours, textures and convenience. Perfect for a coffee accompaniment, a take away, snack for the kids, or post-gym workout. Nutritious and yum!
100% organic
Gluten free
Sugar free
Dairy free
Raw
Vegan
Paleo (except for rice malt syrup ingredient)
The RAWBS protein ball flavours
With a flavour to suit every taste, RAWBS are different to any other protein balls you've tried.
Cashew & Pepita
With tangerine essential oil and baobab powder.
Chocolate
Cacao, dates, almonds.
Coconut Lime Ice
Coconut, lime essential oil and spirulina.
Date & Coconut
Dates, coconut, coconut oil.
Goji & Sunflower
Goji berries, sunflower seeds, almonds.
Matcha & Black Sesame
Cashews, matcha powder, black sesame, rice malt syrup.
Macadamia Camu
Macadamia nuts, camu camu powder, dates.
Peppermint Choc Chip
Walnuts, raw cacao nibs and peppermint essential oil.
Tahini Chia
Brazil nuts, black and white sesame, almonds.
Retailers
RAWBS sell brilliantly in organic and health food stores, convenience stores, petrol stations, newsagents, chemists and other mixed goods retail outlets. Stack them in pyramids to make an inviting display and be sure to label them so customers know which flavours to try. They are also great for personal trainers, Crossfit studios, gyms and sports and recreational centres. Keep them on the counter for those all-important impulse purchases.
Foodservice
Ideal for cafés, school tuckshops, food trucks, wellness retreats, workshop catering, corporate catering, movie cinemas, recreation centres, resorts, hotel conference rooms, mini bars, welcome baskets, on-the-move or picnic packs, juice bars, vegan cafes and gym cafes. They sell particularly well in cafes right next to public transport stops, as delicious, quick takeaway options.
To discuss your requirements or to place your first order, contact RAWBS today.
---
More information about RAWBS Protein Balls
Interview - Julie - RAWBS protein balls
When are proteins ball not "just protein balls"? When they're RAWBS, that's when! Creator Julie says her little beauties are "raw orbs of power" because they are spheres of nutrition-packed goodness that can be consumed on the go, between meals, any time when a boost of energy is needed. Organic, vegan and thoroughly wholesome, RAWBS are the perfect impulse purchase for your health-conscious customers, available in a range of flavours. Click here