We Feed You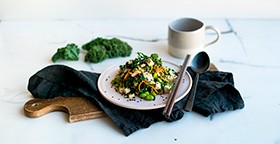 Service Area NSW, VIC and ACT
We Feed You
Ready-Made Vegan Meals
High Quality and Nutritious
Feeding your vegan customers can sometimes be challenging, but with We Feed You on hand, it's simple! The We Feed You range of ready-made meals includes a selection of vegan dishes that are made with high quality ingredients.
The meals are created by world-class chefs Dave Roberts and Charlotte Miller. Dave is a highly experienced, professionally trained chef and former Head Chef at the iconic Melbourne restaurant MoVida. Charlotte has been a Private Chef for clients around the world and is a highly experienced Dietitian.
All the meals are created to offer the perfect balance of texture, flavour and nutrition. No preservatives, flavour enhancers or fillers are added and as Charlotte says: "Nothing is tampered with, we pride ourselves on using real ingredients like you would at home." All the freshness and nutrition are locked in through freezing.
The We Feed You website provides information about the meals' other healthy virtues too, including gluten free, low FODMAP, onion and garlic free and family-friendly.
The range
Consumers appreciate We Feed You's high quality vegan meals for the nutrition and convenience. There is no prep involved, simply heat the meals in the microwave from frozen, for 5-6 minutes or in the oven. Being so easy to store and serve, the meals are handy to keep in the freezer at home or at work, and can even be gifted such as for new Mums after baby comes home, or to busy loved ones who aren't up to cooking frequently.
The chefs use local seasonal produce wherever possible and introduce new meals regularly to keep the menu fresh and exciting. Some examples of their meals include:
Tamarind Eggplant Curry with Cherry Tomatoes and Rice
Miso Tofu & Edamame with Carrot and Pickled Cabbage
Thai Green Coconut Curry with Veggies and Brown Rice
Mexican Chilli Beans with Green Peppers and Sweetcorn
Asian Vegetables with Brown Rice and Vietnamese Mint
Serves
Each meal is complete on its own and is supplied as a single portion. They're ideal for singles, couples and anyone who would love to eat well but doesn't want to buy inferior takeaway or spend time cooking.
Meals are typically between 350 – 400 grams.
Retailers
The meals are packed for attractive visual appeal. Customers appreciate the availability of great quality vegan meals they can count on for convenience, flavour and nutrition. Keep your freezers well-stocked with We Feed You meals and encourage your customers to experience a fresh approach to convenience meals! These meals are truly like nothing else available in the market today. Ideal for independent supermarkets, convenience stores, petrol stations, 24-hour outlets, hospitals, chemists, health food and grocery stores, gyms and fitness centres.
Foodservice and Hospitality
We Feed You makes feeding your vegan customers almost effortless! Now you don't need to have a well-equipped kitchen, fully-stocked pantry or fridge, or skilled staff to pull it all together. We Feed You's vegan meals are perfect for bed and breakfasts, end of trip facilities, tourist attractions, senior citizen centres, motels, backpacker hotels and more. Simply make a microwave available and allow your customers to serve themselves. Or, plate up with a fresh garnish and serve.
For more information or to place an order, contact We Feed You today.