Benchmark Coldpress Beverages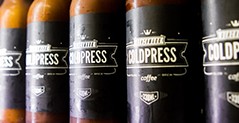 Service Area Australia Wide
Benchmark Coldpress Beverages
Coldpress Coffee & Coldpress Chocolate
Benchmark Coldpress Coffee help boutique grocers and foodservice providers seeking unique products for their chilled category to satisfy demands from a growing margin of health-conscious and discerning customers. Aside from manufacturing their own gourmet yoghurts, Eat Gourmet also distribute the fabulous Benchmark brand beverages.
Benchmark Coldpress Chocolate
Like no other iced chocolate available on the market, Benchmark cold press their cocoa beans to extract all the goodness and flavour, and add no preservatives. They are steeped for 24 hours and delicately sweetened before they are blended with pure, fresh milk. Available in 330ml glass bottles.
Benchmark Coldpress Coffee
Using beans sourced directly from ethical and sustainable sources, Benchmark cold press them then lightly sweeten and blend with pure, fresh milk. Available in 330ml glass bottles.
Retailers
Turn to Benchmark Coldpress for two enticing brands of chilled dairy beverages. Benchmark's Coldpress beverages will be popular in your store thanks to the eye-catching bottles, ready-to-consume convenience and the popular varieties.
Foodservice
Benchmark Coldpress beverages are suitable for all kinds of foodservice outlets including cafes, snack bars, restaurants, bars and kiosks. You can even use the different varieties as bases for signature drinks and add ice cream, cream, syrups and other ingredients that will tempt your customers.
For more information or to place an order, contact Benchmark Coldpress using the form below.