BNE Soda Co.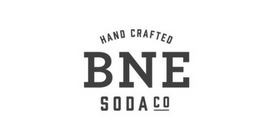 Service Area Australia Wide
BNE Soda Co.
All-natural soda and cocktail mixers
BNE Soda Co. want to reignite your love of the humble soda by bringing back the craft of old fashioned soda making. Their aim is simple - to create premium quality soda syrups using only the finest local and seasonal produce, free from artificial colours, flavours and preservatives.
To enjoy this exciting range of soda syrups, just add sparkling water or mix with your favourite tipple!
Made locally from local ingredients.
Preservative free.
No artificial colours or flavours.
The range
Each 500ml bottle contains 10 servings.
Thyme & Ginger Beer
Made with real Ginger and Thyme. Try adding a splash of vodka and a wedge of lime for a real fine time.
Pink Grapefruit & Rosemary
Made with the finest Australian Grapefruits. Add some good quality Reposado Tequila and a sprig of rosemary and you've got yourself something special.
Myrtle Lemonade
Made with native Lemon Myrtle grown in the Northern Rivers and fresh Australian Lemons. This is a twist on the quintessential summer beverage. Try adding a dash of aromatic bitters.
Apple Cream Soda
Made with Granny Smiths and Vanilla Bean. This is a perfect accompaniment to your favourite Whiskey.
Garden Tonic
Made with locally grown Galangal and infused with Thai Basil from the garden. Herbal and Botanical flavours make this a great match with a nice Gin.
Cucumber Basil Tonic
Enjoy this refreshing soda made with fresh Cucumber and Basil. This is the perfect accompaniment to Gin and a great summer refresher.
Galaxy Tonic
Australian hops have been used to create this twist on the most popular mixer of them all - The Tonic. Citrus and fruit notes with a dry and balanced bitterness make this a worthy partner for any good Australian Gin.
Retailers
Stock BNE Soda Co.'s range of tantalising soda and cocktail mixers in your supermarket, bottle shop, convenience store, ingredients outlet or delicatessen for your foodie customers to discover. Every 500ml bottle contains 10 servings. Offer taste tests and recipe suggestions and position with companion products such as spirits, barware, giftware and glassware.
Foodservice
BNE Soda Co.'s range of soda and cocktail mixers will give your beverages menu a spectacular boost of personality and grown-up street cred. Their luscious, unusual flavours will tempt your customers into trying something new and refreshing. Create fresh new signature drinks, with or without alcohol, or simply serve over crystal clear ice in a glass with attractive garnishes.
To discuss your requirements, ask more questions or to place an order, contact BNE Soda Co. today using the form.