Cappuccine Australia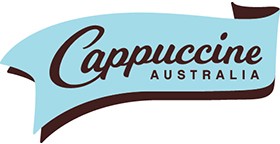 Cappuccine Australia
Cappuccine Australia is an Australian owned and operated family business that distributes café supplies to cafes, restaurants and food chains across the country. Their products are highly profitable and include beverage mixes that can be made into smoothies, lattes and iced beverages.
Their line includes the very popular 'Freezoccino', a versatile ice-blended beverage mix that's available in a number of mouth-watering flavours.
Cappuccine Australia's products boast high profit margin and excellent versatility so foodservice clients can create their own recipes by building upon the starting mixes.
Freezoccino & Decadent Lattes
A sensational ice-blended beverage mix made with only selected, premium ingredients to deliver the most flavoursome creations ever! This line consists of more than 20 gourmet flavours that are proudly served in cafes, bakeries, delicatessens, restaurants and of course, homes all over the world.
Frosted Latte Original Coffee Non-Dairy – Sweet, creamy, silky smooth latte classic with perfect coffee balance.
Chocolate Decadence Non-Dairy – The ultimate coffee-free chocolate fix.
Cinnamon Bun – The flavour and aroma of a fresh baked cinnamon bun.
Lemon Velvet – Just like a rich velvety lemon cake.
Tart culture Smoothie – Wonderfully tangy like your favourite tart frozen yoghurt. Fat free and contains probiotics.
Mocha Chip-Thunder Non-Dairy – Intense Arabica coffee loaded with rich chocolate bits.
Extreme Toffee Coffee – Pieces of sweet, buttery toffee paired with a hint of chocolate and mountain grown coffee.
Caramel Latte – Everybody's favourite flavour.
Matcha Green Tea Latte/Frappe – Loaded with antioxidants, it's healthy and refreshing.
White Chocolate Symphony Non Dairy – Smooth, gourmet white chocolate.
Coconut Cream – Sweet, creamy perfection with delicious bits of real island coconut.
Coco Mocha Nut Non Dairy – Fresh coconut paired with premium chocolate.
Red Velvet – Velvety, smooth cake batter with rich cocoa and luscious red colour.
Vanilla Frost Smoothie Base – A delicious all-purpose smoothie base.
Chai Latte Tea
An extraordinary blend of cinnamon, cardamom, ginger and cloves, infused with black tea and honey to create a truly delicious taste experience. Serve hot or ice-blended. Available in Original Spiced Chai and Vanilla Chai.
Hot Chocolate
Cappuccine Australia's selected combination of Dutch and West African cocoas meld harmoniously to create two delicious traditional hot chocolate creations. Available in Classic Milk Chocolate and Dark Chocolate.
Red Espresso
A delicious, full flavoured espresso made from pure Rooibos tea. Naturally caffeine free and loaded with immune boosting antioxidants, it's also bursting with flavour and makes deliciously healthy iced teas and smoothies.
Tea Drop Luxury Pyramid Tea Bags
Our pyramid tea bags look great and care for the environment being 100% biodegradable. The innovative design allows for more surface area than regular pouch tea bags to allow for the tea leaves to expand and circulate, resulting in optimum flavour. More surface area means faster infusion! Tea Drop Teas provide a wonderfully convenient option without compromising on quality.
Elegantly presented with our stylish display storage tins.
Our range includes:
English Breakfast
Supreme Earl Grey
Malabar Chai
Honeydew Green
Spring Green
Oriental Jasmine
Peppermint
Chamomile Blossoms
Lemon Grass Ginger
Fruits of Eden
Flavoured Syrups
Stasero Flavour Syrups have been thoughtfully created and developed by a group of passionate experts using only the finest, highest quality ingredients.
Stasero Caramel Flavour Syrup
Stasero Hazelnut Flavour Syrup
Stasero Vanilla Flavour Syrup
Fruit Smoothies
Palm Bay Real Fruit Smoothies. Shelf-stable, pour-over-ice-and-blend smoothie mix made with fresh, premium ingredients for authentic flavour profiles and smooth, creamy texture. Made from real fruit. Available in 1 litre HDPE bottles.
Mango
Mixed Berry
Strawberry
Cappuccine Australia
Deal with a company that cares about your profit margins. Cappuccine Australia supply only the best quality products and are happy to deal with businesses that are just starting out, through to chain companies with multiple locations.
View Cappuccine Australia's other listing in the wholesale Tea category.
To discuss your requirements or to place your first order, contact Cappuccine Australia today.
---
More information about Cappuccine Australia
Interview - Seven Lakofski - Cappuccine Australia
Consumers love new and interesting drinks, which boosts your bottom line tremendously because the more you can keep them coming back for their favourites, the better. We spoke with Seven Lakofski, Director of Cappuccine Australia about the company's delectable selection of hot and cold beverage products. Click here