Henry Langdon Cocoa and Chai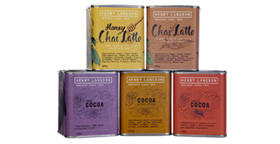 Henry Langdon Cocoa and Chai
There is more to cocoa and chai than meets the tastebuds. Look beyond the supermarket products and identify a whole new world of flavour and quality.
Henry Langdon Cocoa
Henry Langdon takes immense pride in using the finest Dutch cocoa and the freshest spices. With its luxurious velvety texture and irresistible fullness of flavour, Henry Langdon's cocoa is authentic, extravagant and a treat for the senses.
Available in:
Pure Cocoa
Purely and simply, 100% unadulterated cocoa. Experience the distinctive chocolate bouquet and intense chocolate flavour. For baking, adding richness to meat recipes and toning down sweetness, it can't be beaten. Rich in antioxidants and flavonoids, there's really no excuse to give up chocolate when it's this good.
Chilli Cocoa
The velvet tones of pure Dutch cocoa combine with the rich, hearty warmth of Chilli Spice. A divine, adult night cap on a cold evening or an exotic morning beverage to clear the cobwebs and start the day. Use as a beef rub, add to chocolate lava cakes, and infuse chocolate fondue with the hum of heat.
Cocoa and Chai Spice
The signature Chai spice blend in the Henry Langdon range delivers smooth, velvety goodness along with an interesting tilt on chai. Savour the heady combination of smooth and spicy made on creamy warm milk, or add to your usual chocolate recipes.
Drinking Chocolate
So much dreamier than your standard supermarket variety, it features the full rich flavour of Henry Langdon Pure Cocoa with the added indulge of mysterious dark chocolate. Add a few generous spoons to frothy hot milk. Guaranteed to be hidden from the children!
Drinking Chocolate Malt
A blend of chocolate and malt including unique chocolate crystals from all over the world. A full flavoured experience for chocolate lovers.
Drinking Chocolate Mocha
Specially developed for coffee and chocolate lovers, this is a unique blend of both ingredients combined with delicious chocolate crystals. Excellent when made up with hot milk or blended with crushed ice and cold milk to create a fabulous frappe.
Promote Henry Langdon's wholesale cocoa to your customers and preach the health benefits of good, quality chocolate.
Henry Langdon Chai
For some, an acquired taste; for others, an exotic blend of carefully chosen spices that invigorate, refresh and tantalise.
Available in:
Chai Latte
Henry Langdon has expertly blended the perfect proportions of spice and the natural sweetness of honey. Invoking all the colour and excitement of India, Chai Latte contains a mysterious blend of cinnamon, aniseed, ginger, cloves, cardamom and fennel plus black tea and honey.
Honey Chai Latte
For those who covet the sweet comfort of natural honey, this is a blend not to be missed. As an alternative to hot chocolate, it is fast becoming the beverage of choice.
Vanilla Chai Latte
To classic Henry Langdon chai latte has been added a hint of vanilla to round out the flavours and produce a beverage that is gentler on the palate. Enjoy hot by adding a few spoons to hot milk or make a Vanilla Chai Latte Frappe by adding to a blender with milk and ice cream.
Henry Langdon is a cocoa and chai supplier extraordinaire. Count on exceptional quality, deft blending of spices and chocolate and attractive packaging that's sure to catch the eye of your discerning customers.
Henry Langdon Tea
The Henry Langdon range of black teas, green teas, chai tea and herbal teas are sourced from all over the globe to present consumers with the highest quality product possible. Blended in Australia in small batches, the teas are produced to very strict specifications so that consistency is guaranteed and damage to flowers, herbs, spices and tea leaves is minimised. Then the tea is packed immediately to retain flavour and freshness.
Chai Spice
A heady fusion of ginger pieces, cinnamon, fennel, aniseed, black pepper, star anise, cardamom and cloves. Brew on its own or add to your favourite black tea, with or without sugar and milk.
Chamomile & Lavender Tea
The finest Egyptian chamomile flowers are blended with lavender to create a soothing tea that can be enjoyed any time of day.
Earl Grey Tea
Premium Indian black tea leaves are blended with fragrant bergamot for a refreshing cup of goodness.
English Breakfast Tea
The classic blend of premium Indian black teas. Robust and fresh, it can be enjoyed with or without milk from morning to evening.
Green Tea & Mint
Organic green tea leaves and mint make up this premium blend.
Jasmine & Green Tea
Freshly picked jasmine flowers and organic green tea leaves.
Lemongrass & Ginger Tea
A zingy blend of lemongrass leaves with whole ginger pieces stimulate the senses and pique the appetite. Perfect to consume with a meal.
Organic Green Tea
Traditional green tea with a refreshing, light taste.
Peppermint Tea
Only the best quality peppermint leaves go into this divine treat. Enjoy hot or cold, as you desire.
For more information please visit the Henry Langdon website, give us a call or complete the enquiry form.