JT's Essence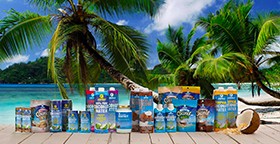 JT's Essence
Pure & Flavoured Coconut Waters, Coconut Milk & Sparkling Mineral Waters
Quality beverages from Australia and around the world
JT's Essence is a supplier of quality wholesale beverages including pure and flavoured coconut waters, pure and flavoured coconut milk and still and sparkling mineral waters from New Zealand.
The company's owners have travelled the world to source the highest quality ingredients for their products and found that Thailand was the best producer for coconuts where the perfect growing conditions and abundant rainfall deliver naturally sweet tasting coconuts, perfect for their coconut waters and coconut milk products. They source their mineral water from the pristine forest ranges of New Zealand.
Choose to deal with the one supplier for these quality beverages and keep your fridges stocked with wholesome, healthy drinks your customers will appreciate.
Coconut Milk
JT's Chocolate Coconut Milk is a wonderful low fat milk alternative that can be consumed on its own by the glass or used as a creamy addition to your morning smoothie or in a range of recipes. It is lactose and dairy free. JT's have selected premium quality coconuts and added premium ingredients to create these refreshing products.
Coconut Water
JT's Coconut Essence Coconut Water is derived straight from nature to provide a great tasting, healthy, preservative free and additive free sports and energy drink. Coconut water is biologically pure and full of natural electrolytes and vitamins, making it sought after by athletes as well as those who simply want a nutritious beverage.
100% produced from fresh green coconuts, JT's Coconut Essence is harvested and packed on the very same day ensuring the fantastic taste, quality and benefits are captured that only JT's can deliver to you. Not only does it taste great but as self-confessed health nuts, JT's are pleased to tell their customers that it is free of fat, cholesterol, additives and preservatives, not to mention totally unsweetened and gluten free.
Available in:
1L carton
510ml cans
320ml cans
Flavoured Coconut Water
Skip the cordial and soft drinks; try JT's four, delicious flavoured Coconut Water products for something different and thoroughly enjoyable!
Summer Berries Coconut Water - features the subtle flavours of blueberries and strawberries while incorporating all the health benefits of their famous coconut water. It contains no fat, preservatives or cholesterol and is entirely gluten free. Available in 1L tetra.
Tropical Coconut Water – JT's have combined their famous coconut water and blended it with fruit juice to create their brand new Tropical Coconut Water product, a refreshing and hydrating drink that contains no preservatives and is entirely gluten free. Available in a 1L tetra and 490ml can.
Blueberry Coconut Water - A new taste for summer, JT's Blueberry Coconut Water is fresh and inviting, and a little bit different from the usual flavours in the marketplace. It is gluten free and contains no added preservatives and no fat which makes it a much healthier and tastier option for all ages to enjoy. Available in a 1L tetra pack.
Espresso Coconut Water - JT's makes it possible to enjoy a double whammy in their new healthy coffee hit featuring coffee and coconut water, all in one delicious beverage. Enjoy all the health benefits that pure coconut water offers and get your morning caffeine fix, all at the same time. It contains no fat, preservatives or cholesterol and is completely gluten free. Available in a convenient 250ml can.
Kids' Juices
Appy Kids Co multi-award winning school-approved fruit drinks come in a convenient three-tetra-pack, perfect for school lunch boxes and drinking on the go. The stevia-based range is 100% natural, contains no GMOs or artificial ingredients and is vegetarian approved. Featuring beloved kids' characters, the nutritionist-approved drinks contain 50% less sugar and calories, making them kinder to teeth and a healthier option for children.
The Gruffalo Forest Fruits Fruit Drink – Spring water, apples, raspberries and strawberries.
The Gruffalo Golden Apple Fruit Drink – Spring water and apple.
Peppa Pig Apple & Summer Berries Fruit Drink – Spring water, apples, sour cherry, blackcurrant, raspberry and strawberry.
Mineral Water
From the pristine forest ranges of New Zealand, JT's Essence are excited to bring to Australia a refreshingly pure experience – clean, natural, untreated, alkaline, pH8 mineral water … One Pure.
It is naturally alkaline with a PH level of 8 – enriched with anti-oxidants and minerals that are essential for maintaining healthy cells in your body.
Alkaline water helps to rebalance our often acidic modern diets and can also assist in reducing acid reflux, fatigue, protecting our bones, supporting the immune system and maintaining our overall health.
Drinking alkaline water is also recommended for supporting sufficient oxygen transportation in the blood which promotes detoxification – a little change in pH can make a big difference.
One Pure Water is Certified Organic, mineral-rich and is bottled directly at the source, requiring no filtration or chemical treatment or reverse osmosis to 'create' the water's purity, like other brands do.
Available in:
One Pure Still Mineral Water 320ml, 500ml and 1.5L PET bottles
One Pure Still Mineral Water 750ml PET SPORT bottles
One Pure Still Mineral Water 300ml and 750ml glass bottles
One Pure Sparkling Mineral Water 300ml and 750ml glass bottles
One Pure Still Mineral Water 10L case
Retailers
JT's Essence offer a variety of healthy products that not only taste great, but are packed with nutritional benefits your customers will love. Create abundant displays in your fridges that will draw the eye of your thirsty customers and consider offering taste tests to increase impulse purchases.
Foodservice
Have something different on offer for your customers who may be looking for a healthier alternative from the usual beverage choices. Create a new beverages menu including cocktails and mocktails to entice your customers to try something new and exciting.
To place your first order or to enquire further, contact JT's Essence today.