Oz Tukka Australia - Authentic Bush Food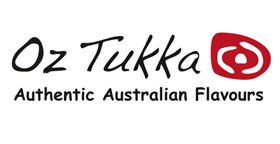 Oz Tukka Australia - Authentic Bush Food
Authentic Australian Flavours
For authentic Australian flavours, look no further than Oz Tukka. Its very name says it all, but look a little deeper and you'll discover a fascinating range of products guaranteed to add authentic Aussie flavour to your favourite – and new – recipes. With wholesale spices, dukkah, macadamia nut oil and even a gluten free muffin mix on offer, your customers can do far better than throw a shrimp on the barbie!
A small family business, Oz Tukka was born of a huge appreciation of Australian nature. Owners Peter Faith and Bente Saugbjerg delight in creating products that help transform ordinary dishes into fabulous taste sensations!
The product range
Oz Tukka's product range has achieved accolades in the form of medals at fine food shows and of course, raving feedback from happy customers throughout the country!
Australian Spices
Packaged in convenient jars, they retain freshness and are easy to use during food preparation or cooking. Try them in marinades, salad dressings, dips, stuffing or crumbing mixtures, bread dough, on top of pizza, barbecued meats, roasted vegetables and more.
Lemon Myrtle – ground
Tasmanian Pepper Berry – whole or ground
Bush Tomato – whole or ground
Tasmanian Pepper Leaf – ground
Wattle Seed – roasted and ground
Five Spice Pack – Contains a selection of 5 of Oz Tukka's spices.
Gourmet Grinders
A collection of superb spice blends packaged in grinders that release potent aromas as they are twisted.
Red Centre Grind – Robust flavour with sizzle inspired by the rugged terrain of the outback. Use on sandwiches, vegetables, salads, pasta and steaks.
Wild Citrus Grind – Lemon myrtle and Australian blood lime; a wicked combination. Perfect for chicken, seafood, vegetables and your favourite sandwich fillings.
Tasmanian Pepper Medley – The intense, fruity flavour of Tasmanian Pepper Berry balanced with traditional pink and black peppercorns.
Artesian Salt – Sourced from the salty, subterranean water deposits where it has been stored for millennia, Artesian Salt has a distinctive golden colour and will add a luxurious accent in pinch pots on the table.
Forest Fruits Grind – A refreshingly sweet flavour thanks to ground, dried Australian fruits. Sprinkle over pancakes, ice cream or fresh fruit and get adventurous and add to fish or curry dishes.
Macadamia Nut Oils
Oz Tukka's macadamia oils are premium cold pressed oils, produced without any chemicals or any further processing. Flavoursome and healthy, they are high in monounsaturates and contain no trans fatty acids. Plus, they feature an incredible omega 3 to omega 6 ratio of 1:1. Use in stir fries, salad dressings, cakes or bread. Or enjoy as a dipping sauce followed by Oz Tukka Dukkah.
Natural Macadamia Oil 250ml – Golden coloured, with an exquisitely sweet, nutty flavour.
Rainforest Macadamia Oil 250ml – Sweet macadamia oil blended with strong citral lemon myrtle oil and a dash of pungent ginger oil. Perfect for Asian style cooking, chicken and fish dishes. Or simply drizzle over cooked vegetables for added flavour.
Wild Pepper Macadamia Oil 250ml – Added heat for those who enjoy it! Macadamia nut oil is blended with the oil of the Tasmanian pepper leaf and then balanced with the flavours of native mint and lemon myrtle. It has a smooth peppery taste and is ideal for salads, as a dipping oil or drizzled over pasta, stir fries and red meat off the barbecue.
Dukkah (gluten free)
Dukkah is a healthy product that adds texture and flavour to dishes. Enjoy bread dipped in macadamia oil and then dipped in dukkah. Add to bread mixes, stuffing and crumb mixtures, as a savoury muffin topper or sprinkle on top of canapés.
Macadamia Nut Dukkah – A mix of Oz Tukka native spices, native Australian macadamia nuts and sesame seeds.
Macadamia Nut Dukkah for Desserts – A twist on traditional dukkah, this sweet version incorporates native Australian macadamia nuts, sesame seeds and a mix of Oz Tukka native spices. It's wonderful on top of ice cream, custard, fruit salad or yoghurt or blended through muesli for extra nuttiness.
Muffin Mix (gluten free)
Whip up an easy batch of gluten free muffins thanks to Oz Tukka. Ready to eat in under 30 minutes. Gluten free, preservative free and colour free.
Davidson Plum Muffin Mix – Light, scrumptious muffins made with natural Australian macadamia nuts feature the rich taste of Davidson Plum.
Lemon Myrtle Muffin Mix – Australian macadamia nuts and the piquant taste of Oz Tukka Lemon Myrtle.
Wattle Seed Muffin Mix – Natural Australian macadamias plus the rich flavour of Oz Tukka Wattle Seed.
Retailers
Help your customers whip up fantastic meals, snacks and desserts with Oz Tukka's range of superb, authentic Australian ingredients. All natural and infused with the passion of the company's owners, Oz Tukka's products are sure to please.
Foodservice
Add a little Australian sunshine to your dishes with Oz Tukka's wholesale spice blends, dukkah and macadamia nut oils. Entirely authentic and made with attention to quality, they will give your culinary creations an Aussie accent!
Give Oz Tukka a call today to place your first order.
---
More information about Oz Tukka Australia - Authentic Bush Food