PS Organic Juices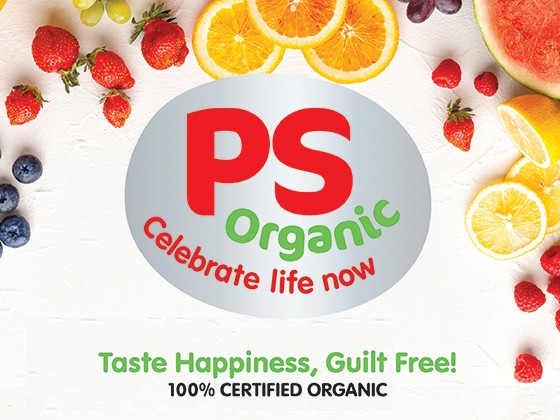 More Images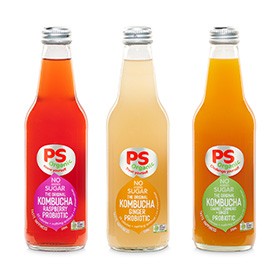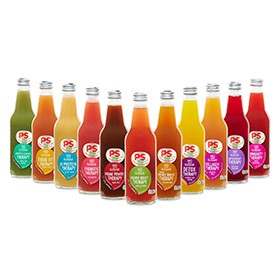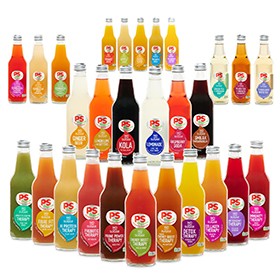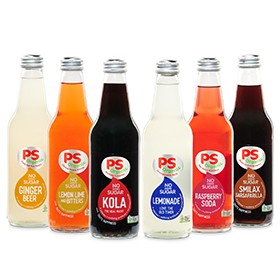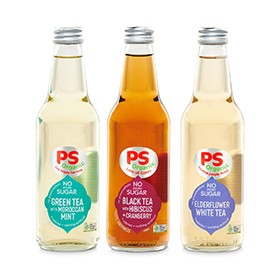 PS Organic Juices
Premium Organic Wholesale Fruit and Vegetable Juices
Every beverage in the PS Organic range is 100% chemical free, certified organic. Make healthier choices for your customers, and see great margins. Set your business apart from others and witness happy customers, feeling great about the healthier options you provide.
Take the difficulty out of too much choice. PS Organic have a beverage in every range to suit your clientele.
Contact us for your free trial pack.
For generations, the PS Organic family have been passionate about people, principles and planet. 100% natural is not good enough. Even natural food and drinks could have been exposed to unsafe herbicides and pesticides that may end up in your body. All of PS Organic's products contain natural ingredients grown without the use of dangerous chemicals used in conventional farming. That's the organic difference! PS Organics craft safe and healthy drinks to hydrate, refresh and nourish all ages, whilst protecting the earth.
What makes PS Organic different?
100% organic
100% Australian
100% raw
Everything is made super-fresh daily using the finest, locally-sourced organic produce. That's pure fruits, pure vegetables and other pure and natural ingredients like almond milk and garden fresh herbs! Every mouthful of juice is free from preservatives, additives, pesticides, colours, artificial sugars and GMO nasties.
Why is drinking juice so beneficial?
Every glass of juiced fruits and vegetables packs a power punch of vitamins.
Premium wholesale beverages
Count on PS Organic to help you reach your daily goal of 6-8 servings of fruits and vegetables.
Organic Kombucha
An ancient Chinese health drink, kombucha is made from fermented tea and live cultures. It is pleasantly and lightly effervescent and is abundant in important amino acids, antioxidants, probiotics, trace minerals and B vitamins. People consume kombucha to boost their immune system, to help eliminate toxins from their liver and to build up a good supply of beneficial bacteria in their digestive system. Consume daily for the greatest improvement in your immune system function and energy levels.
Kombucha Carrot, Turmeric & Ginger
Kombucha Ginger
Kombucha Passionfruit
Kombucha Raspberry
Kombucha Lemon, Pineapple and Cayenne
Organic Fruit Juices
Made from certified organic fruit, lovingly squeezed to produce the most delicious juices around, PS Organic Juices contain nothing but 100% fruit. There is no sugar and no artificial colours, flavours or preservatives.
Mango & Orange
OJ
Apple
Blood Orange
Passionfruit, Orange & Apple
Pineapple & Mint
Raspberry & Apple
Organic Sparkling
PS Organic take 100% fruit juice and add delicate bubbles to create their Organic Sparkling range. As you'd expect, there's nothing else in it; no added sugar, preservatives or anything artificial.
Sparkling Apple & Lime
Sparkling Blood OJ
Sparkling Guava & Cranberry
Sparkling Mango & Orange
Sparkling Passionfruit
Sparkling Pink Lemonade
Organic Soft Drinks
Crafted the old fashioned way using only the best ingredients, PS Organic Soft Drinks taste absolutely wonderful and have no preservatives added.
Cola
Ginger Beer
Lemon, Lime & Bitters
Lemon Squash
Lemonade
Iced Teas
Now you can enjoy iced teas without the guilty conscience. PS Organic Iced Teas are low joule and made with the purest of ingredients to refresh and satisfy.
Black Tea with Hibiscus & Cranberry
Green Tea with Moroccan Mint
White Tea with Elderflower & Lemon
White Tea with White Nectarine
Retailers
More and more customers are demanding 100% pure, organic beverages, without the overload of added sugars. PS Organic brings you an abundance of choice with their range of juices, kombuchas, iced teas and soft drinks. Colourful, beautifully packaged and loaded with incredible natural flavour, every bottle will beckon from your fridges. Stock plenty of options in your convenience store, supermarket, petrol station, pharmacy, delicatessen or other retail outlet.
Foodservice
Cater to your health-conscious customers when they come looking for a no-added-sugar alternative to traditional soft drinks. Satisfy thirst and the need for a pure, organic option with PS Organic juices, kombuchas and iced teas. Incorporate these beverages in your cocktails or create interesting ideas such as floats and smoothies. Serve in the attractive bottle with a glass of ice.
To find out more or to place an order for these irresistible organic beverages, get in touch with PS Organic today.