Soda Press Co Kombucha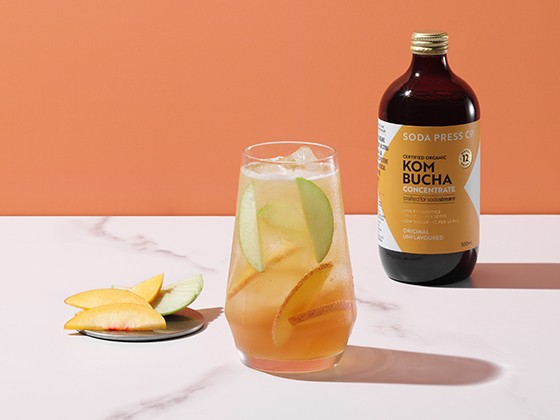 More Images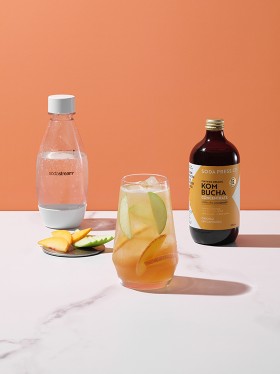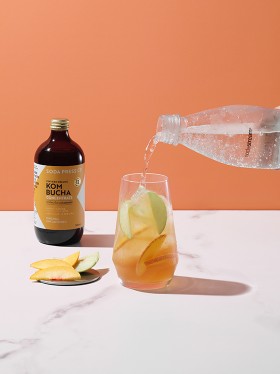 Soda Press Co Kombucha
Shelf-Stable Sparkling Kombucha with 0-5 Calories
World First Organic Kombucha Concentrate
Soda Press Co are passionate innovators! It started with their multi-award-winning wholesale soda syrups, made with half the sugar of regular syrups and then and then it was time to conquer a kombucha concentrate. After twelve months of trialling, tasting and testing, the result is the world's first Certified Organic shelf-stable kombucha concentrate.
The finest organic green and black teas are traditionally hand-brewed in small batches over 45 days, Soda Press Co Kombucha is brimming with a supersized 1 billion live probiotics and less than a single gram of sugar per serve. It contains no nasty sugar substitutes, not even stevia. Now you can promote a healthy gut without having to gulp down loads of sugar, and the flavours are mouth-watering.
1 billion+ live probiotics per serve
0-5 calories per serve
Certified Organic
No artificial ingredients
Gluten free
Non-GMO
Vegan
No stevia
Bottled in recycled and recyclable glass
Wholesale 0-5 Calorie Kombucha Concentrate
Presented in a concentrate format, Soda Press Co's kombucha can be easily made into a satisfying, healthy drink by adding sparkling water.
Kombucha Original – Sharp, sour, punchy aromas with delicate notes of apple and peach.
Kombucha Passionfruit & Mandarin – The ultimate combination of tart and sweet, with exotic passionfruit and soft tones of mandarin. Winner of the Double Gold at the 2020 International SIP awards in Los Angeles.
Retailers
Soda Press Co's kombuchas are shelf-stable and therefore easy to transport, store and carry home. Simply mix with sparkling water or use with SodaStream. Offer customers a taste test to demonstrate how tasty they are. The products are suitable for delicatessens, bottle shops, fine food halls, department stores, greengrocers, independent grocers, homewares outlets and electrical retailers.
Foodservice and hospitality
Soda Press Co has created the world's first shelf-stable, Certified Organic kombucha. It's an excellent product to serve in bars, hotels, pubs, day spas, juice bars and cafes.
One bottle of Soda Press Co Kombucha makes around 12 serves.
To find out more about this next-level kombucha brand or to place an order, contact Soda Press Co today.
---
More information about Soda Press Co Kombucha
Interview - Cam - Soda Press Co
Soft drinks were never this smart! When we spoke with Cam, Founder of Soda Press Co, we had no idea how much thought, passion and pride had gone into these soda syrups and kombucha concentrates! Click here