Spicetub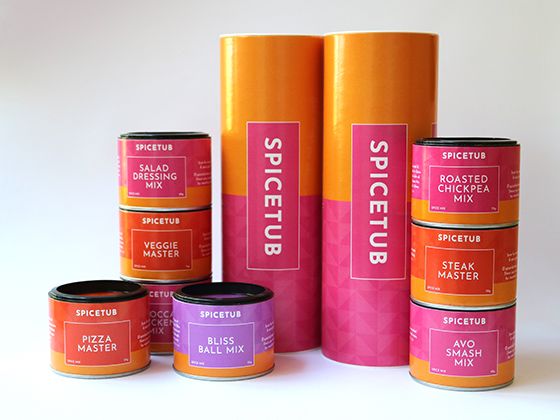 More Images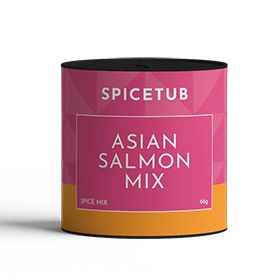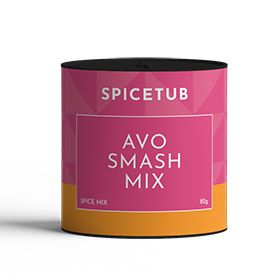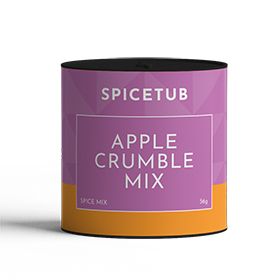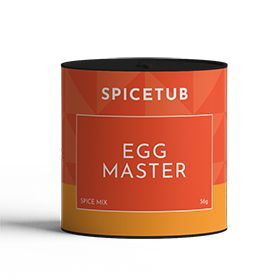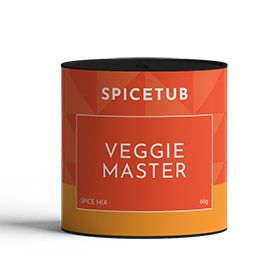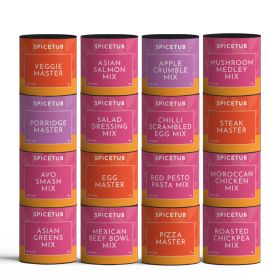 Service Area Australia Wide
Spicetub
Wholesale Spice Blends
Spicetub set out to wake up the spice world and generate some excitement for home cooks, to make cooking adventurous and fun again. Made with nothing but pure, whole ingredients, every mix is perfectly suited to the health-conscious cook who takes pride in the quality of their meals. And ... every mix is bloody delicious!!
Spicetub's mission is to provide creative and specific spice mixes that inspire and help to be a little bolder and more enthusiastic. With colourful, inviting packaging and smart blends of ingredients, Spicetub is sure to get plenty of attention in stores. Transform your tired old spice rack and everyday meals, one sprinkle at a time.
Masterful blends of herbs and spices, created with love
Each blend contains only herbs and spices
No additives, preservatives or other nasties
Vegan-friendly
Aussie-owned and run
A clever gift idea
The Spicetub range is ideal for gifting. A hamper containing ingredients, cookware or kitchen linen will come alive with the bright Spicetub packaging. Create savoury- or sweet-themed gift boxes or encourage impulse purchases of a single tub to give as a small thank you gift.
The range
Savoury Mixes
Let Spicetub inspire you to create new and exciting savoury dishes to expand your home cooking repertoire.
Asian Greens Mix – Elevate your greens with this blend of black and white sesame, garlic and ginger.
Asian Salmon Mix – Black and white sesame seeds, pink Himalayan salt, garlic, lemon, black peppercorn, ginger and chilli are the perfect blend to complement your baked, fried or steamed salmon.
Avo Smash Mix – Get fancy with your home-made avo smash with this blend of pink Himalayan salt, black sesame, tomato, lemon, pepper and chilli.
Chilli Scrambled Egg Mix – Greet the day with a belly-warming bowl of chilli scrambled eggs with this blend of pink Himalayan salt, chilli, cayenne pepper, paprika and parsley.
Mexican Beef Bowl Mix – Pink Himalayan salt, onion, smoked and sweet paprika, cumin, cayenne, garlic and oregano come together in this supreme blend that will add authenticity to your tacos and nachos.
Moroccan Chicken Mix – Use it on chicken, fish, tofu or veggies to add intense flavour from pink Himalayan salt, mild curry, garlic, lemon, sweet paprika, cumin and cayenne pepper.
Mushroom Medley Mix – A savoury blend of pink Himalayan salt, garlic, pepper, thyme, parsley and white sesame seeds to bring out the best in your mushroom dishes.
Red Pesto Pasta Mix - Enliven your everyday pasta dishes with ease! It's a blend of tomato, paprika, garlic, pink Himalayan salt, onion, black pepper, thyme and chives.
Roasted Chickpea Mix – Create addictive roasted chickpea snacks or add to tagines for an extra boost thanks to pink Himalayan salt, curry, smoked paprika, cumin and cayenne.
Salad Dressing Mix – Add a bit of texture and a whole lot of flavour to your salad dressings, courtesy of pink Himalayan salt, yellow and brown mustard seeds, black peppercorns, tomato, lemon, oregano and basil.
Sweet Mixes
A sprinkle here, a spoonful there, Spicetub's sweet mixes add a new dimension of flavour to your breakfasts, desserts and baking recipes.
Apple Crumble Mix – This deliciously sweet, fragrant mix is comfort for the soul. Create the best apple crumble ever.
Porridge Master – Boost your morning porridge with this combination of coconut, cacao, cinnamon and vanilla.
Master Mixes
Put on your apron and be the master of your kitchen! Spicetub provides all the ingredients you need to turn out incredibly flavoursome recipes.
Egg Master – Flavour your favourite egg dishes with this blend of pink Himalayan salt, black sesame seeds, black peppercorn, tomato, parsley and sweet paprika.
Pizza Master – Stir a generous sprinkle of Pizza Master into your pizza sauce to enliven the flavours with pink Himalayan salt, garlic, rosemary, pepper, basil and sweet paprika.
Steak Master – With smoked paprika, garlic, onion, parsley, cayenne pepper and pink Himalayan salt, your steaks will level up.
Veggie Master – Transform your veggies into superstars of flavour with Veggie Master's blend of pink Himalayan salt, garlic, oregano, rosemary, parsley, paprika, cumin and cayenne pepper. Roasted, steamed or fried, they'll all be so much better for the addition.
Gift businesses
Foodies love to receive spices to inspire their home cooking. The tubs can be added to gift boxes, gift hampers, sent with flowers or put into goodie bags at events.
Retailers
Let Spicetub enliven your ingredients offerings instore. Its eye-catching packaging will draw attention and your customers will be keen to try the products. Consider offering taste tests or even inviting customers to smell the various aromas. Talk about their versatility and all-natural virtues and create merchandising stories with companion products.
For more information or to place an order, get in touch with Spicetub today.
---
More information about Spicetub
Interview - Svenja Collins - Spicetub
Who knew that herbs and spices could be so cool? In the hands of Svenja Collins, Founder and Owner of Spicetub, you'd better believe that cooking with these clever blends makes everything more enjoyable and greater tasting. But what's behind this vibrant brand and why is it becoming a really poorly kept secret among home cooks? Click here